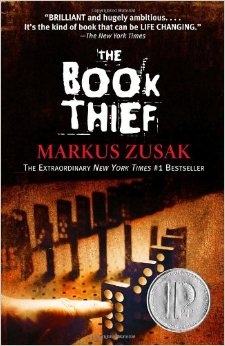 I realize I am late to the party on this book, as it has already made it to DVD. However, I remembered only recently that despite my best intentions, I had never read it. As I began, I was quickly struck by the observation that I had never read a book (in my years of reading many, many books) narrated from death's/grim reaper's perspective. It took a little bit to get used to the unusual voice, but once I did, I appreciated so much the vividness of the writing and the descriptions that made you feel as though you were right there with the characters. Not an easy read, although nothing I've read so far on Nazi Germany has been, but a unique perspective with vivid imagery and character development makes this a recommended book. I haven't seen the movie yet, but I have heard it isn't quite as good as the book – but I don't remember seeing a book turned movie that was yet either….
Author's Site: Markus Zusak
***
What do you think? Have you read The Book Thief? Seen the movie?
{Disclaimer: All books featured on the site are simply because I like them. All opinions are my own. No affiliate links in this post.}