My usual eating habits are all about balance. I do enjoy my fruits and veggies, but I love dessert too 🙂 As a Celiac, eating gluten free can make you more creative in the kitchen, and for me, it also means I'm always on the lookout for new gluten free products. I'm all for cooking from scratch, but let's be honest – boxed mixes are a lovely convenience I appreciate and utilize often.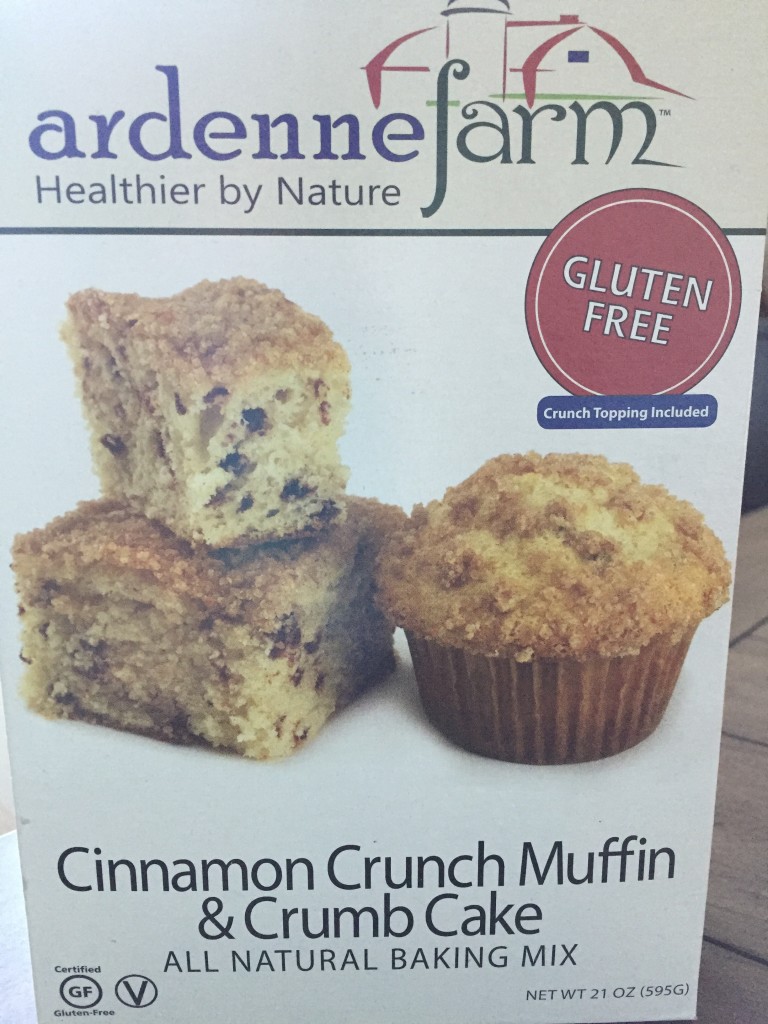 That's why when I saw Ardenne Farm's products on the shelf on my local grocery here, I knew I would have to try one. Despite what I thought was fairly current knowledge on almost all gluten free brands and products out there – I hadn't ever seen Ardenne Farm. Since I bought this, I looked them up and found they are a local North Carolina company (which makes me excited too — I love buying and trying local stuff!). I thought they must be fairly new to the market, yet couldn't quite tell from their website. However, their Facebook page appears to have been created in 2014.
I decided to try the Cinnamon Crunch Muffin Mix because I absolutely love cinnamon in anything and everything. The downside of boxed gluten free mixes is their expense in comparison with the regular gluten filled ones. This mix wasn't an exception at $5.99. Definitely a spurge treat, but the good news is that one boxed mix can be our dessert for the whole week for just two of us to feed. I hoped it was worth the money…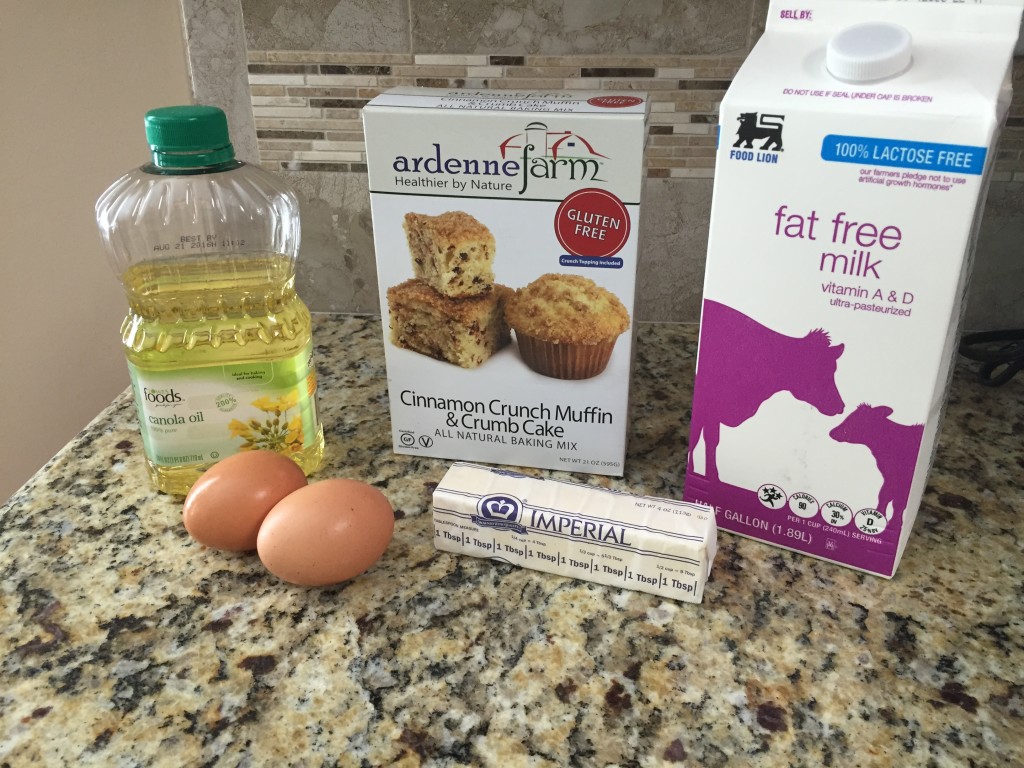 The ingredient list is pretty small and reasonable, the directions simple and easy to follow. A note about GF cooking: it usually isn't the time to improvise. I tend to follow the instructions exactly with no deviations as gluten free baked goods have a tendency to be very fragile. That being said, I made sure that I didn't over-stir this mix as stated on the box, I beat the eggs before adding them to the mixture, and just softened the butter (it was not completely melted – also they only required two teaspoons of butter – not the whole stick like pictured above).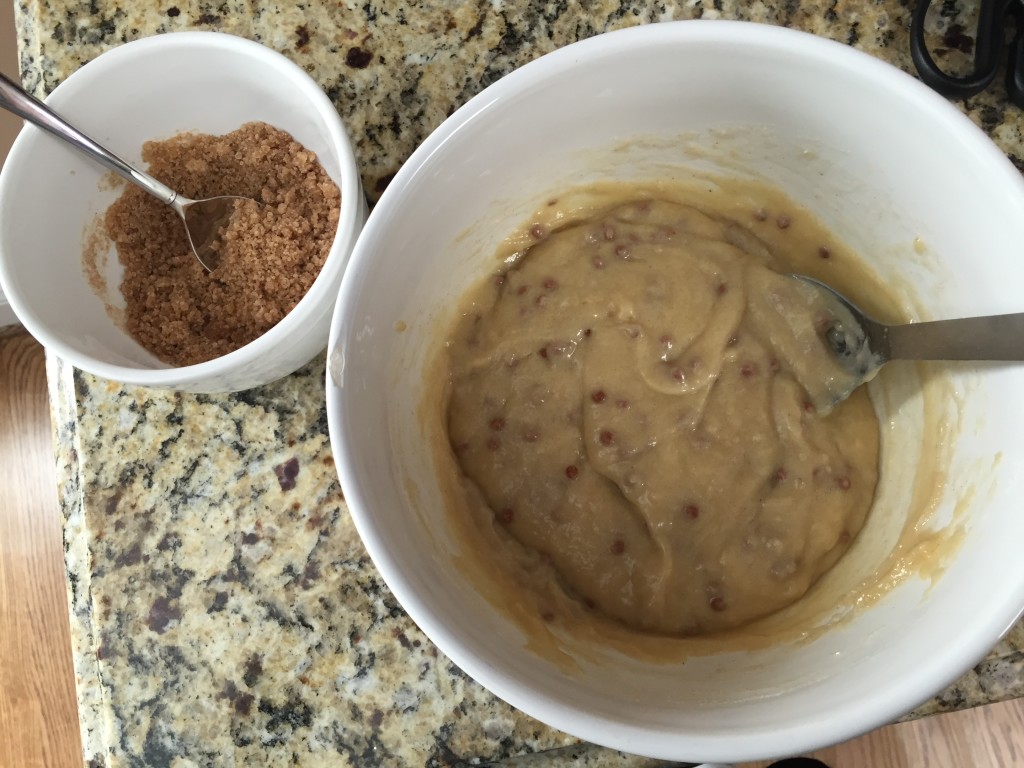 I could smell the cinnamon when I opened both the muffin mix and the crumb topping – yum! The topping and muffin batter came together just as stated on the back of the box. To note, I did use lactose free milk – which is a staple in all my cooking. I can tolerate dairy, but too much still upsets my stomach. I have found lactose free milk helps with this issue.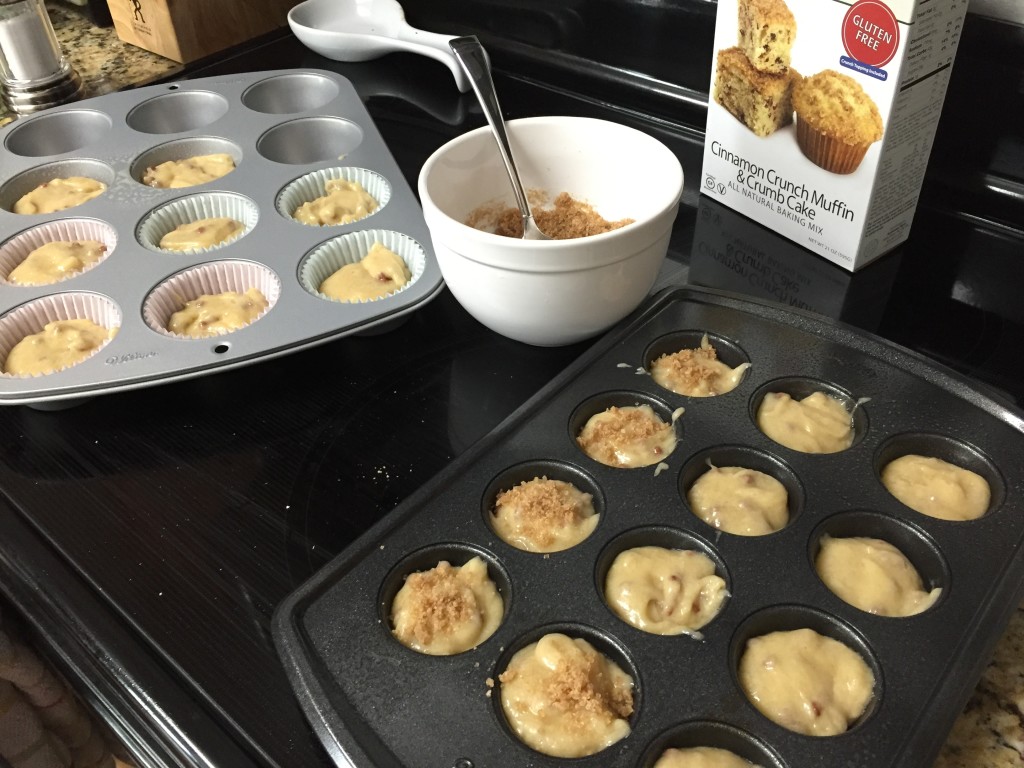 As you can see by this picture – I experimented a little bit with sizes and pans for the muffins. I love mini-muffins – they are so convenient for a small, sweet treat. So I decided I would try them. I sprayed my dark, (supposedly) non-stick pan because GF baked goods tend to stick….they also can be crumbly, as this is a disaster waiting to happen – I always pretend non-stick doesn't exist with GF things. I baked these mini ones first – for ten minutes exactly. They turned out wonderfully!!! I would not bake them any longer and maybe even a minute shorter. I immediately took them out of the muffin pan to cool (this does violate my first rule of following the back of the box – but GF products can get dry and crumbly so easily if they are even overdone by a minute. If you leave them in the pan, they cook a little longer, which I did not want.) So I took them out and cooled them on a rack.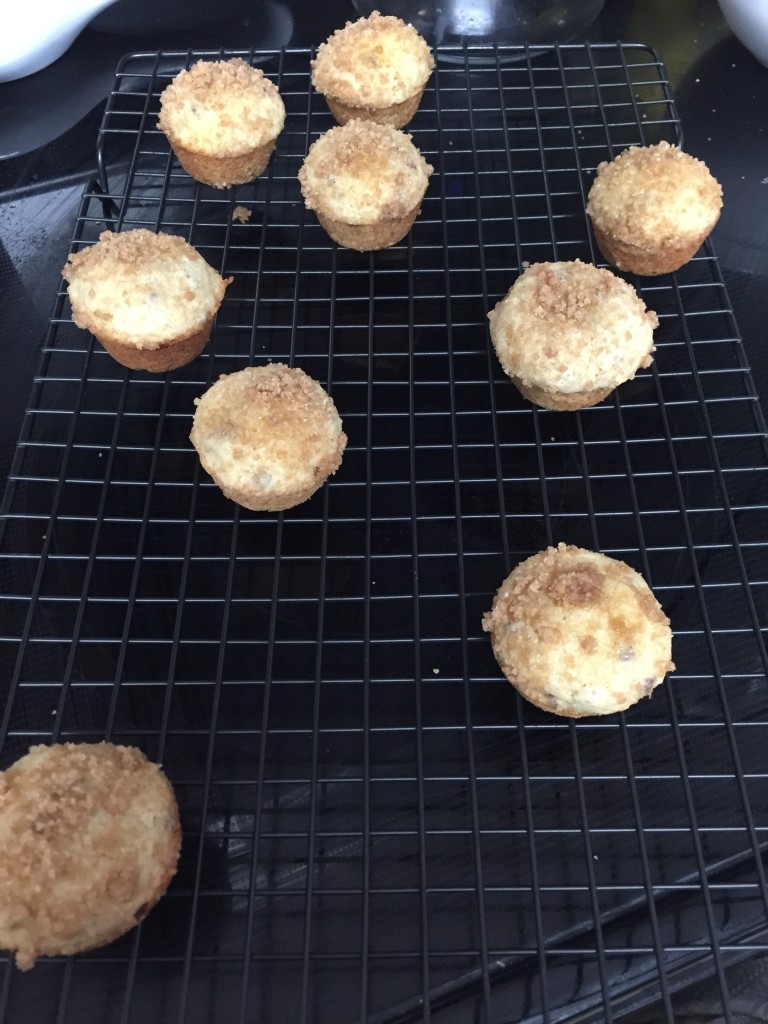 I couldn't resist trying one….or three…. 🙂 They were warm and delicious with a good moist texture with a little crunch from the cinnamon bits inside the muffin and the crumble on top.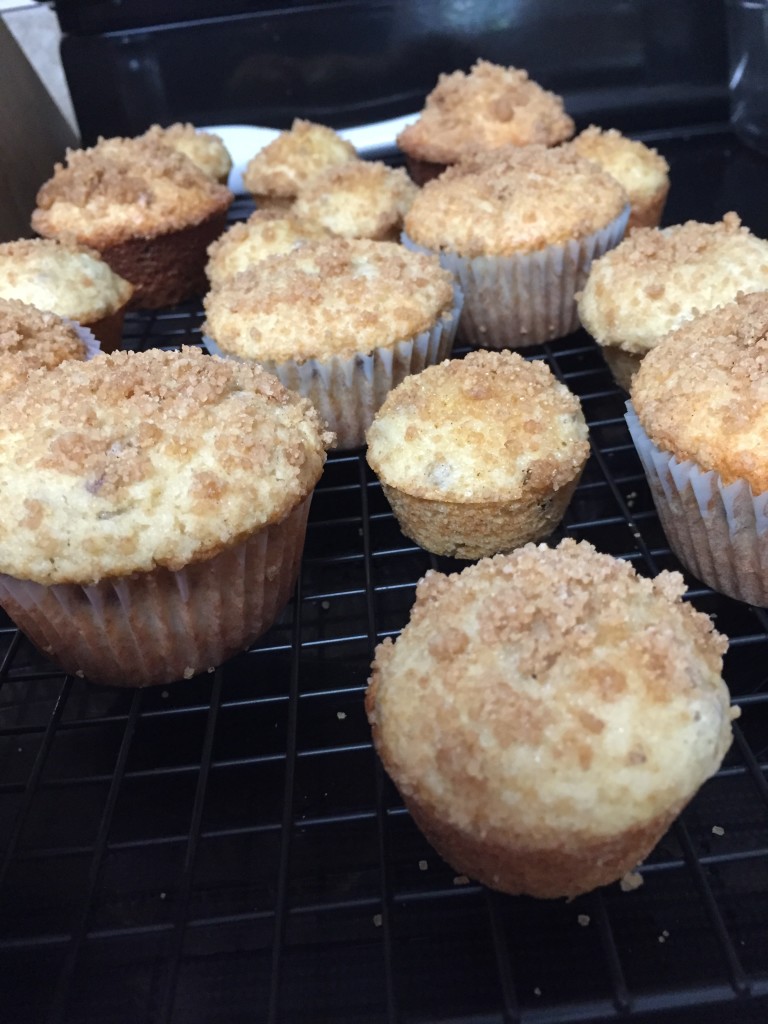 I then baked my larger muffins for about 17-18 minutes, following the timing for "medium" muffins on the box. I also took them out of the pan to cool on the rack. I used paper baking cups for some and two I cooked directly in the pan (I like experimenting with the baking part – always trying to improve my GF baking skills! Haha). The larger muffins turned out delicious just like the mini ones. Perfect for an afternoon snack with a cup of tea, an easy dessert to bring to small group or couples get-together, or completely perfect for a Sunday brunch.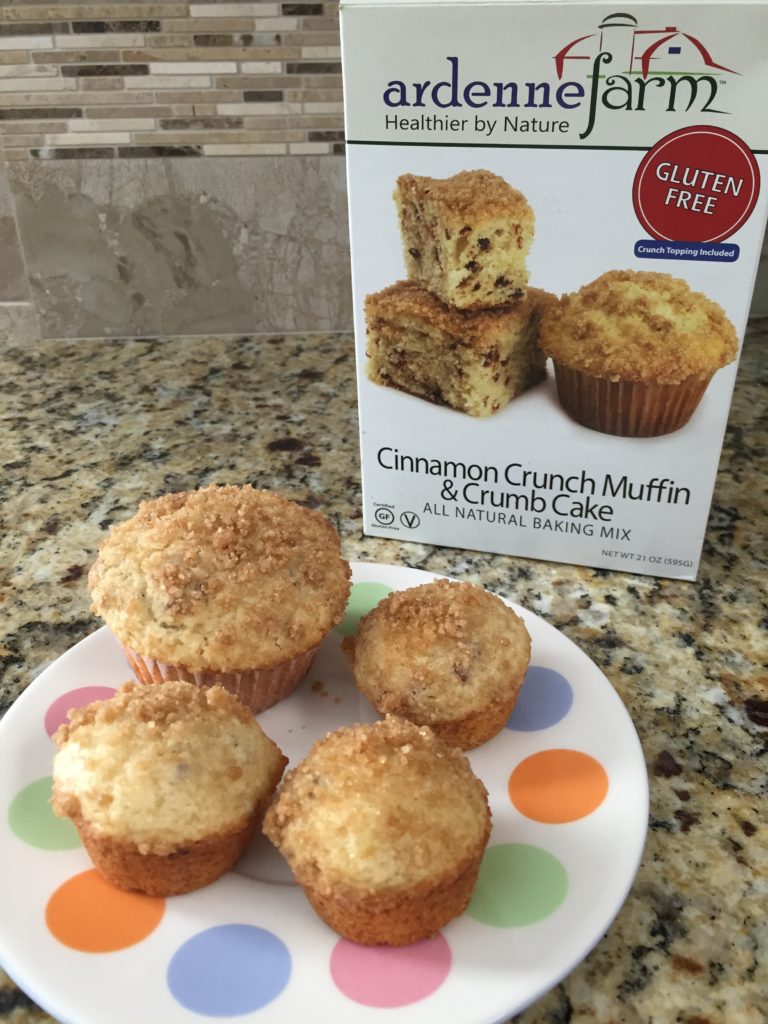 The verdict: I would definitely buy this mix again; unfortunately, it is a bit pricey so it would have to be in moderation, but I love having it as a delicious option! I especially enjoy gluten free products that do not "taste" gluten free, and these are definitely in that category. I dare anyone to guess they aren't just regular muffins. They store well and keep their delicious taste and texture too! Remember not to over-mix or over cook, and you have a yummy, easy muffin to bring to your next event.
****
Have you tried this mix before or one of Ardenne Farm's other mixes? What are some of  your favorite gluten free mixes?
{Disclaimer: I liked this product and wanted to share it with you! I was not compensated in any way for this review. All opinions are my own. Thanks! 🙂 }