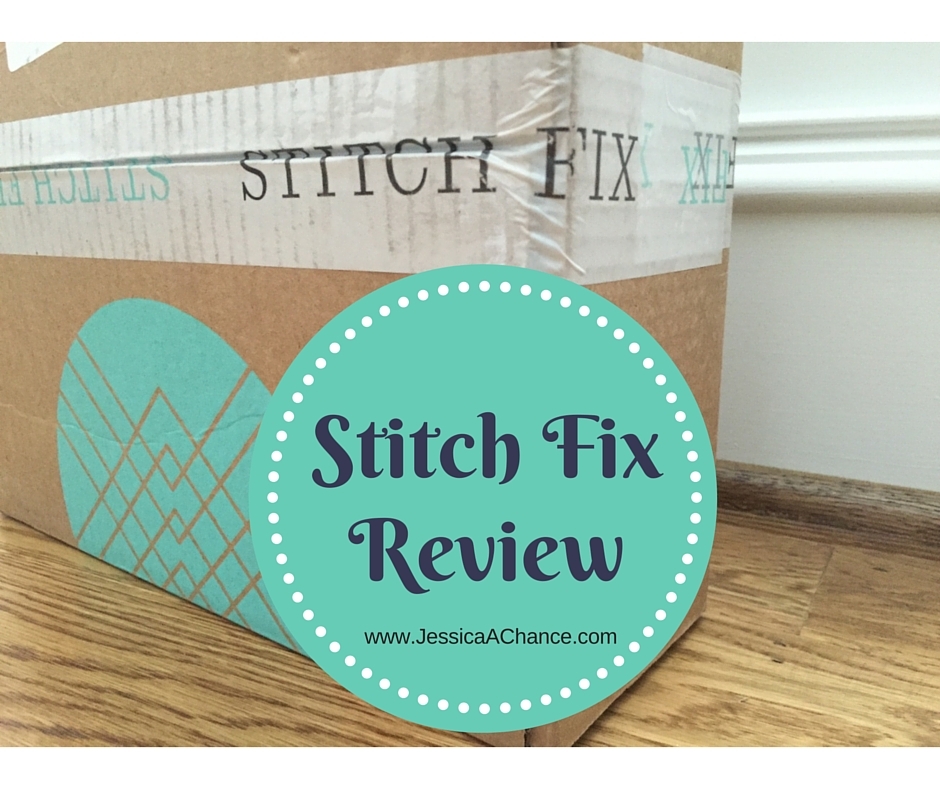 On a certain day of the month, I'm especially eager to see the mail carrier come – that's the day when my Stitch Fix (<—referral link) box comes. This month was only my fourth fix with stitch fix – not on purpose – but because we were off to a rocky start. To be honest – I hate shopping. Pretty much all types (except maybe home decor – hello Hobby Lobby! 🙂 ), but the most dreaded is clothes shopping for myself. I need a personal shopper. Badly. I never know what to try on, what to match with what, and what I really need. This leads to a wardrobe that hasn't been truly updated since maybe before college – yes, I need help, I know. Enter Stitch Fix.
I forget where I first heard of the service, maybe my sister or another blog, but it sounded perfect! I eagerly decided to sign up, after swallowing the fact that I had to pay $20 to get started (Two other reasons I'm a horrible clothes shopper: I'm extremely frugal and extremely picky on what I like to wear). My first box arrived – everything was WAY too big – might have overestimated my size on the style profile. Sent it all back, updated profile, was sad to lose the $20 (side note: the $20 is the "styling fee," it is applied to your final checkout price as a credit, but if you keep nothing, you"lose" it).
Second fix came about a month later — I kept one thing — a button down flowy pink shirt to wear to professional events. I was disappointed that nothing seemed to be working. This box was not as much a fit problem as a style one. So I took a break, we moved cross country, and fall approached…I decided to give it another try. I updated my style profile, made a "style" Pinterest page, paid my $20, and hoped for the best.
Third fix – so much better!! I liked all five of the items, sent back one dress due to fit and one top for being too long, but kept a pair of dark washed skinny jeans, lacy black sleeveless top, and a fun blue print dress. Even though the clothes are a little pricey (for me – remember, I'm cheap with my clothes budget), the time and energy it saved me were SO worth it!!!
With the success of the third fix behind me, and upon the advice of others that Stitch Fix gets better with time — I signed up for my fourth one…here are the results: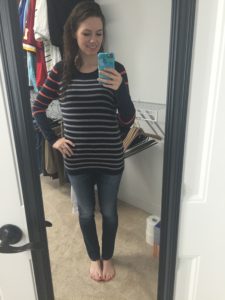 1. Navy colorblock sweater — this was very comfortable and cozy for the winter months; however, I usually stay away from stripes and the color orange. Since this piece had both, and I did not love the fit — return.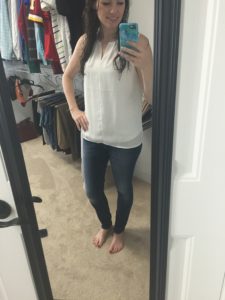 2.
White split neck blouse
— this was a beautiful, classic shirt I thought right away that I would like. I tried it on with the burgundy skirt (see below picture) in this shipment as well as with my skinny jeans I received last month. Classic piece for layering in the fall and wearing by itself in spring/summer – keep.
3. Gray Contrast Sleeve Top — this top was SO comfortable and looked ok when tried on. However, I just couldn't get over the pattern on the sleeves. Just not my style – return.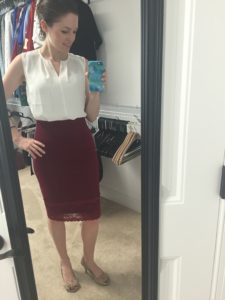 4. Burgundy pencil skirt with lace detail — I wanted to love this skirt so badly – it was very much my style with the lace detail on the hem. However, when I tried it on, it was just a little too snug in the back for my comfort especially since the two places I would probably wear it would be work events and/or church. Such a nice piece – but had to return.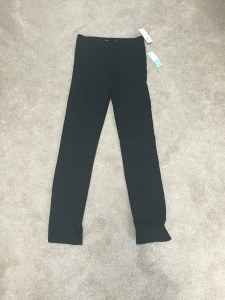 5. Black trouser pants – I had asked for black pants in this fix since the pair I had did not fit well any longer. I can't even post the picture of me in these pants though — they were extremely tight and too long. They were comfortable and stretchy, but there's no way I could wear them outside the house much less to work! (They were also $98 which did not help their chances…) Return.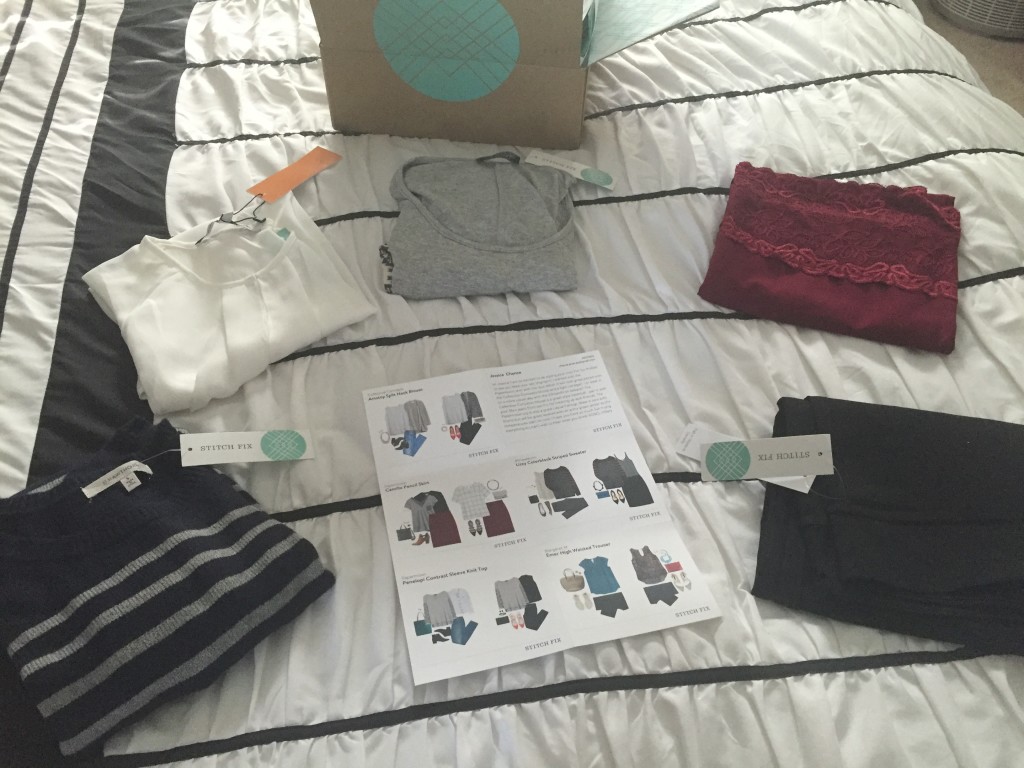 Overall – this fix wasn't as good as the last one (I kept three items then), but to me, it was still worth it for the nice white top. That is a classic piece that would have cost me a lot of time and energy to go search for one myself. The happiness I feel from getting Stitch Fix and trying on the clothes also keeps me scheduling another fix. As long as I keep at least one item and don't "lose" my $20 styling fee, I am happy! 🙂
***
Have you tried Stitch Fix or a similar service? What are your thoughts?
{Disclaimer – I have enjoyed Stitch Fix so I am sharing with you – I was not asked by the company to review the service. All opinions are my own. There is a referral link in this post.}