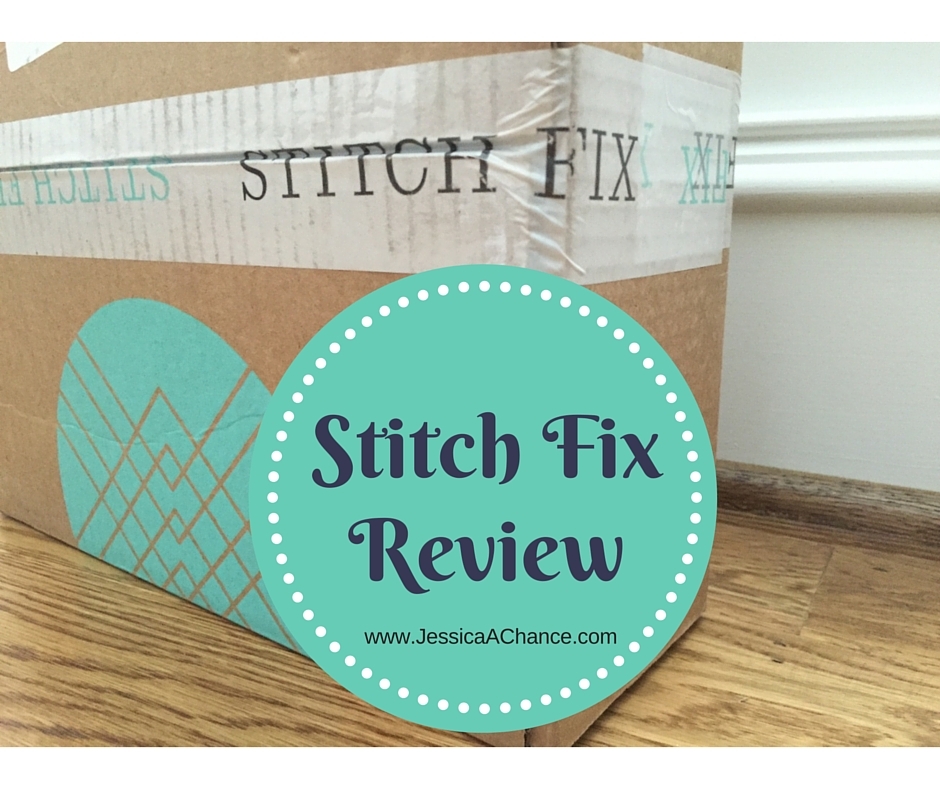 Wow – can't believe that October is coming to a close! The end of the month means it's Stitch Fix time for me. I always look forward to the day my next fix arrives. My first Stitch Fix review on the website (but fourth fix) can be found here.
Onto Fix #5 – but first, a quick summary: Stitch Fix (<–referral link) is a styling service that sends you five pieces of clothing as often as you want to schedule your "fixes." I usually do it about every six weeks, but it just depends on your personal preference. It's as simple as signing up, filling out a detailed style profile, and scheduling your fixes. There is a $20 styling fee up front, and this money is credited to your final order total. If you don't buy anything, Stitch Fix keeps the $20 fee.
You can read my past experience with my first couple fixes, my overall impression of the company, and why I keep on getting fixes here.
This month – I was so excited when I opened the box — all of the pieces at first glance seemed to be my style and they all were beautiful prints and colors. I was excited to try them on.
Dark Pink Knit Top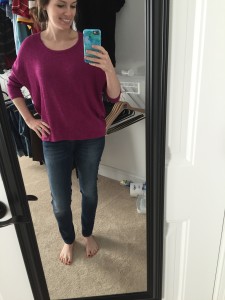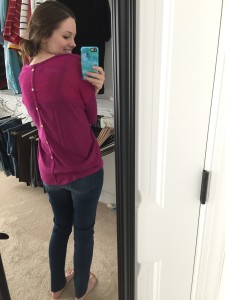 I am so terrible at mirror pictures — but hopefully you get the idea! It was a pretty knit top, and I liked the color a lot. The unique details in the back were great; however, I wasn't keen on the sleeves being billowy. I also didn't appreciate the sheer top half of the back of the shirt as I'm really looking for more fall/winter clothes right now. Return.
Navy Floral Keyhole Blouse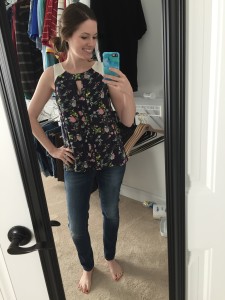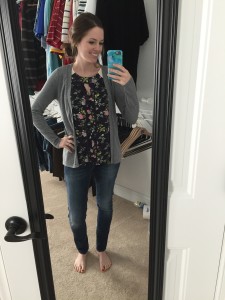 I loved this silky blouse when I took it out of the box. The pattern was delicate, feminine, and classic. It fit nicely; and I think it not only has great layering potential for fall/winter, but also is a great top to pair with shorts or capris in the spring/summer. Keep.
Teal Knit Cardigan
I really wanted to like this cardigan — the color was beautiful and it was very soft and comfy. However, I felt it was a little too long on me to be flattering. What really made my decision though was the price at $48. Probably good quality, but I can't justify that much for a cardigan, especially if I'm not in love with how it looks. Return.
Navy Lace Insert Pullover Sweater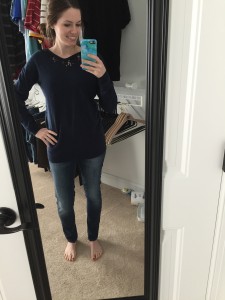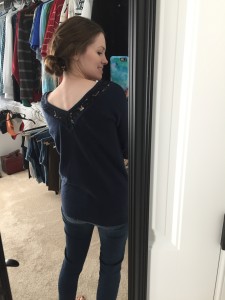 This was another piece that I pulled out of the box and just really liked the color, the style, and the lace detailing on both the back and the front. It was a little pricy, but I think it's a comfortable, warm, versatile piece I can dress up or dress down in the coming winter months. Keep.
Burgundy Lace Dress
This month I asked my stylist for a dress to wear for a wedding coming up in December, so she sent me this one. It's a beautiful lace dress in a great winter color; however, the fit was, quite honestly, awful. My hand on my hip gives the dress a semblance of shape, but don't be fooled. It felt and looked like wearing a robe, nightgown, or that I was given a dress five sizes too large. I think the dress was made to fit like that (you couldn't have done a belt or anything due to bunching of the fabric), but definitely not flattering for me. Return.
Overall: a good fix this month! I really liked the style of pieces and feel the clothing choices matching my personal style has improved immensely from when I started the service. I did mull over the cost of the clothes a little this month as it is hard to pay higher prices than I know I could get at Target, Kohl's, or even some other services where you pick out high end used clothes. However, Stitch Fix not only sends the clothes to my doorstep; but they pick out pieces just for me — no decisions on my part except what to keep, and that's one of my favorite parts. The time and energy saved also makes it personally worthwhile. This past summer, I ruthlessly cleaned out my closet and focused on what pieces I really want and need. Now, I think I can be very specific on what I would like to see from my Stitch Fixes and can slowly build a professional, classic, comfortable wardrobe.
***
How about you? Have you tried Stitch Fix or another service? Do you like shopping for clothes?
To read all my posts:
Follow my blog with Bloglovin