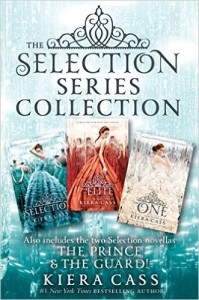 The Selection series — The Selection, The Elite, The One — (there is also The Heir, which I am still waiting to read, and an unnamed fifth book that is supposedly coming soon) written by Kiera Cass has been described as "The Hunger Games meets The Bachelor." I did like The Hunger Games book series, but I am not a fan of The Bachelor. That being said, I did enjoy this trilogy of books.
Now, you must keep in mind, these are not deep reads – nor realistic reads – but, as they should be, they are categorized as young adult dystopian novels.  I appreciated the creativity and imagination of the author in crafting this series – it wasn't as predictable as I was expecting, and I appreciated that there were actual twists in the plot. Although the character development was slightly lacking, the author draws you in enough emotionally that I still found myself cheering for the heroes and heroines and missing those characters that either died or faded into the background of the story.
It is hard to go into too much detail with any of these three books without spoilers, but if you're looking for a thought-provoking, life-changing read, these are not for you. However, if you would like a pleasant diversion and have an active imagination to help you become immersed in what a future society could look like with a lot of drama and a few love triangles, these fictional reads may be for you.
Author's website: Kiera Cass
The Selection Series on Amazon
***
Have you read any of The Selection series? What were your thoughts?
{Disclaimer: EE Reads books are featured simply because I enjoyed them and wanted to share them with you! No affiliate links in this post. Thanks 🙂 }