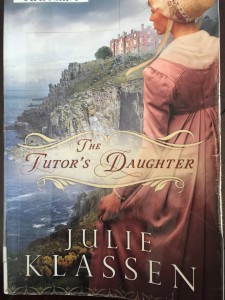 If you know me at all, you know I love Jane Austen, Downton Abbey (but I'm behind a season or two, so don't tell me anything 🙂 ), and BBC productions. My mom, sisters, and I would watch a lot of "English" movies (think Pride and Prejudice, Emma, North and South) growing up (yes, my poor father…); and I still continue to enjoy both movies and novels set in England.
The Tutor's Daughter by Julie Klassen was a lovely historical Christian romance with enough mystery to keep it intriguing until the end. I've also read Klassen's The Secret of Pembrooke Park which I enjoyed very much as well.
Emma Smallwood, the heroine of this novel, and her father, a tutor for well-to-do families in England travel to stay at the Weston's estate to teach two of Mr. Weston's four sons. His first two sons had come to the Smallwood's school previously. What Emma and her father don't realize is the Weston family is embroiled in secrets and schemes and suspicious behaviors abound. Emma also finds that not only has she grown up as the years have past, but so have the older Weston brothers — and one of them begins to show interest in her.
Overall, I found this to be a enjoyable read that transported me straight to the Weston's cliff-top manor in England with the heroine as she attempts to unravel the families'  mysteries and discovers love along the way.
Author's Website: Julie Klassen
The Tutor's Daughter on Amazon
***
What are you currently reading? Are you a fan of historical fiction?
{Disclaimer: {EE} Reads books are featured simply because I enjoyed reading them and wanted to share them with you! I buy or borrow all books myself. No affiliate links in this post. Thanks 🙂 }