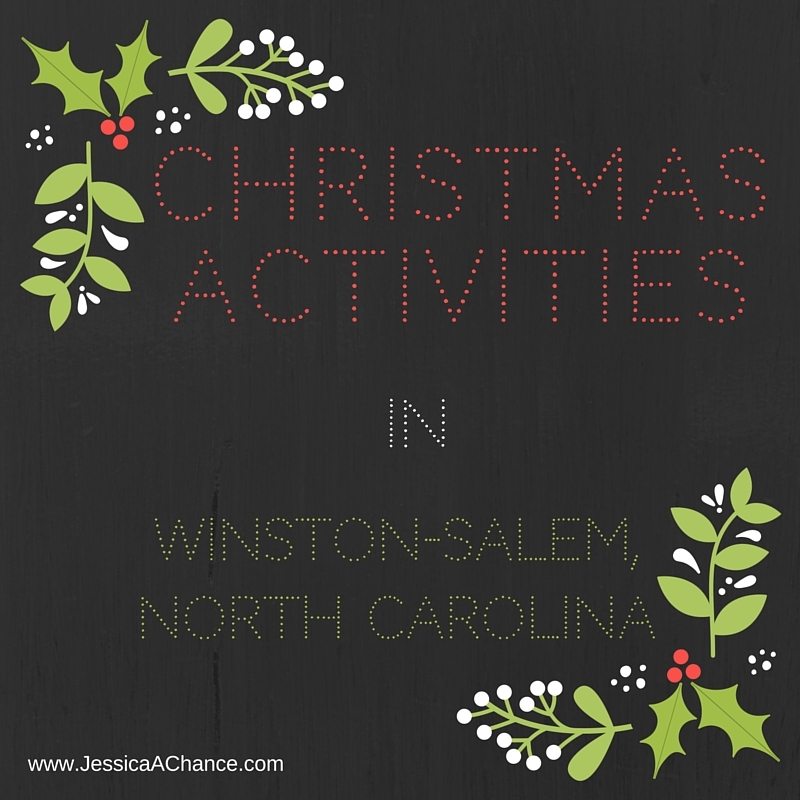 It's the most wonderful time of the year! I am such a fan of Christmas — not so much the consumer driven aspects, but there's just something indescribable about the twinkle of the lights, the suddenly merry attitudes as you go about your day, and the crisp cleansing winter air as you breathe in the magic of the season.
Since we moved this year, instead having the holiday blues about missing Dallas and it's Christmas activities, I wanted to try to embrace what Winston-Salem has to offer. We haven't been disappointed. Here are the highlights with a few we are hoping to experience next year!
Things We've Done:
Tanglewood's Festival of Lights – we heard about this back in the early fall, I think, in casual conversation with some neighbors. Their enthusiasm for this event was anything but casual though, so we took their suggestion and headed here the first week it was open on the evening of Thanksgiving.
It's $15 per car, and I think it's very worth it — it was crowded (we waited about 20ish minutes to even get into the gate) but I've heard it gets worse closer to Christmas. However, other than that, we had a great time admiring their impressive displays which contain over a million lights! Definitely worth the visit.
Tip: Bring some hot cocoa to heighten the ambiance and for when you roll down the windows to see all the lights and it's cold 🙂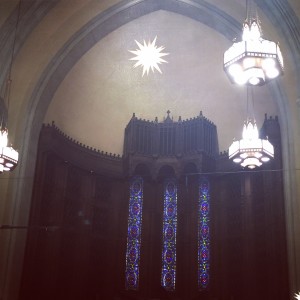 Handel's Messiah by Winston Salem Symphony – thanks to my husband's sweet birthday gift to me, we've had the priviledge of being season ticket holders to the symphony. Their Christmas special was preforming Handel's Messiah alongside twenty-five professional (aka amazing) soloists. This was held in a historic church downtown — a very beautiful and peace inducing activity. Tickets are $15-$47 depending on where you choose to sit.
Tip: The show was 2.5 hours long, probably not the best for young children. Also, the restrooms were very, very small — prepare for long, long lines at intermission and limit your intake, just my free words of wisdom…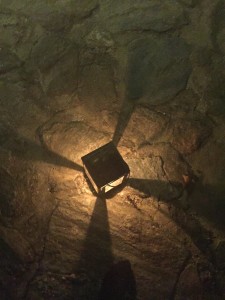 Old Salem Candlelight Tour – we are members of Old Salem, the Moravian village here in Winston, and we heard great things about their variety of Christmas activities. We signed up in early November for the Candlelight Tour ($25 per ticket) which was quickly sold out. It is about an hour and a half tour through multiple dwellings in the village where you experience what Christmas would have been like in different years eighteenth and nineteenth centuries. The tour groups are small (max 15 people) and it is literally all done in candlelight which makes it very festive and filled you up with the spirit of what a simple Christmas must have been like 🙂
Tip: Book early, wear comfortable shoes (there is walking involved on uneven cobblestone streets), and if it's cold, layer, layer, layer and wear gloves!!
Christmas at the Biltmore – Yes, this is not in Winston-Salem, but it was too festive and fun not to mention on this list. If you have an extended time in Winston or are visiting really any time of year, the Biltmore should be on your list. The tickets are pricey ($50 with purchase 7 days in advance plus $11 more for the house audio tour, which really enhances the experience); but as a treat, the experience is worth it.
At Christmas, the house is decorated with an enormous Christmas tree, festive floral arrangements, and the audio tour is customized to talk about traditions from Christmases past that took place at Biltmore. The new addition of Antler Village gives you the gift of the Legacy Museum, a winery with free tours, a large gift shop, multiple restaurants, and a barn and petting zoo for children. Recommend.
Tip: Plan to spend the whole day on the Biltmore estate — there is plenty to do, eat, and see. They also give you examples of itineraries on their website. If you do want to go off the property for dinner, I highly recommend Strada Italiano in downtown Asheville – great atmosphere, absolutely delicious food with a lot of gluten free options — including dessert!!
Other Suggestions (we haven't done these yet, but they have been recommended to us):
Moravian Lovefeast – Winston-Salem is the home of Old Salem, which was originally built as a Moravian community in the eighteenth century. Because of this, there is a vibrant Moravian population here, and they continue their unique traditions.
The Lovefeast is one of them. Per their website, a lovefeast is mainly a song service with some devotional thoughts after which simple food and drink is served. It began as a way for people from other religious backgrounds to come and take part in a Moravian service and feel the grace and love extended by their neighbors. There are many around Winston this time of year and we hope to go to one next Christmas time.
UNC School of the Arts' The Nutcracker– the classic Christmas story done in the ballet world has to be The Nutcracker (or at least it is for me with my limited ballet knowledge). With a beautiful, renown score, this is a special holiday tradition for many. Hopefully we can be a part of it next year.
Pilot Mountain Christmas – this "free walk through Christmas display," which boasts 750,000 lights, according to their website will be on our must see list next year! Looks pretty amazing, and I love the idea of walking around with hot cocoa while admiring one of my favorite decor items of the holiday season: lights.
Holidays at Reynolda House – This 1917 historic private home of R.J. Reynolds of RJ Reynolds Tobacco Company is opened throughout the year for tours and events. We have heard it is spectacular so I can only imagine the beautiful Christmas decor to be admired here. Looks like it's about $14/per person for house admission.
***
If you're from Winston-Salem, any you would add to the list? If you're not, what's your favorite Christmas activity in your area?