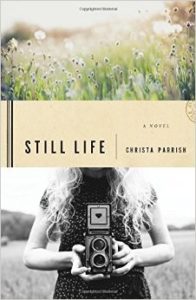 {Image Via}
Still Life by Christa Parrish begins with an unthinkable tragedy that leaves one of the main characters, Ava, grasping at the tattered threads of her new life, while Katherine, the other protagonist, is left in the wake of the devastation with a whole new layer of guilt and shame to add to her already overflowing supply.
As these two women attempt to pick up the pieces lost in the wreckage, they realize that slowly, very, very slowly, the birds begin to sing again while the sun sometimes peeks from behind the rain heavy storm clouds. With help from a myriad of unique characters, Ava and Katherine find the One whose love, peace, and forgiveness knows no end.
Christa Parrish crafts a beautiful story of redemption, forgiveness, and a love that reaches beyond the grave to continue to change lives. A thought-provoking read.
Author's Site: Christa Parrish
Still Life on Amazon
***
What are you currently reading?
***
Disclaimer: {EE} Reads books are featured simply because I enjoyed reading them and wanted to share them with you! I buy or borrow all books myself. No affiliate links in this post. Thanks 🙂 }