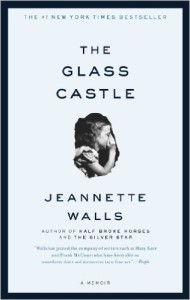 {Image Via}
I haven't read many memoirs, but I love reading stories of all kinds and it's especially riveting, I think, to read someone's life story. Jeanette Walls' memoir, The Glass Castle, came highly recommended, and it definitely did not disappoint.
When I was initially reading reviews about this book, one commenter stated, "I kept having to remind myself that what I was reading actually happened." I don't think there is a more true sentiment about this book. Walls, with literary finesse, draws you deeply into her childhood years with an alcoholic, mentally ill father and possibly mentally ill mother who led their four children across the country chasing one dream after another or running from shattered schemes. They lived in poverty with her father's lingering promise and plans to build for them one day "The Glass Castle."
With her remarkable writing abilities, Walls weaves vivid descriptions of her growing up years and its events so skillfully, yet without seeming to pass judgment on her parents' choices while raising her and her siblings. Despite sometimes going without food, heat, and a livable shelter, Walls genuinely captures the feelings of a child who knows nothing different, yet longs for something more then she can describe.
Definitely a recommended read for a vivid, raw glimpse into the life of poverty through a child's eyes – this book is hard to put down – and it's even harder to remember that it all actually happened.
Author's website: Jeannette Walls
The Glass Castle on Amazon
***
Have you read The Glass Castle? Do you have a favorite memoir? What are you currently reading?
{Disclaimer: {EE} Reads books are featured simply because I enjoyed reading them and wanted to share them with you! I buy or borrow all books myself. No affiliate links in this post. Thanks 🙂 }