Oh hey – it's Friday! Every week just goes by quicker and quicker it seems as we approach Christmas, but this one was especially fast. I worked more than usual with some extra training days plus it was difficult to get back to reality after some wonderful vacation time last week!
This weekend will be pretty low key, I think, lots of hot tea around the fire. We may venture out (around the college football games) to complete some last minute Christmas shopping, but thanks to Cyber Monday, we are almost done with the gift list!! (The sales were awesome — AND I shopped from my couch…that is my kind of shopping! 🙂 )
Here's some favorites as we wrap up this week: 
Life Lately: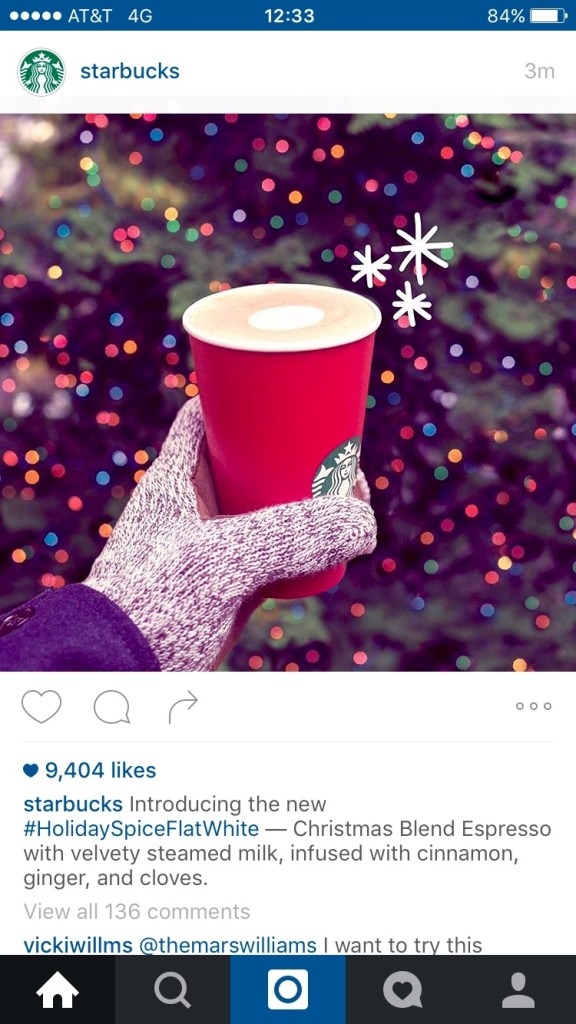 Holiday Spice Flat White. Ok, so this probably shouldn't make the favorites list since I haven't tried it yet….however – I really want to, and it makes me happy to think how yummy it's going to be 🙂 Have you tried this yet? What's your favorite holiday drink?
Christmas Decor(!!). Last Sunday we put up one of our Christmas trees (I have another one, but it's not being put up this year), my crafty wreath that I made last year (thanks to my sister in law because she is really creative and taught me!) and our manager scene.
I love Christmas and I've bought a Christmas ornament from everywhere I've traveled (and my mom bought us one each year growing up usually from our summer vacation destination too) — so decorating the tree is like poring over a scrapbook full of memories. It's wonderful!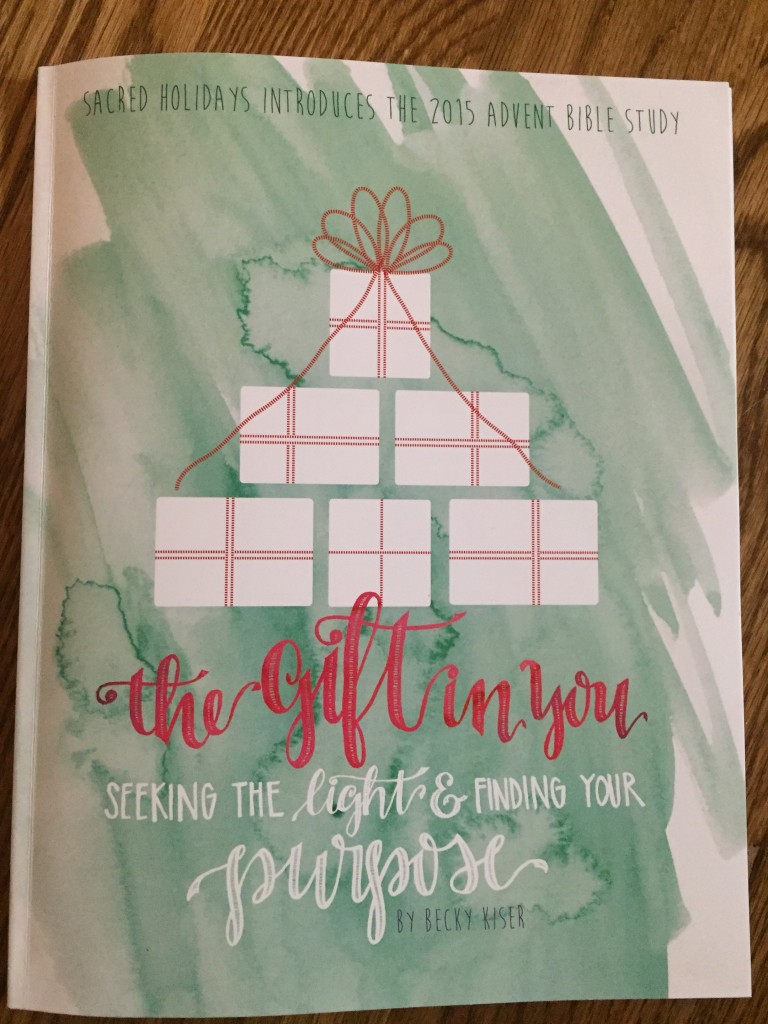 Sacred Holidays Advent Study. One of my friends posted about this Advent study multiple times, and since I am so easily caught up in the busyness of the holiday season, I decided to order one of the studies to focus my heart and mind on the best gift I've ever received at Christmas time: Jesus.
So far, I am enjoying the study — each day isn't that long, but definitely brings peace to my heart and challenges me to think deeply about our Savior. (Sacred Holidays also does a Lent/Easter study that I am looking forward to in the spring if you would like to join me 🙂 )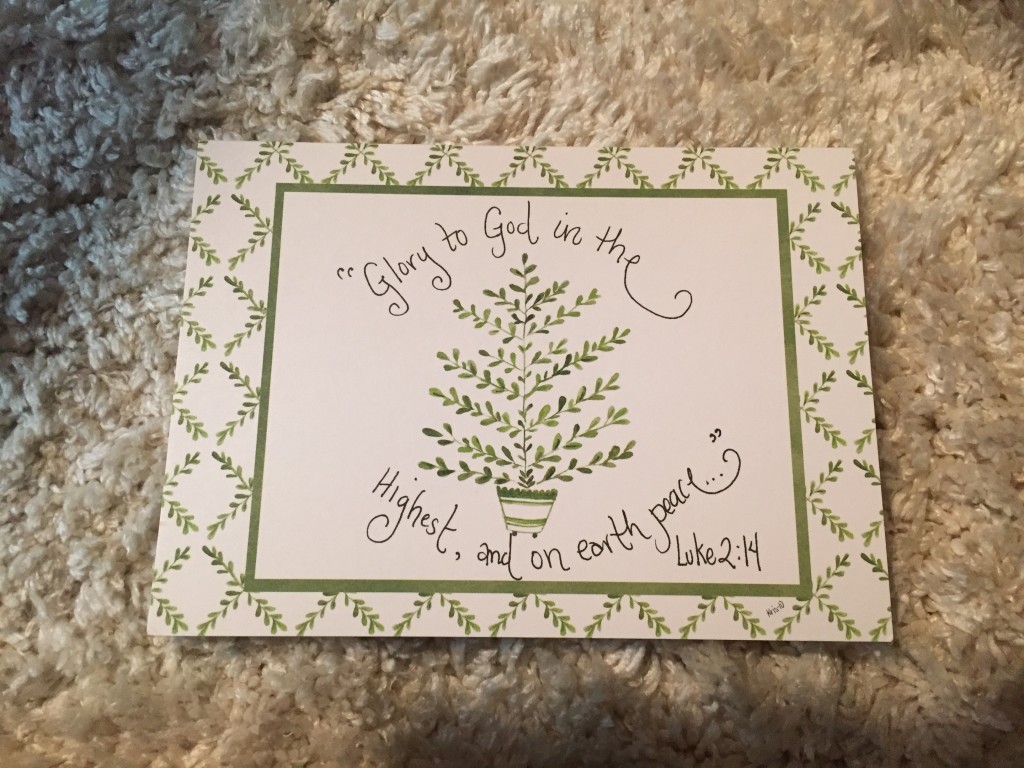 Our First Christmas Card. I may have mentioned before how much I love sending Christmas cards. My joy in receiving them is equally as great. Our first one came this week from a sweet friend of ours, and I was so excited to open it! I usually "wrap" a door in my house with festive Christmas paper and display all the cards on it. It is a very simple way to add more Christmas cheer while celebrating family and friends.
Bookworm Christmas Trees. My mother in law shared this craft with my sister and I over Thanksgiving break. You can make Christmas trees out of old books. The trees pictured above are my sister's — she was extra creative and decorated hers with pops of color. A very simple project yet a very unique decoration (especially good for readers and teachers!!).
Articles/Links I Enjoyed:
Christmas songs to add to your playlist: Lauren Daigle's Noel is simply beautiful, How Many Kings by Downhere is one of my all time favorites, and Pentatonix's Mary Did You Know just can't be beat.
This emotional movie about the life of Mother Teresa is releasing today — I really am looking forward to seeing it. As for our Christmas movie playlist – White Christmas has been checked off, but that leaves quite a few to tackle before the big day…what's your favorite Christmas movie?
This time of year can leave everyone pretty exhausted so when you get that daily coffee, make sure you don't make these mistakes to insure you get the best brew for your needs. (Important stuff here!! 🙂 )
Great post by Jennie Allen about giving up our need for control and trusting the One who is truly in control.
Yummy Link(s) of the Week: Two links this week! 'Tis the Season :):
How fun are these healthy "snowball donuts"?? Usually "healthy" recipes include a bunch of ingredients I don't have readily available in my pantry, but this one seemed pretty easy!
This was posted as an Easter recipe, but I think it could work perfectly in a cookie tin with Christmas goodies as well: Homemade Almond Roca — it looks delicious and only requires four ingredients!! Can't beat that!
***
What are some of your favorites this week? I would love to hear about them in the comments! Have a wonderful weekend!!