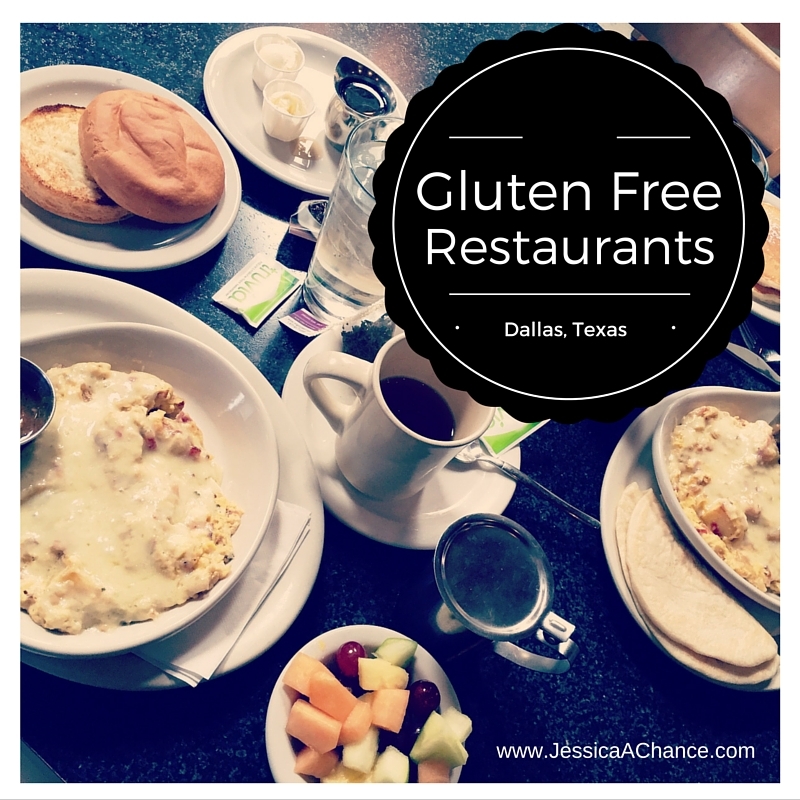 Texas was my home for many years, first in the suburbs of Dallas and then in Dallas itself. I lived there both pre-gluten free and post gluten-free, and I must say, Dallas has many, many good gluten free options!
Here is a list of some of my favorites: (I purposely stayed away from most nationwide chains, but, of course, Dallas also has pretty much all of the popular chain restaurants that provide gluten free options.)
Crossroads Diner – my husband and I's absolute favorite brunch place in the city. We liked it so much – we had our rehearsal dinner here! They serve breakfast and lunch and do private events at night. No specific gluten free (GF) menu, but the servers and the chef/owner are very aware and helpful. Favorite: breakfast skillet with GF bun and a side of fruit.
Asian Mint – Thai/Asian Fusion at its very best. This was my favorite call ahead dinner to-go spot on the way home from work. The gluten free options are extensive and all marked on the regular menu. My favorite is the kung pao chicken, my husband's is the house fried rice with beef. Two locations in the Dallas area.
Start Restaurant – "Real Food, Fast" is this restaurant's motto. You pay a bit more than with "regular" fast food, but the food here is delicious and the GF options abound. I recommend their hamburger with a GF bun, their tator tots, the raspberry chipotle wrap, and the quinoa bowl.
Le Peep – This cute breakfast/lunch place is a favorite for me to meet family and friends for brunch. They have a few locations around the DFW metroplex (and in other states as well, I think), and they are very knowledgeable about gluten free. My favorite is the egg sandwich (with bacon and cheese) on a GF english muffin with a side of their potatoes.
Unrefined Bakery – I lived right down the street from the original Unrefined location (there are now five) — the convenience was amazing for my gluten free needs, but bad for my wallet. This unique, delicious bakery offers cakes, cupcakes, snack mix, sandwiches, breads, pies, pizza crusts, rolls, and more — ALL gluten free. The daughter of the mom/daughter founders of the bakery is Celiac. As an added bonus, not only are the products gluten free, but most are free of many other allergens and all refined sugars (not that you can tell — so so good).
Mi Cocina – this is a chain restaurant, but a great option in Dallas for some good Mexican food and nice atmosphere. The gluten free options are clearly marked on their menu — my favorites are the chicken fajitas and the Rico salad.
Fireside Pies – another one of my absolute favorites. A great date night restaurant choice — they have gluten free pizza (with amazing flavor combinations — this is not just your typical pepperoni and cheese) and can make their brushetta gluten free as well (get it — it is unique and absolutely delicious!!). The one on Knox-Henderson and the one in Grapevine have always been wonderful and knowledgable about avoiding cross contamination and serving me delicious GF food.
Chocolate Angel Cafe and Tea Room – this place is fantastic – delicious lunches, the ability to do a gluten free afternoon tea, and host showers and other small events ! My mom and I went here for her birthday gift multiple times, and we love it. One of the owner's relatives is Celiac so they are very knowledgable. Call ahead for reservations whether for lunch or tea because the Richardson location fills up quickly everyday of the week. I love their Angel trio plate for lunch and their tomato basil soup is the best I've ever had (and I don't usually like tomato soup!!).
Cantina Laredo – a second great Mexican option with multiple locations around the DFW metroplex. My favorite part about this restaurant is the two different types of salsa they serve – one warm, one cold. As for the main course? The tacos de pollo and ensalada de cilantro y pollo are my favorites.
Zoe's Kitchen – this colorful Mediterranean chain was popping up all over the Dallas area and, apparently in the southern United States as well. Great place to meet friends for a quick, fresh, healthy, gluten free lunch. My favorite GF option is the chicken salad and fruit plate.
***As always — make sure you tell your server that you are gluten-free (I always say it is an allergy or a medical condition, to make sure they treat it as such, not as the "fad diet" it has become to many). ***
***
I will continue to add more as I think of them, and I would love to hear your feedback! Have you visited any of these? Have any favorites to add?