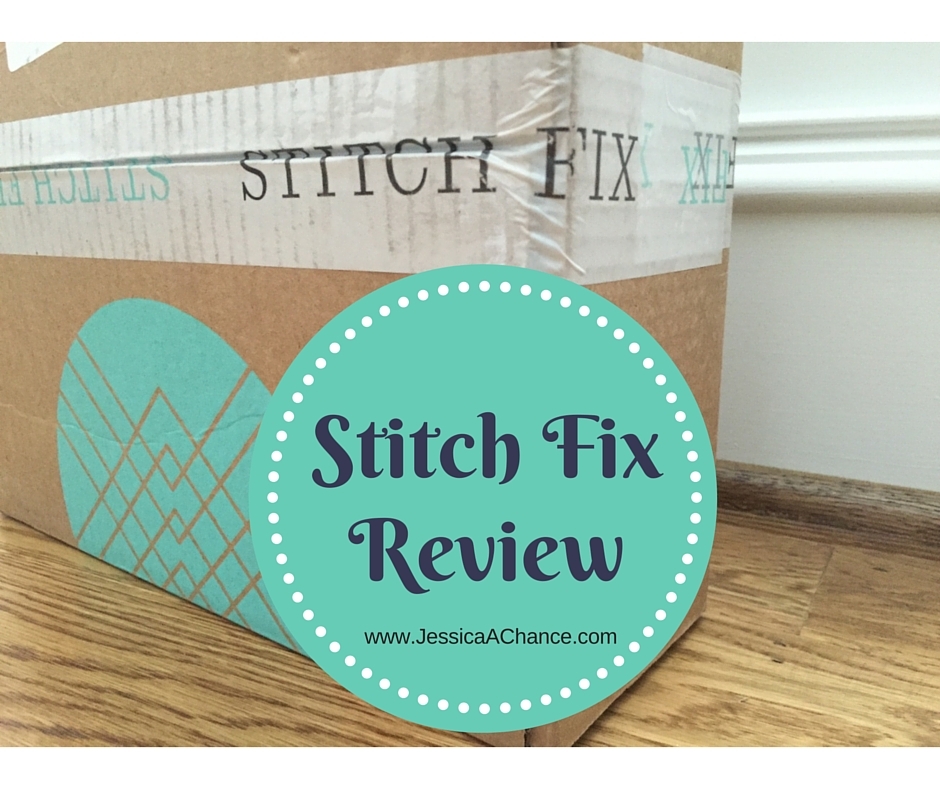 Time for another Stitch Fix! This month's fix was a bit disappointing, but it was more sizing issues than style. To my stylist's credit, she did try to give me certain pieces I requested.
Previous Stitch Fix posts:
Without further ado, here's this month's Stitch Fix (<–referral link):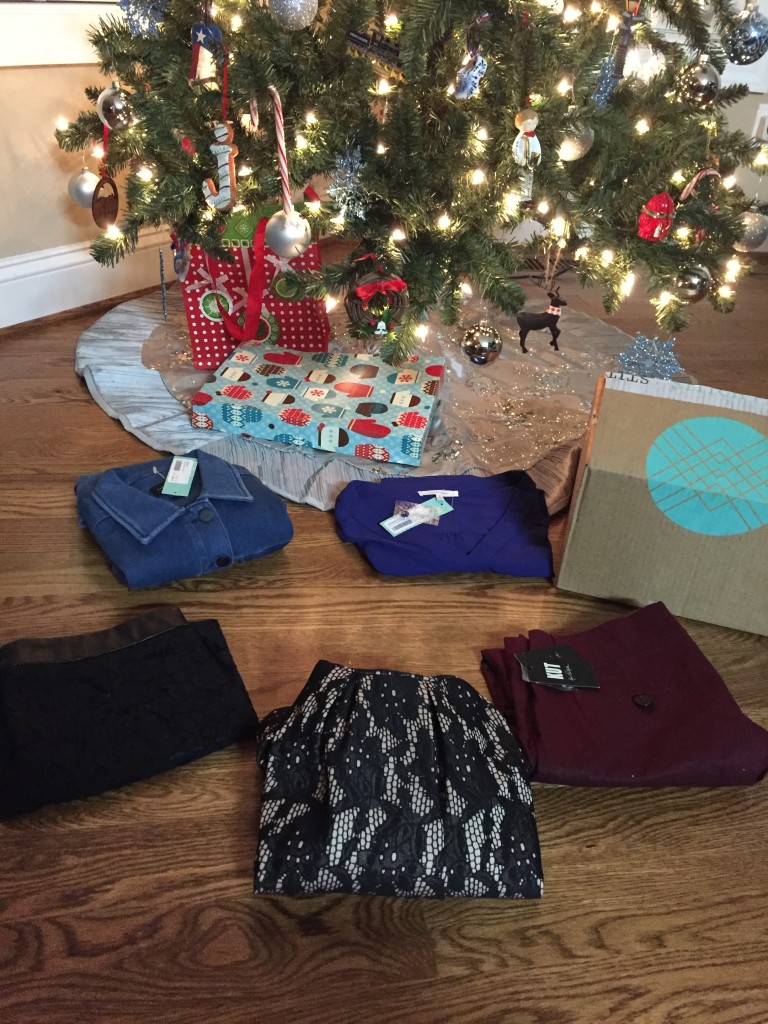 (Had to get the tree in there — makes it so much more festive! 🙂
Burgundy Cropped Pant. I requested skinny jeans in a darker color that wasn't blue. This is what was sent. I wasn't a huge fan of the cropped look (what shoes do I wear in the winter??! I am not a fashionista here — see the pictures in this post for proof! Haha); but the final decision was made due to the fit of these pants. They don't look like it in the pictures, but they were just too big. Return.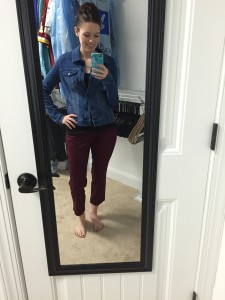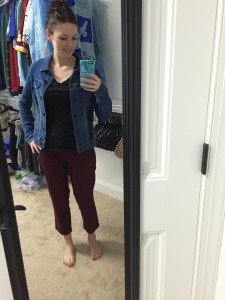 Jean Jacket. I had requested a jean jacket as well — however, I think I should have been more specific. This jacket was made with some spandex in it, making it oddly stretchy? It was very light "jean" and I prefer dark. I also didn't like the length. I've never been a huge fan of how I look wearing jean jackets anyways, and this confirmed it…Return.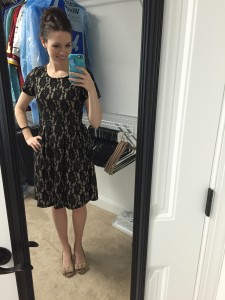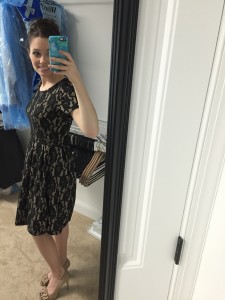 Short Sleeve Lace Dress. I requested a long sleeve lace dress for a December wedding. She didn't have a long sleeve lace dress so she sent this one. I actually liked it on much more than I did when I took it out of the box, but it was still roomy in the waist area. I couldn't tell if it looked sophisticated or too "young." Plus it was quite expensive for something I wouldn't wear too often and didn't love. Return.
Black Lace Skirt and Colbalt Blue Blouse. Since the long sleeve lace dress was a no-go; this was another option my stylist sent for the wedding along with the lace dress pictured above. I instantly loved this skirt (a lot a lot a lot) and the color of the shirt was beautiful! However, combined, it seemed a bit too "office/work" wear to me than fun winter wedding wear. So I switched the shirt out for a red top and red heels I already had….and loved it for the wedding!
So I decided (happily) to keep the skirt…and with much deliberation, returned the shirt. I liked it, but it was $58, which is way too much to pay for something I would only wear for more special occasions, definitely not everyday wear.
Overall –  not the best fix I've had since I've started this service. I really do love the skirt I kept though, and I didn't lose my styling fee (which if you read my prior reviews is what I really care about…). I haven't scheduled my next fix yet, but probably will wait a little while to evaluate what I really need to add to my closet…especially with Christmas coming up.
***
Have you done Stitch Fix before? Another styling service? If you could buy one piece of clothing for your closet today, what would it be?