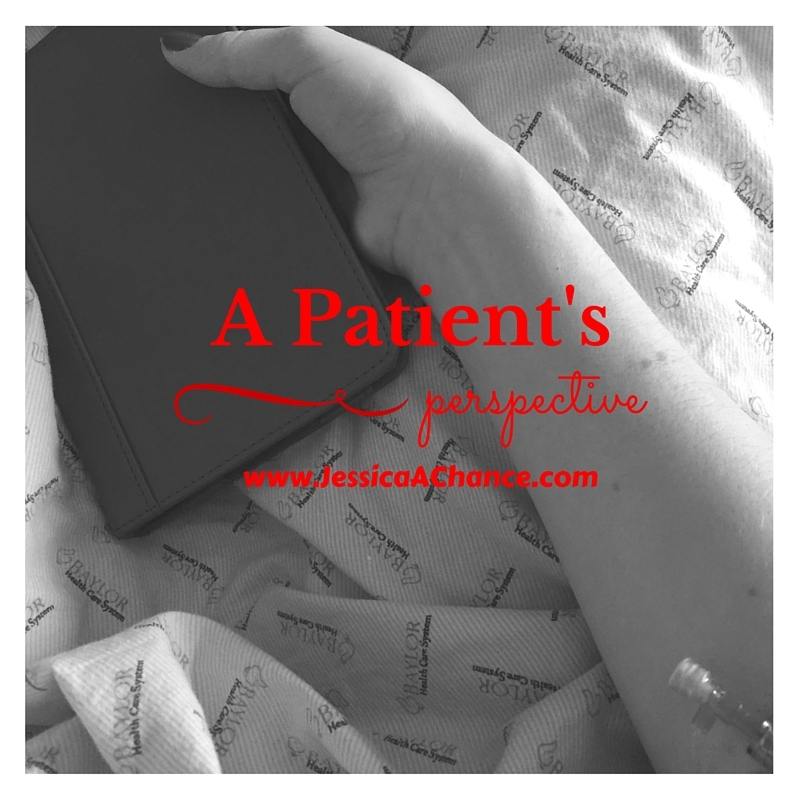 The many alternative titles considered for this post included some of the following:
"My (very brief, thank goodness) Hospital Stay"
"Being the Nurse is Much Better than Being the Patient"
"Happy New Year: Hospital Edition"
"The New Year's Eve I Went to Bed at 8pm CST"
"Modern Medicine is Awesome (now please let me go home?!?!)"
"My Family and Friends are the BEST."
"Thankful, Grateful, Humbled, and Overwhelmed"
I could go on and on, but I will spare you anymore of my rough draft title attempts. However, I think what the above really conveys is the inability I have to truly put the last week of 2015 into words. I don't think I've quite processed it all yet — but I'm going to try.
Maybe this all seems overdramatic — but please remember, I'm a healthy twenty-seven (really?! I still feel twenty-five?) year old with little to no medical problems who hasn't been hospitalized since perhaps my birth? Yes – a few trips to urgent care or the emergency room here or there, but never actually admitted until New Year's Eve 2015.
The reason I went to the emergency room is because I had been unable to keep anything in my body for four days despite getting IV fluids and Zofran (an anti-nausea medication) at an urgent care on Wednesday. I will spare all of you the medical jargon and nitty gritty, not so pretty details, but suffice it to say, I was extremely dehydrated and unable to stop vomiting.
After much medication in the emergency room, I was admitted for observation (AKA fluids, lots and lots and lots of fluids). It was surreal. That's the best way to describe it — and I don't think it was just the medications causing the feeling — it was unbelievable to me that I suddenly was experiencing role reversal at its finest.
I was a patient.
In a hospital.
In a flimsy gown.
With an IV (what??! I now have much pity for those I've started IVs on…)
Getting fluids from an often beeping pump whose sound was just as annoying as I remembered.
I was at the mercy of the healthcare professionals that literally held my life in their hands.
Even though I wasn't critically ill, probably not even moderately ill (although it sure felt like it!), just extremely dehydrated,  I still felt the weight of the complete trust I now was required to have in others and the loss of control the hospital represented.
Maybe I felt it more acutely due to the sudden shift in perspective, but I couldn't help but place myself in the shoes of every patient I cared for over the years – did they feel as helpless as I did?
Did they long just to go home?
Did they worry that maybe something deeper, something more sinister was wrong?
Did they wonder why everything seemed to take so much longer on "hospital" time?
Did they question my knowledge, my discernment, my clinical ability?
Did they wince in pain every time the gown caught their IV?
Did their dignity wither slowly away with every bathroom trip that required assistance?
Did they experience sheer vulnerability at its unfiltered, highest state?
Did they hope I gave them the correct medications without any way of truly knowing if I did?
Did they hear every staff member's loud laughter and joking, every footfall, every upset neighboring patient's complaints as they tried desperately to get some healing rest at night?
Did they pray that God would be with them, would comfort them, would fill their heart with peace no matter their heath outcome?
I wondered. I thought. I reflected. I pondered.
Because I asked every one of these questions myself.
When the roles were reversed – when I became the patient – I suddenly realized anew the depth of the calling to be a medical professional. Patients depend on you, on us; they literally give up control, give up their life to our wisdom, discernment and care.
What an opportunity.
What a burden.
What a love we must have to do our jobs well, to show people grace and dignity at the lowest times in their lives.
What a calling.
I'm thankful my hospital stay ended the way it did, for the wonderful professionals that cared for me, and the family and friends that tended to my every need.
I'm even more grateful for the chance to see healthcare from the other side. I must say — it has renewed the passion I have for the job I am privileged and called to do as a nurse.
During my time of illness, many people cared deeply for me — I can only hope and pray my past and future patients feel I did the same for them.
***
Have you ever experienced a role reversal or a sudden perspective shift? How did it make you feel?