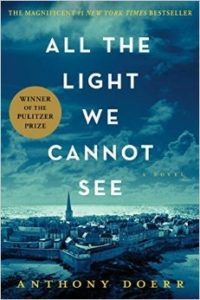 {Image Via}
Oh this book. After finishing All the Light We Cannot See the other day, there are just so many thoughts tumbling in my head, I'm not even sure where to begin!
I guess first, and much more important than my opinion on it, this book is splendidly written. Teeming with descriptive phrasing, the author's unique structure of miniature "chapters" and his ability to have you as a reader use all five senses throughout his work is truly phenomenal.
A quick synopsis (don't worry, no spoilers!): this book's main characters are Marie-Laure, a blind Parisian girl, and Werner, a naturally brilliant German orphan. The story is set before, during, and after World War II. It skips around to multiple characters' perspectives and forward and backward in years of those characters' lives, intertwining all of them in the cleverest of ways.
As for the story itself — I am conflicted. I admit I was absolutely enthralled by the writing style all the way through; and I'm not really sure what exactly I didn't like, but it isn't a book I would pick up and read again and again. Upon reflection, I think it was due to the heavy themes involved — even though you don't follow any characters on the front lines of the war, the war affected everyone in many hundreds of tiny and huge ways. This book shows that devastation, using such startling descriptive language, that the aftermath weighs heavily on your mind pages after the fact.
Overall, this book is recommended because of the fascinating writing elements, the complexity of the story telling, and the likability of the characters. However, if you are craving a happy, neat ending for your next read, I would tell you to put this one a little bit lower down on your to be read list.
Author's Website: Anthony Doerr
All the Light We Cannot See on Amazon
***
What are you currently reading? What's the last book you read that you can't quite get out of your mind?
***
{Disclaimer: {EE} Reads books are featured simply because reading them made my everyday extraordinary, so I wanted to share them with you! I buy or borrow all books myself. No affiliate links in this post. Thanks 🙂 }