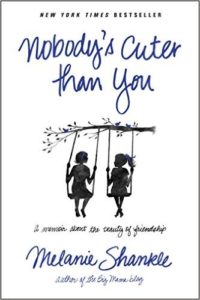 {Image Via}
As I mentioned in my What I'm Reading: January post, I finished this friendship memoir this month. The author, Melanie Shankle, is the writer behind the Big Mama blog as well as the author of two other memoirs about marriage and motherhood.
I had heard of Melanie's blog and work previous to reading this book, but this is the first of her books I've read. This memoir was on sale right before Christmas, and I couldn't pass up the opportunity to get one for my best friend and one for me so we could read it together.
This is a lovely book, written in a humorous, feels like we're chatting over iced tea on our front porch type of voice. Since my reads lately have been writers who use a distinctively vivid, almost poetic style (think All the Light We Cannot See, I Know Why the Caged Bird Sings); this book felt very simply written, yet extremely comfortable in comparison.
As for the stories shared throughout this book, prepare to laugh and cry and immediately want to move next door to all the wonderful women you have called friends throughout your lifetime. Melanie truly captures the unique, almost indescribable beauty a kindred spirit brings to our everyday lives.
Overall, a easy read with a lasting message about the many gifts friends impart throughout in our lives. Highly recommend as a birthday, Christmas, or "just because" present to one of the people in your life who exemplifies friendship.
Author's Website: Melanie Shankle
Nobody's Cuter than You on Amazon
***
Have you read any of Melanie Shankle's books? How do the friends in your life to make your everyday extraordinary?
***
{Disclaimer: {EE} Reads books are featured simply because reading them made my everyday extraordinary, so I wanted to share them with you! I buy or borrow all books myself. No affiliate links in this post. Thanks 🙂 }