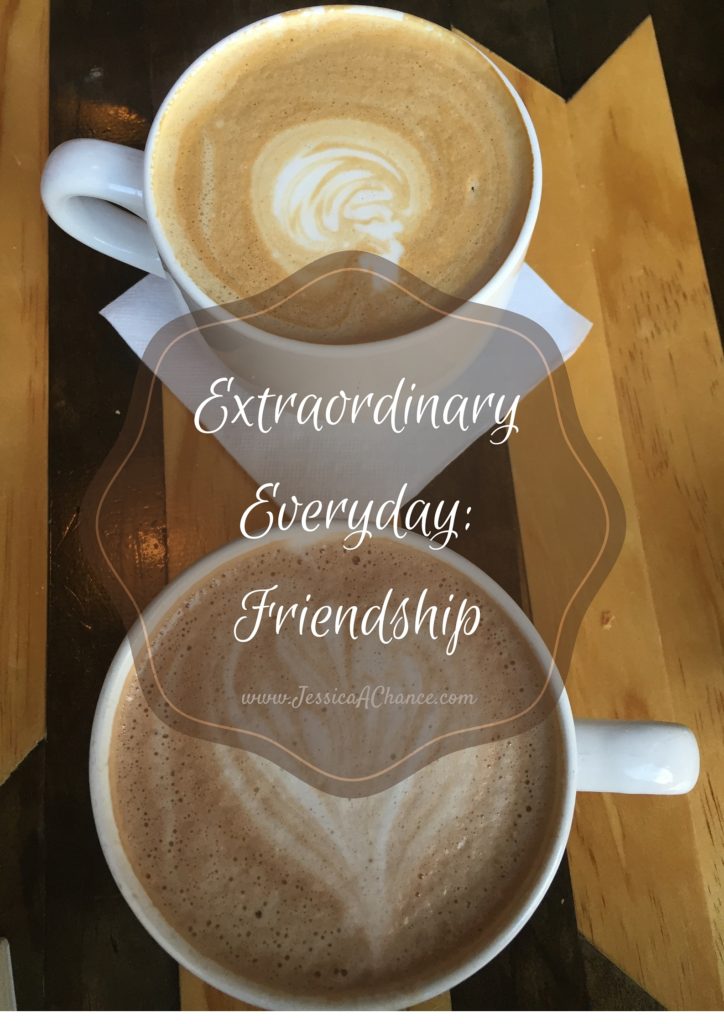 When you read the title of this post, who came to mind? Was it your best friend since kindergarten, a new acquaintance you met this past week in the coffee shop, a long time fan of your life who you talk to weekly? Who or what do you think of when you hear the word – friend?
Friend. There is so much contained in that single syllable. For some there is a deep sadness, memories of broken friendships or the devastating hurt that can only come with a friend's betrayal; perhaps for others, there is joy there, a smile stretching across your face as you recall some of the wonderful people placed throughout your life that you called friend.
The EE Read of the week was the friendship memoir, Nobody's Cuter Than You, and as I read it I was inspired anew at how much friendship enhances our everyday life…it truly makes it extraordinary in every way.
As I reflected more on being a friend, friendship, and life in general — I had to ask, what is a friend? A true friend? One that everyone longs for and hopes to be? What does it look like to be a "friend that sticks closer than a brother?" (Proverbs 18:24). How can we each be the kind of friend that does make people's lives more extraordinary?
It's not the amount of money you spend on the friendship, the length of time you know each other, not even the time you spend face to face — a friend is a myriad of things, seemingly simple, but together making the beautiful gift of friendship real in our lives.
A friend lets you word vomit every.single.detail of your horrible day before they validate your feelings while challenging any dramatizations.
A friend holds your hand when you get the worse news of your life. And they don't stop holding on when others do.
A friend tells you easy and hard truths, even when you don't want to hear either.
A friend opens your eyes to perspectives you've never thought about, and shifts your gaze to what's really important in life.
A friend graciously meets your potential dates and gives you honest feedback, the only motive being their desire for you to have the best possible future.
A friend shares in your joys, your sorrows, your successes and failures, any feelings of envy impossible in their true wish for your happiness and the value they place on your friendship.
A friend may move a million miles away, but your friendship only grows to accommodate for the distance.
A friend is available at 2am, even if its just a nightmare, not a tragedy.
A friend hopes, longs, desires, prays, and wishes the absolute best for you, your life, your family and friends — and their every action in your friendship reflects this truth.
A friend knows when to ask for forgiveness, to say sorry, and when to request an apology for unintentional hurts.
A friend is sweet tea on the front porch — laughter, blue skies, and peace.
A friend realizes when you've reached your limit with life and when a mindless movie and multiple pint ice cream night is a necessity.
A friend doesn't fear your tears, just views it as an opportunity to show their caring heart for you.
A friend sits beside your hospital bed for hours, even if you've been asleep for 99% of said hours.
A friend exudes sunshine even on a rainy day, and when it's their life that's stormy, you provide the rainbows.
A friend feels like ice water on a hundred degree day, and hot cocoa when it snows.
A friend is freedom to be — vulnerable, authentic —simply you.
A friend is all of this and so much more — a friend is an irreplaceable gift.
***
I'm so thankful for all those I've called friends — each has helped shape me into the person I am today. It's humbling, overwhelming, and joy inducing as I am enveloped with memories of friendships past and present, and I look forward to those to come. 
***
Your turn: What would you add to the list? A friend….I would love to hear about how friendship is making your life extraordinary in the comments!