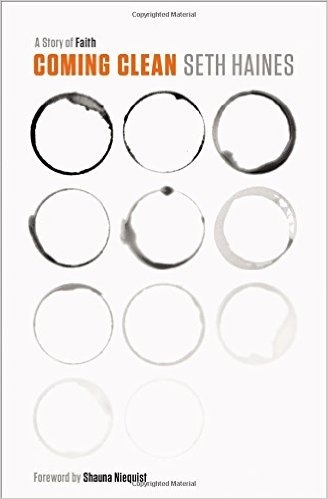 {Image Via}
Late last summer, I read Amber C. Haines memoir, Wild in the Hollow, and I thought about it for weeks. Last fall, her husband, Seth, wrote his memoir of sorts called Coming Clean. This story follows his first ninety days of sobriety. It's written in journal entry format, some days highlighting that actual day while others transport the reader to his childhood or early adulthood events.
I don't know how to summarize a book that I'm about to start rereading because it was so powerful, so potentially life-altering, but I suppose that statement is a start. You see, Haines does not just speak to those dealing with an alcohol addiction; he writes to all of us human beings who use many addictions to deal with this messy, painful life.
The author's particular addiction fully makes itself known when he and his wife are in the hospital planning their youngest son's funeral. Haines decides he cannot have faith any longer and he just does not want to deal with the emotional and spiritual scars that his son's illness rip open. Thus begins a journey that goes back to his youngest years where his faith was formed, broken, and now must completely be rebuilt again.
The story resonated with me — the questions, the inability to fit Jesus into our human "boxes" and how much our faith can be challenged by the trials of life. With his superb writing, Haines takes us all on his faith journey with him, inspiring all of us as his story unfolds.
There's so much to learn within these pages. Cannot recommend enough no matter where you are in your faith or in your life.
***
Author's Website: Seth Haines
Coming Clean on Amazon
***
What are you currently reading? What's the last book you just had to reread?
***
{Disclaimer: {EE} Reads books are featured simply because reading them made my everyday extraordinary, so I wanted to share them with you! I buy or borrow all books myself. No affiliate links in this post. Thanks 🙂 }