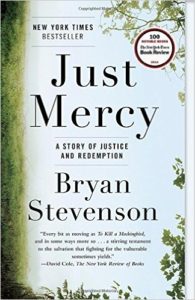 {Image Via}
Since I heard people claim this was the best book they read out of a whole year of reading, I knew I had to check it out. I honestly did not know much about the book nor the author before this book became available to me through my library.
In brief, Bryan Stevenson is a lawyer and the founder of the Equal Justice Initiative, which according to their website "is a private, nonprofit 501(c)(3) organization that provides legal representation to indigent defendants and prisoners who have been denied fair and just treatment in the legal system."
His bestselling book, Just Mercy, details many different people and cases he has worked on, and it also has a memoir type feel in some parts as he writes about himself, his life, and how he become the justice fighter he is today.
Honestly? I don't even know what to write to summarize this book. This was a book that I'm fairly certain will resonate with me for the rest of my life. I feel extremely heartbroken (and blindsided) about some of the injustice detailed within these pages and also overwhelmed to see how broken the system is here in America in many ways. Don't misunderstand, I'm thankful for our justice system that helps keep us safe, but it is devastating to read about innocent people being victims to others' racism, arrogance, and preexisting biases.
Stevenson does a phenomenal job in writing this book with nothing less than extraordinary grace for the reader, never accusatory, just stating facts — all well documented within the justice system records. He does delve into the emotional rhelm at times and his descriptions are so vivid, you feel as though you are beside him in the prison or courtroom.
I especially appreciated how the author speaks to the fact that we are all broken. All of us mess up, fall down, and hurt others in many different ways. All actions have consequences, yes, but with justice there is mercy and grace too — we've all received it, yet we find it so hard to give, especially to those who might look, act, talk, or be in any way different from us. This book questions your unrealized biases, your preconceived notions due to your race, location, or upbringing, but most of all it challenges you to think about what you can do to help insure others receive the same fair justice you would absolutely desire if you were in their place.
This is a must-read for everyone — let it open your mind and heart to realize how much we all just need mercy.
Author's Website: Bryan Stevenson
Just Mercy on Amazon
***
Have you read Just Mercy? What did you think? What are you currently reading?
***
{Disclaimer: {EE} Reads books are featured simply because reading them made my everyday extraordinary, so I wanted to share them with you! I buy or borrow all books myself. No affiliate links in this post. Thanks 🙂 }