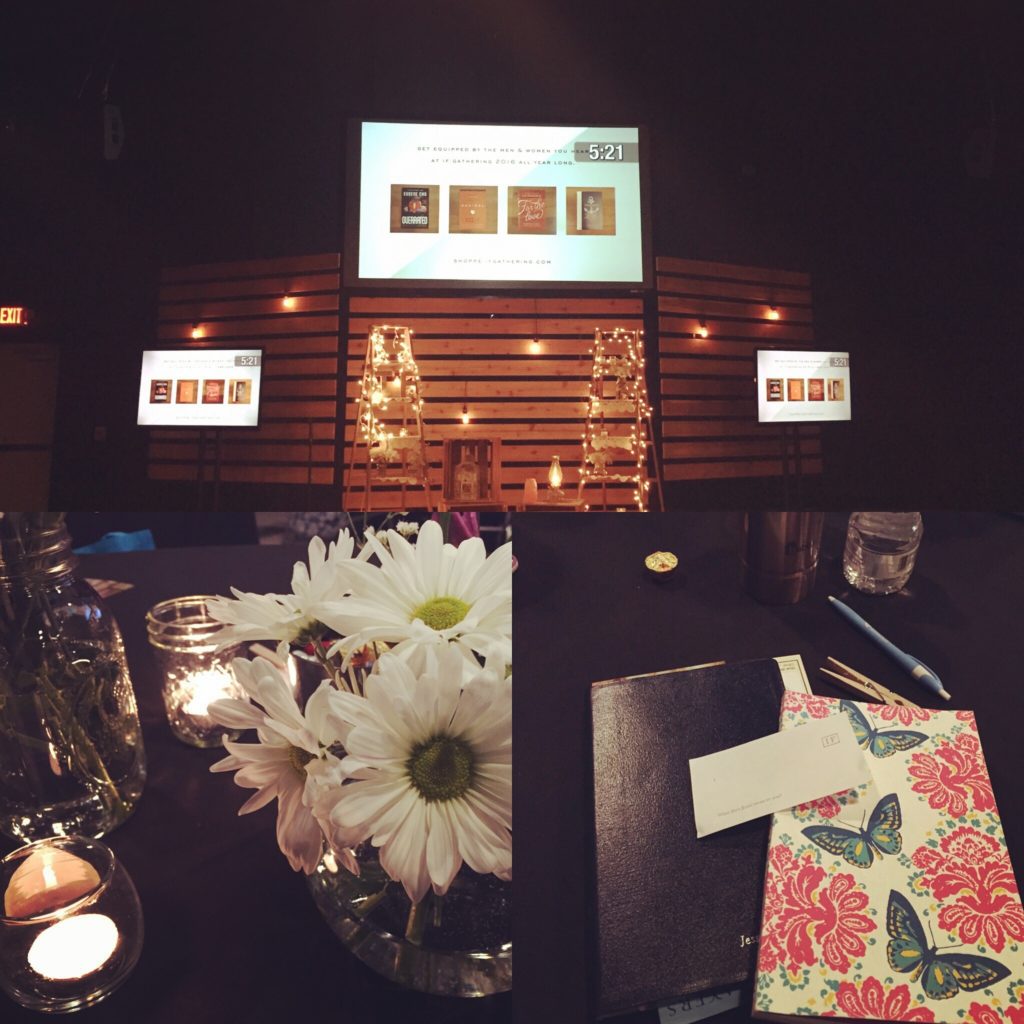 It's hard to know where to begin even after four days of reflection on IF: Gathering 2016. If you're unfamiliar with IF, I urge you to check out their website, discover this amazing organization, and make plans to attend an IF Gathering next year!
IF's purpose statement is "We gather, equip and unleash women to live out their calling by creating tools and resources for the local church and the women they serve." IF has many other facets beyond just IF Gathering, but since that's what I have participated in so far, that is what I'm going to muse about here in this space.
The IF Gathering was comprised of over 500,000 women across the world who gathered in their churches, living rooms, event halls, and homes united in our belief in Jesus for two days of challenging, inspiring, encouraging speaking from men and women who adore Jesus and live to share His life-giving love.
Some of the speakers included Jen Hatmaker, David Platt, Ann Voskamp, Jennie Allen, Angie Smith, Bianca Olthoff, Lauren Chandler, Jo Saxton, Eugene Cho and many, many more. These speakers spoke live to a group of about 2,000 women in Austin, Texas while thousands of other IF: Local sites joined in via livestream. Thanks to technology it is thought to be the largest faith gathering in history. Pretty neat, right??!
There was and is so much to process from the gathering, but I thought I would share with you some of the highlights — the phrases from some of the speakers that haven't left my mind yet, and have the potential to stay there forever.
This conference asked the question, "What IF we lived like Jesus?" We mainly focused on the book of John.
Jo Saxton opened the conference by speaking on who is this Jesus? And what did He come to do? He came to redeem our lives and restore our purpose. He also wasn't worried about anyone's opinions when He spent His time with what we would call the "worst of sinners."
Jennie Allen challenged us all when she stated, "I've spent my life studying Jesus' words, but not His actions." She also encouraged us to remember how Jesus' washed the disciples' feet, and the symbolism there is staggering. He didn't just wash the dirt off their feet, His blood washed the dirt and sin off our lives.
Eugene Cho's message of knowing Jesus loves us, hearing His voice, and loving others was challenging; nothing more so than his closing comments on the common phrase "The grass is greener on the other side." Even if that's true, Cho challenged us to "water the grass we are standing on — water our marriage, our friendships, our families, our calling, water right we are at." Powerful.
Jen Hatmaker focused on John 15 and Jesus' crazy amazing love for us and for every single human being…and she firmly challenged us all to show that love with "touch, presence, proximity, and dignity" to any and every one. "Power and superiority are fueled by fear —  who would we stand by if we were not afraid?" It was a sobering reminder of how "easy" it may seem to live like Jesus, to follow the "rules", but how challenging it is to truly love like Him in a culture that encourages divisions even among believers.
There were many other wonderful speakers with messages that will last in my heart for a long time. It was an extremely encouraging weekend that brought peace, encouragement, and motivation to serve where I am, love who is around me, and reach out even when it's difficult to get outside my comfort zone.
***
Did you participate in the IF: Gathering? What did you think? Who is the last speaker you heart whose words you couldn't seem to forget?