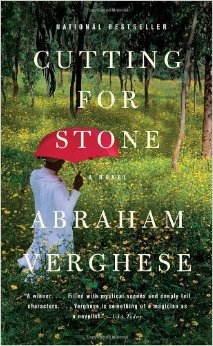 {Image Via}
As I've shared before, I now a recent podcast convert, specifically of two which I listen to every week — The Happy Hour with Jamie Ivey and Anne Bogel's (of Modern Mrs. Darcy) What Should I Read Next. This sweeping novel was featured on Anne's podcast a few weeks ago. I loved her description of it so I checked it out from my online library that day.
The author, Abraham Verghese, is a physician, educator, and writer. His medical background weaves its way throughout this book which follows the lives of twin brothers born in Ethiopia to a nun and a surgeon. This saga transports you from India to Africa to the United States and back again – a extraordinarily written read that catches you from the first chapters.
Comprising six hundred and ninety pages, this is definitely not a quick read, but it's a read worth savoring and one that doesn't feel too long. There are some adult themes in this book, but overall the story is well worth your time. The twist about two thirds in literally made my jaw drop, and I couldn't wait to see how this book turned out. Medical professional or not, this is a wonderful multi-faceted story that you shouldn't miss.
Author's Website: Abraham Verghese
Cutting for Stone on Amazon
***
What are you currently reading?