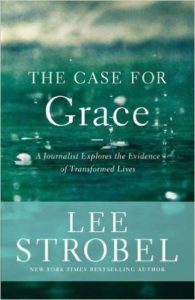 {Image Via}
I have heard about Lee Strobel for many years because of his most famous book, The Case for Christ, even though it remains on my to be read list. A staunch atheist, Strobel conducted extensive research about Christianity before deciding to place his faith in Jesus Christ. Now, years after his original faith investigation comes his latest book, The Case for Grace.
My in-laws gifted us this book for Christmas, they bought us an autographed copy after Strobel spoke at their church. I wasn't sure what to expect when I started reading, but what I found was a compelling, touching, and challenging book of stories about the incredible power of God's grace in people's lives. From a homeless man at the end of his rope, an orphan whose childhood was nothing short of a nightmare, to the charismatic but adulterous pastor whose life was in shambles — all met Jesus' life-changing grace in their darkest moments. In this book, you will find these stories and many more.
Sometimes we as Christians toss around the word grace without truly comprehending its power and the sheer depth of meaning contained in those five letters; this book reminds you once again about the incredible grace of our Savior and the gift that it is to every one of us. No matter your testimony of faith, where you've come from or where you are currently at, there is encouragement within these pages. Grab a few tissues for the read and be ready to be refreshed, renewed, and very grateful for the grace of our Savior.
Author's Website: Lee Strobel
The Case for Grace on Amazon
***
Have you read any of Strobel's books? What are you currently reading?
***
{Disclaimer: {EE} Reads books are featured simply because reading them made my everyday extraordinary, so I wanted to share them with you! I buy or borrow all books myself. No affiliate links in this post. Thanks 🙂 }