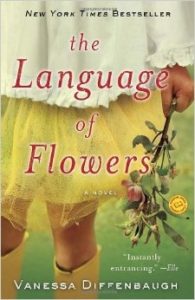 {Image Via}
This book came to me by chance — I now remember it being recommended before, but a week ago, I was simply looking for an available Kindle book to borrow from my online library for our birthday weekend getaway. The cover on this book drew me in, and the sample chapters I read on Amazon sold me.
The Language of Flowers, a debut novel, is a raw, dramatic coming of age story about an orphan, Victoria Jones, who grows up in the foster care system. Bounced from family to family she finally ends up in a group home until turning eighteen. Victoria masks her deep pain about her past beneath a gruff demeanor and the million mile high wall she has built around her heart.
We meet our protagonist on her eighteenth birthday. Officially out of the state system, Victoria now needs to make a way for herself. Haunted by events that occurred in her last foster placement before the series of group homes that have marked the passing of the last couple years, Victoria, at first, sees no urgency to find a job nor place to stay.
As Victoria's present struggles unfold, we are treated to flashbacks of her past which involved a woman named Elizabeth who taught Victoria the language of flowers. This love instilled in her for all things floral intertwines with her present as she manages to get a job at a flower shop. This job brings her many things, but eventually her present collides into her past in every imaginable way.
This book captured me from page one — the writing is superb, beautifully descriptive of the emotional distress and abandonment Victoria feels both as a young girl and as a young woman. There are definitely adult themes contained in these pages, but I found it to be a lovely, poignant tale of a young woman defeating the overwhelming statistics against her with help from the unconditional love of others in her life that refuse to let her go.
Author's Website: Vanessa Diffenbaugh
The Language of Flowers on Amazon
{Disclaimer: {EE} Reads books are featured simply because reading them made my everyday extraordinary, so I wanted to share them with you! I buy or borrow all books myself. No affiliate links in this post. Thanks 🙂 }