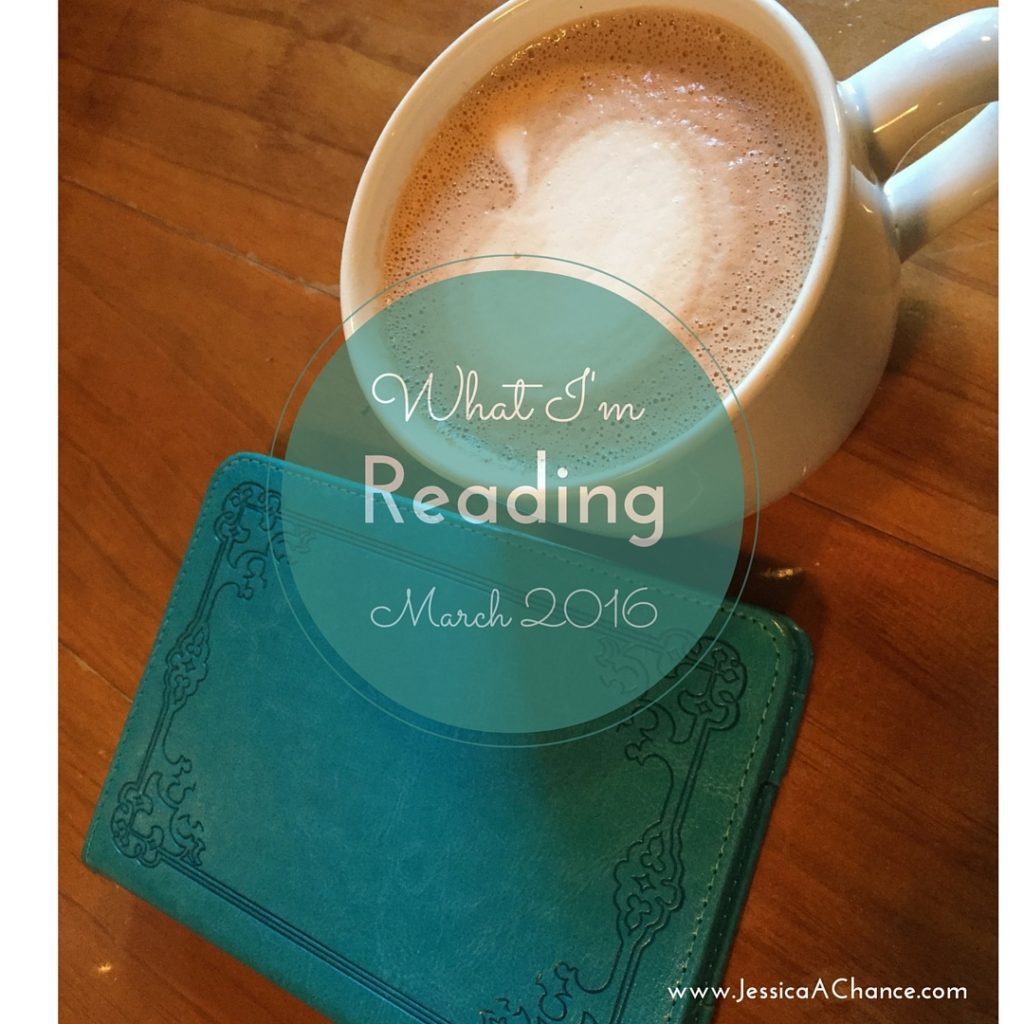 March is flying by as it the busyness of the daily schedule has seemed to increase tenfold. My reading tapered off a bit lately, but I'm hoping to carve out some time soon for the library holds that just became available. What are you currently reading?
Read this Month:
The Secret Keeper by Kate Morton. This was my first Kate Morton book, and I loved it! Such a good novel with a twist that I admit I did not see coming at all. I have her book The Lake House requested from the library. Excited to find another great author I enjoy! (4/5)
The Canopy by Angela Hunt. Picture an Amazon jungle, a team of medical and scientific researchers with some Gospel references weaved in and you have this book. I usually enjoy Hunt's work, although I will say this is definitely not my favorite of her books. I liked the book until the end where it became a bit too far-fetched for my tastes. (3/5)
Reconstructing Amelia by Kimberly McCreighton — I definitely should have researched this book a little more before I read it. It was dark, depressing, and hauntingly sad. It addressed raw topics like suicide, cyber bullying, and described high school as a beyond cruel world that I now never want to send my future children into. There was not much redemption in this story at all. I actually kind of wish I never read it, which is strong language for someone who usually can find some type of "good" in books I read through to the end. (2/5)
The Case for Grace by Lee Strobel. From the author who brought us The Case for Christ comes his latest book, The Case for Grace. I wrote a full review on this one, but I recommend this compilation of stories about how the grace of God is alive and working in people's lives. (4/5)
The Language of Flowers by Vanessa Diffenbaugh. This was the extraordinary everyday read of the week this past week — a poignant tale of a young woman coming of age, the foster care system, and how the power of unconditional love can change anyone's life. A bonus? I never knew that every flower had such deep meaning. (4/5)
Cutting for Stone by Abraham Verghese. I heard this recommended on Anne Bogel's What Should I Read Next podcast and her description intrigued me so much, I borrowed it from my library that day. Written by a physician whose medical knowledge is on almost every page, this is an extraordinary fictional saga of twin brothers born in Ethiopia. Definitely some adult themes, but a fascinating account with some twists to keep you engaged until the very last page. (4/5)
When We Were On Fire by Addie Zierman. Another memoir made the list this month — Addie's second book comes out this month, and since I hadn't read her first yet, I wanted to read it before the new one (Night Driving) of which I've heard great things. This is the author's account of growing up as an evangelical Christian in America in the 90s. I was very curious about this book since I can relate to a lot of her experiences with church and growing up in the Christian subculture. Overall, I appreciated her thoughts and her raw honesty about the struggles she has faced in her faith. (4/5)
Currently Reading:
The Nurses by Alexandra Robbins. I'm a few chapters away from finishing this in depth look into the world of hospital nursing. Since I work in the hospital, I've had to slowly read this one in between other non-medical books so my mind has a chance to dwell on something other than being a nurse for a bit.
Out of Sorts by Sarah Bessey. Still working on this one from last month — it's still very well written, and I'm savoring the chapters. Should have a review up soon!
Me Before You by Jojo Moyes. I've heard this recommended multiple times and I believe it is being made into a movie. After being in line for it from the library for a while, I'm excited to get into this one — although I've heard I will need a box of tissues.
Bought this Month: 
I actually didn't buy any books this month — but I still have a few from previous months loaded on my kindle that I need to start!
Up Next:
Many, many library holds are in the que, but we shall see if I ever get to the front of the long line for any of them. I still have Simply Tuesday and The Fringe Hours that I bought on sale on my kindle. I've been reading more non-fiction lately and find I do better if I space them out. That way, I can truly absorb the wisdom and stories contained in their pages.
Previous What I'm Reading Posts
All extraordinary everyday book reviews: Read
–> This is a link up with Modern Mrs Darcy — check out her post to see what other bloggers are reading this month! <—