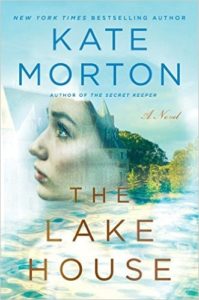 {Image Via}
After I read Kate Morton's The Secret Keeper earlier this year and loved it —  I quickly put my name on the waiting list at the library for her latest – The Lake House. I had a hunch that I would enjoy it as well. I wasn't disappointed.
Both of these books kept me turning pages as quickly as I could, eager to find out what would happen next — they also both have quite a twist. In The Lake House, I was expecting it, but didn't completely guess all the nuances; however, in The Secret Keeper I was completely shocked by the twist, which I loved.
The Secret Keeper is a sweeping tale told across generations and from multiple perspectives. Morton does a great job at character development and her descriptions are vivid to the point that I felt I was at the lake house with the family. She weaves a complicated tale about a summer party, a mysterious disappearance, family secrets, lies, and redemption. There are some adult themes, but overall a compelling mystery I would recommend.
Author's Website: Kate Morton
The Lake House on Amazon
***
What are you currently reading?
***
-Find all EE Reads featured on the blog on the "Read" page –
***
{Disclaimer: {EE} Reads books are featured simply because reading them made my everyday extraordinary, so I wanted to share them with you! I buy or borrow all books myself. No affiliate links in this post. Thanks 🙂 }