I've alluded to it multiple times on the blog, but here it is in four words: I'm a simple cook. Sometimes I wonder if what I do really is cooking, but I believe it is…just without a lot of the complexity some cooks thrive on. Personally, I love having a home-cooked meal for us each night, it's part of what I do to take care of my family; however, cooking in itself doesn't bring me tons of joy to the point where I want to spend hours planning, prepping, cooking, and cleaning up afterwards. Over the years, I have established a rotation of recipes that I make for weeknight dinners. They are good, balanced meals, but with shorter ingredient lists. I do eat completely gluten free, but I'm not one to refuse to use jarred pasta sauce or canned pineapple as needed.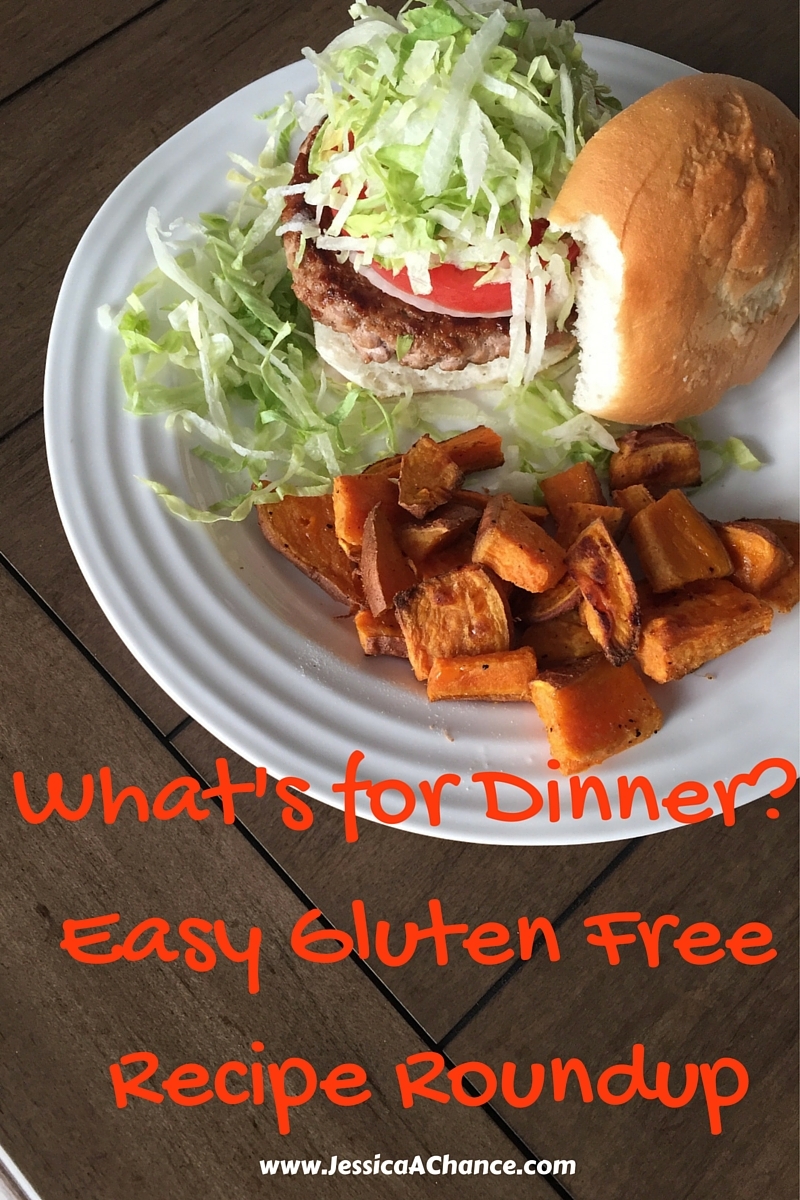 So without further ado — although this isn't a comprehensive list, here are links to some of my go-to recipes with my gluten free modifications listed if needed:
Betty Crocker's Cheeseburger Pie – to make this gluten free, simply use gluten free Bisquick. I also substitute ground turkey as I limit our red meat intake. This is one of my husband's favorites, and it makes for great leftovers too!
Honey, Lemon, and Rosemary Grilled Chicken — this is naturally gluten free, and honestly? I've never grilled it — I've simply marinaded the chicken and cooked it in the oven. I bet this would be even more delicious grilled, but it's great in the oven as well over gluten free pasta with a side of broccoli.
Slow Cooker Pineapple Chicken — one of my favorite recipes to make for guests, I use gluten free soy sauce and frozen chicken breasts that I shred at the end of the cooking time. Serve over rice and you have a delicious dinner with plenty of leftovers for lunches!
Slow Cooker Barbecue Pulled Chicken — before I found this recipe I would try to make BBQ chicken in the crockpot and always, always burn it (yes, I know, great cooking skills — it takes true talent to burn food in a slow cooker!! haha 🙂 ) — however, this recipe (get a gluten free BBQ sauce and chicken broth) solves my dilemma by producing perfectly tender and delicious BBQ.
Corn Dog Muffins — this is the perfect Friday or Saturday night meal. Easy to make, a "comfort" food, and a great leftover. I use a gluten free cornbread muffin mix (this one or this one) and turkey hotdogs to make it a bit healthier 😉 I make these as mini muffins — and the secret is to only fill the muffin cups about 1/3 or so full with cornbread mix before placing the hot dog in them, or it won't cook all the way through. This is a favorite at our house!
Smaller Lasagna for Two — my friend shared this lasagna with me that's made in a bread loaf pan, and I love it! It's the perfect portion for the two of us and leaves us with leftovers for the week! Make sure you find a good gluten free lasagna noodle (this oven ready one works well) and don't skip any of the spices in this one — it is delicious! (A note: I do layer the sauce, noodles, and cheese mixture multiple times unlike the recipes which only calls for one layer.)
Slow Cooker Mexican Fiesta Soup – I shared this recipe on the blog previously, but it deserves another mention as it's a lovely meal to come home to after a long day.
Tacos — these are a staple at our house. We use McCormick's Gluten Free Taco Seasoning, ground turkey, and then add all the fixings. The easiest dinner, yet such a delicious weeknight staple.
Spaghetti — of course, my favorite meal must make it on the list. This is another easy dinner that leaves plenty of leftovers for lunches. Some of my favorite gluten free noodles are here, here, and here.
"Homemade" Pizza – This is a weekend treat at our house — I use the Betty Crocker pizza crust mix (so easy, only "sits" for 5 minutes, no rising needed) and top with our favorites — veggies for me, meats for him. We usually have some carrots and hummus to round out our meal!
Turkey Burgers with Sweet Potato Fries — I'm hopeful we can start grilling out soon, but until then this meal shows up almost bi-weekly in our house. For the sweet potato fries, I season with pepper and garlic using a bit of olive oil so the spices adhere to the potatoes. Roast on 425 degrees for 20-30 minutes depending on how crispy you want them!
Slow Cooker Salsa Chicken – Ready for this complex recipe? Grab a jar of your favorite salsa, 3-4 frozen chicken breasts (or thawed, just adjust cook time) — put all two ingredients in your slow cooker, cook on low for about 8 hours (if thawed 4-6 hours). Serve over rice with a side of veggies.
***
So next time you ask that all important question of what's for dinner, I hope this list can help you find an option that's not only delicious and gluten free but also quick and easy!
***
I would love to hear some of your favorite go-to recipes! Feel free to share links in the comments!