Family
Friends
Money
Careers
Possessions
Fear
Control
Worry
Anger
The Future
If you think about your life — how many of these things are you holding within a clenched fist, unwilling to let them go, fearing that if you do it will all fall apart?
A few weeks ago at church we were discussing the early church in Acts 4 and reading about how they held their possessions with an open hand — unfazed at the thought of giving possessions away. Our pastor challenged us in the area of giving that we must hold our monetary blessings loosely, willing to give as God commands to help others. However, as I mulled over this thought, I wondered –
What would it look like to live a hands wide open life?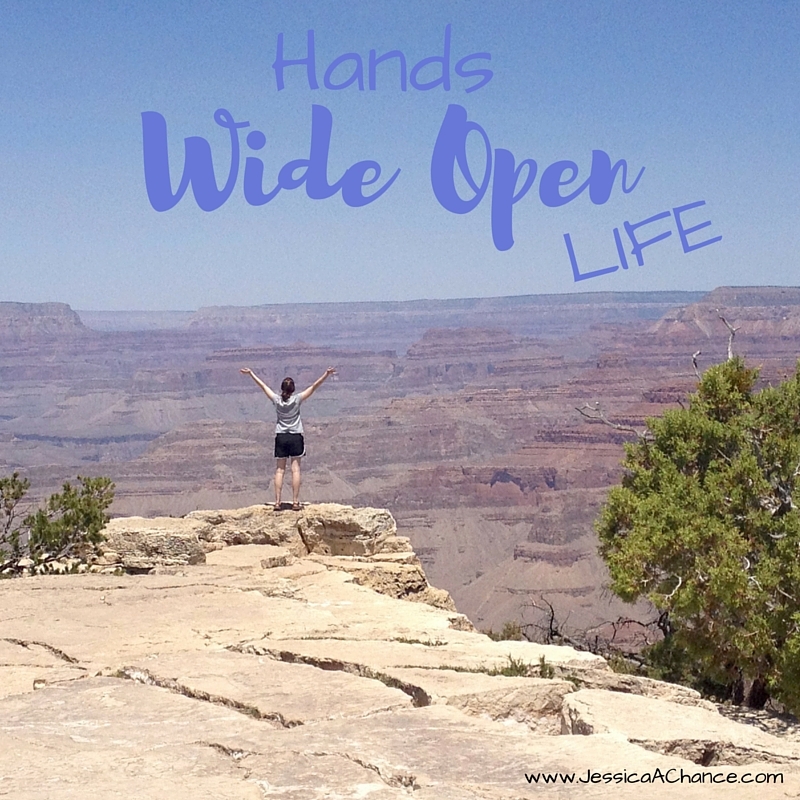 Lately, I've been struggling with anxiety. So many life changes happened extremely quickly in the last two years including engagement, marriage, sayings hard good-byes, a cross country move, multiple job changes, buying a home, getting a puppy, finding a new church and community, deciding to return to graduate school…all these seemingly big decisions faced us every day for a while (And still do! This must be adulthood!? 😉 ), and the fatigue on every level was exhausting. (Decision fatigue is for REAL!) Hence, the anxiety.
By nature, I like plans, routines, predictability, and downtime to recharge. Within the whirlwind of the last couple years, routine has been fairly nonexistent, predictability null, and downtime a rare treat. Because of this, I found myself floundering, grasping on to anything and everything I thought I could control. Anything that felt uncontrollable, such as the safety of my husband, decisions and fear about the future, or the loneliness of the move, planted deep seeds of worry inside my soul.
That is why in church that day when we all held our arms straight out in front of us, palms up, fingers splayed out wide — my mind had to pause. Why only apply this principle to giving? What would a hands wide open life look like?
I thought of all the things, people, circumstances, emotions, and fears I was holding clenched in a white knuckled grip — the anxiety that surrounded my days, invited or not – and I pictured placing those things in my palms, held up high and open to my Savior.
Holding up to Him —
My husband
My family
My friends
My career
My fears
My doubts
My insecurities
My need for control
My pride
My perfectionism
My future
My life
So I held my hands up, wide open, to the One who created and knew me from the beginning of time and I let go, opening up my hands to Him, offering up everything, yet holding tightly to the knowledge that I never have to let go of His hand.
That the beginning of my desire to live a hands wide open life — a daily surrender, a lifelong challenge, but a worthwhile endeavor of a life well lived for the One who gave His life for us.
"My sheep hear my voice, and I know them, and they follow me. I give them eternal life, and they will never perish, and no one will snatch them out of my hand. My Father, who has given them to me, is greater than all, and no one is able to snatch them out of the Father's hand." ~John 10:27-29