Friday is here! Whohoo! How has your week been so far? I hope all is well in your part of the world and that a great weekend is ahead! We have some outside projects to tackle in our yard this weekend so we are hoping for blue skies and slightly lower temperatures than the current forecast which predicts a ninety degree Saturday. How does your weekend look? I would love to hear!
Below, as is our Friday tradition around here, you will find pictures and links to some favorites from life and the web that have been making my everyday extraordinary this week. I would love to hear from you — feel free to share your favorites in the comments!
Life Lately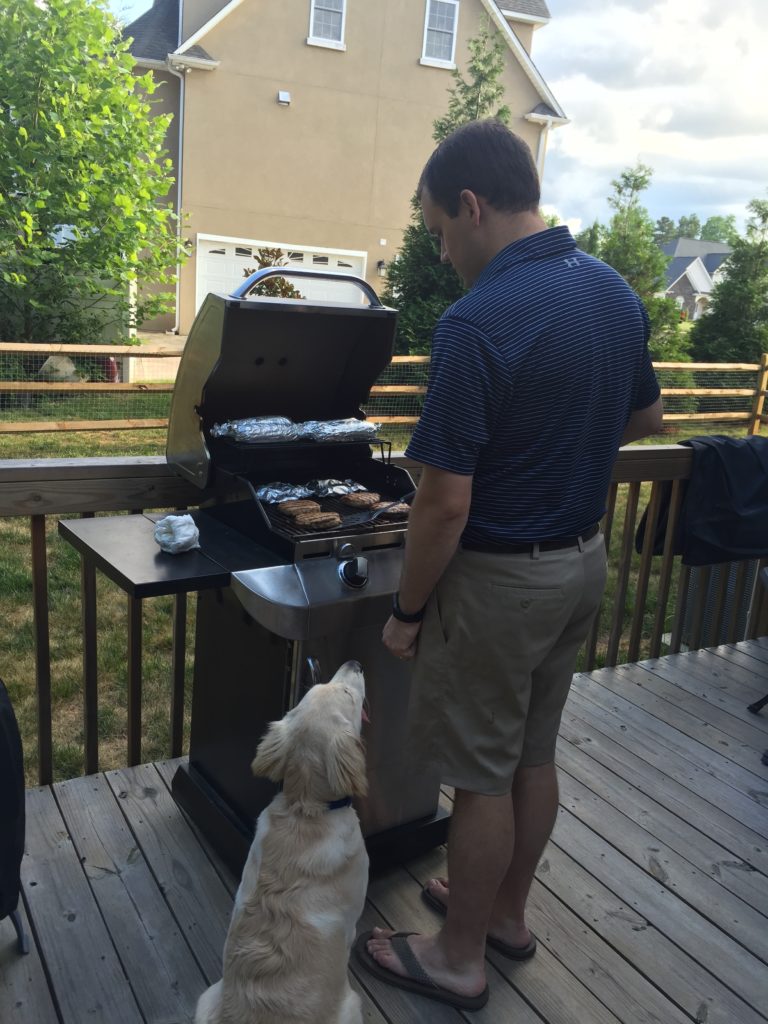 Grilling Buddies. We had an inaugural cookout in our new home (it only took us almost a year! haha) this past weekend and Russell had a little helper. However, sadly for him, Dallas' fondest wish of one of those hamburgers being his did not come true! 🙂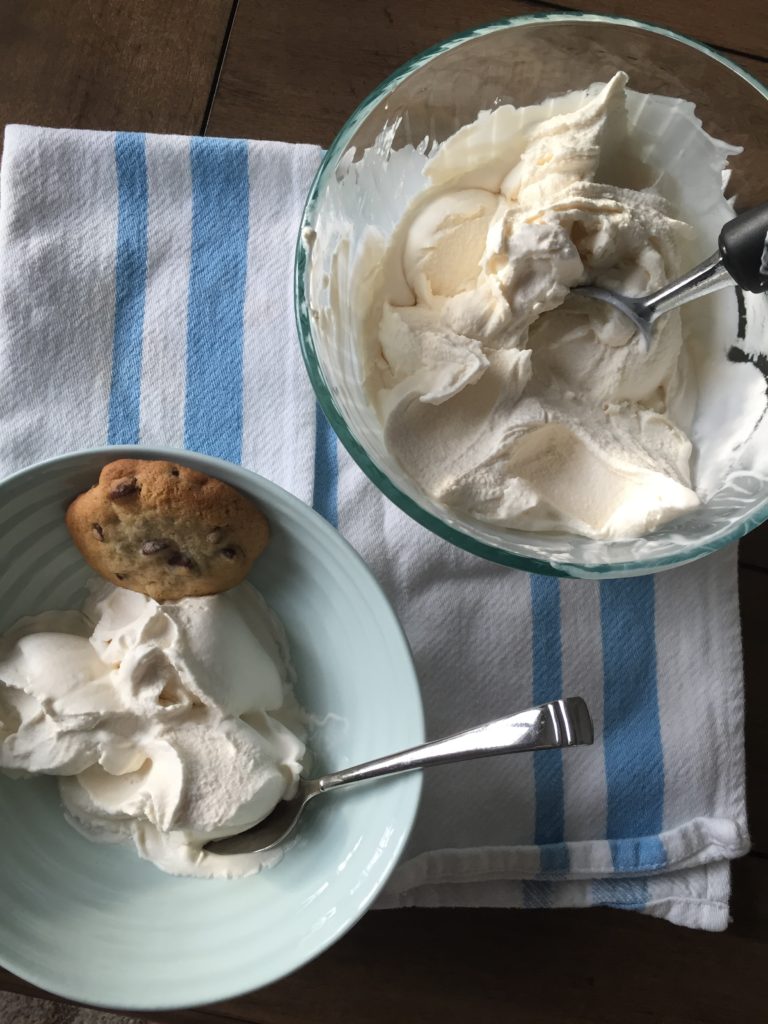 Homemade Vanilla Ice Cream. I insisted on registering for an ice cream maker for our wedding, and it was one of the gifts I refused to return when we reevaluated our kitchen storage post nuptuals. I'm so glad we kept it as it's so easy to make ice cream in it, and the results are so delicious!!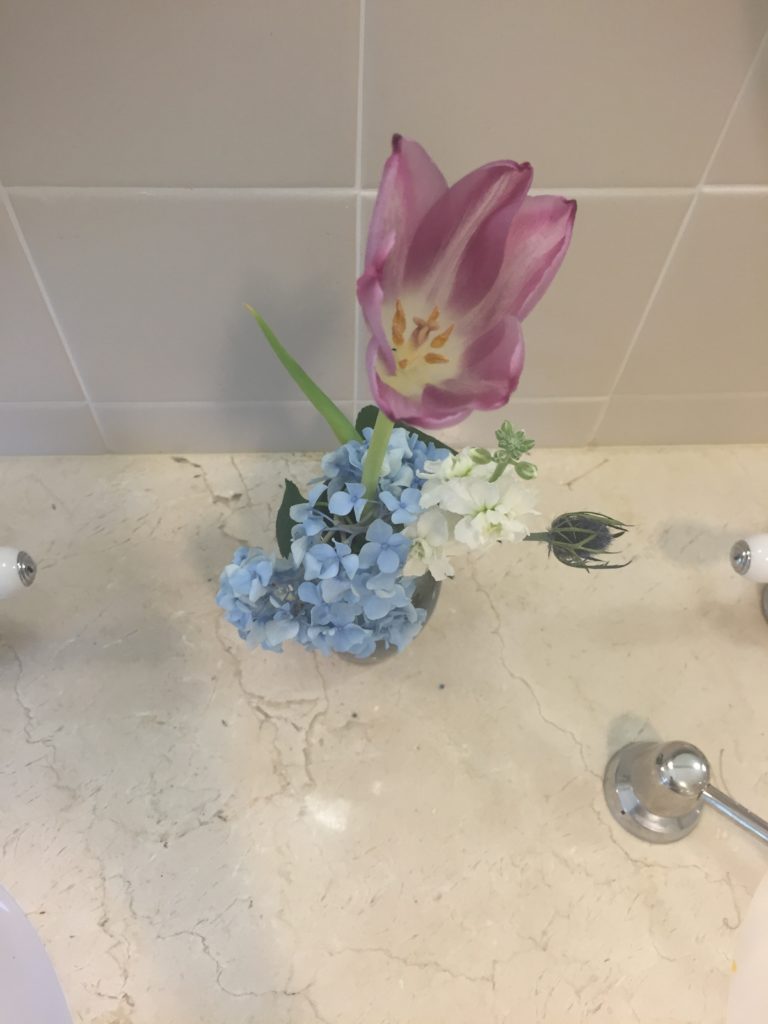 Bathroom Floral Displays. This pretty little bouquet caught my attention over the weekend in the classiest looking bathroom at the Reynolda House. It's simple details like these that if we're looking can make our everyday extraordinary!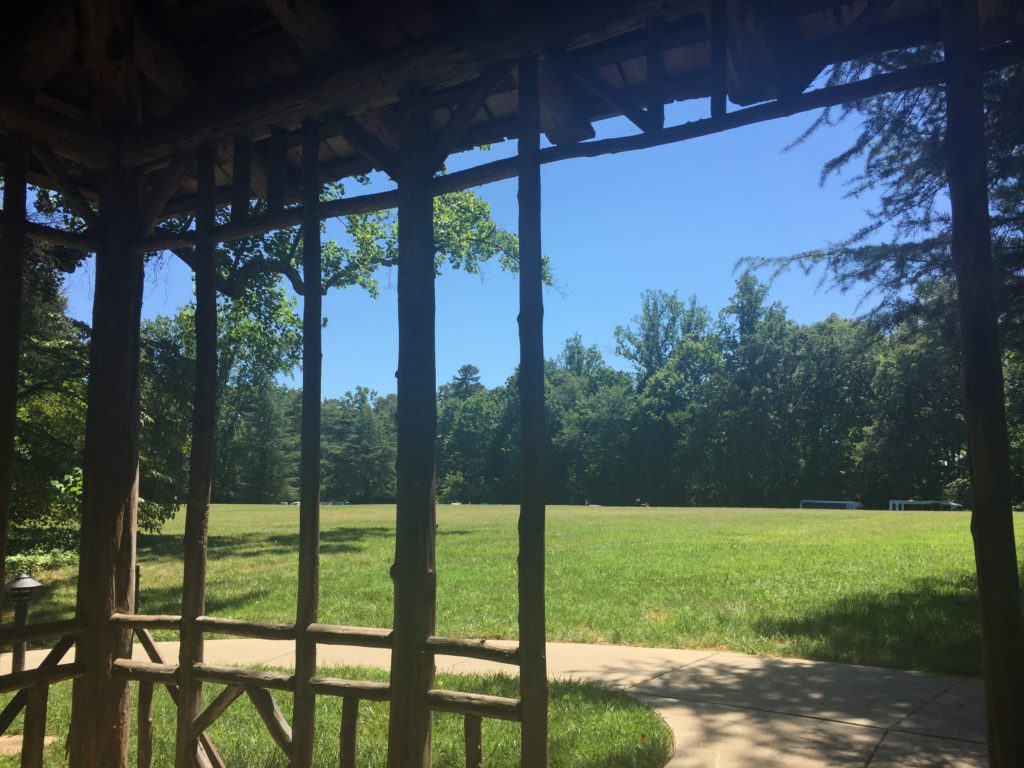 Country Views. For my birthday, we went to Reynolda House and toured the home and the current featured gallery, photography by the famous Ansel Adams. After those activities we found this little shelter with lovely estate views, so we sat and enjoyed the absolutely picture perfect day!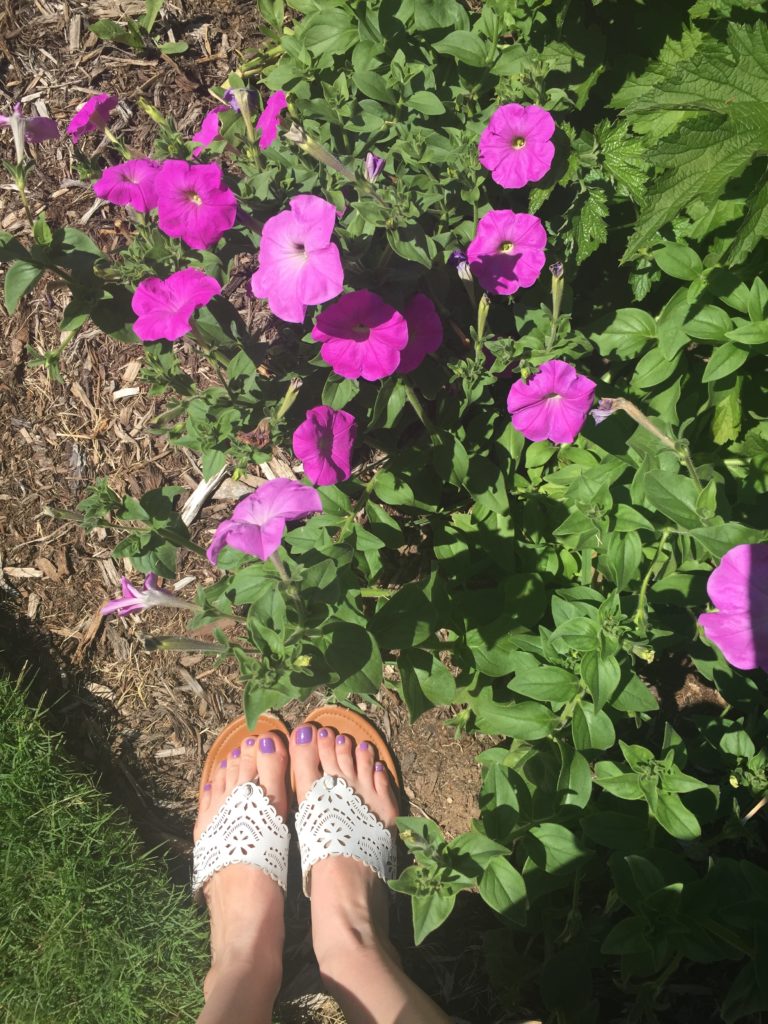 Birthday Indulgences. I have many pictures of my birthday that I could share, but one of my favorite pre-birthday treats was getting a pedicure 🙂 Since I can't ever paint my nails because of my job (constant hand sanitizing makes for a great nail polish removal tactic, just FYI), I love getting the occasional pedicure. For those of you who hate feet pictures, I included the flowers for your viewing pleasure — you're welcome! 😉
Dallas the Dog Picture of the Week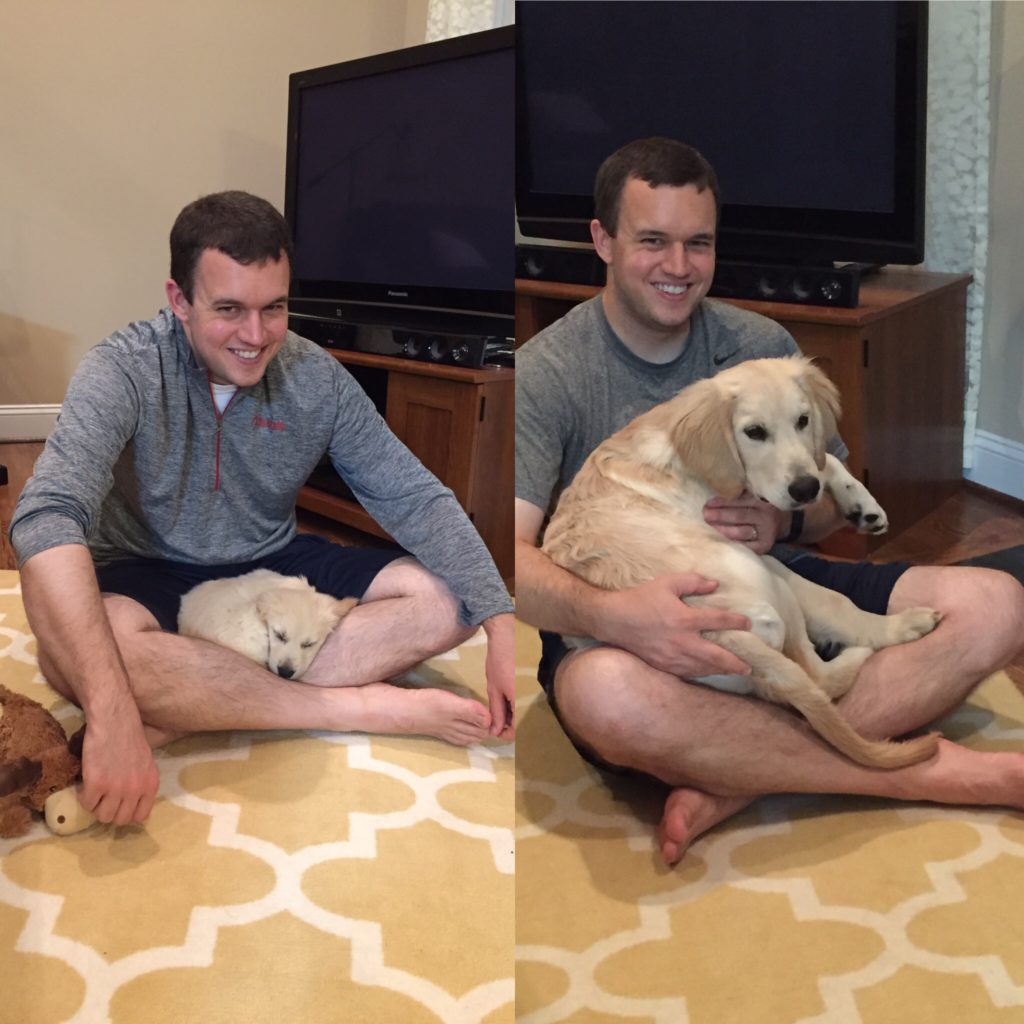 Bah! He's huge!! 22 weeks this week (7 weeks on the left photo above, 20.5 weeks on the right photo) and SO crazy! I must admit there are moments where I question our sanity in getting a dog, but then he just looks at me with those puppy eyes, and I (usually) like him again. We went to the dog park for the first time this weekend and he also went to doggie day care for the first time — haha — he still loves people, but is not quite sure yet of how much he wants to make other four legged friends.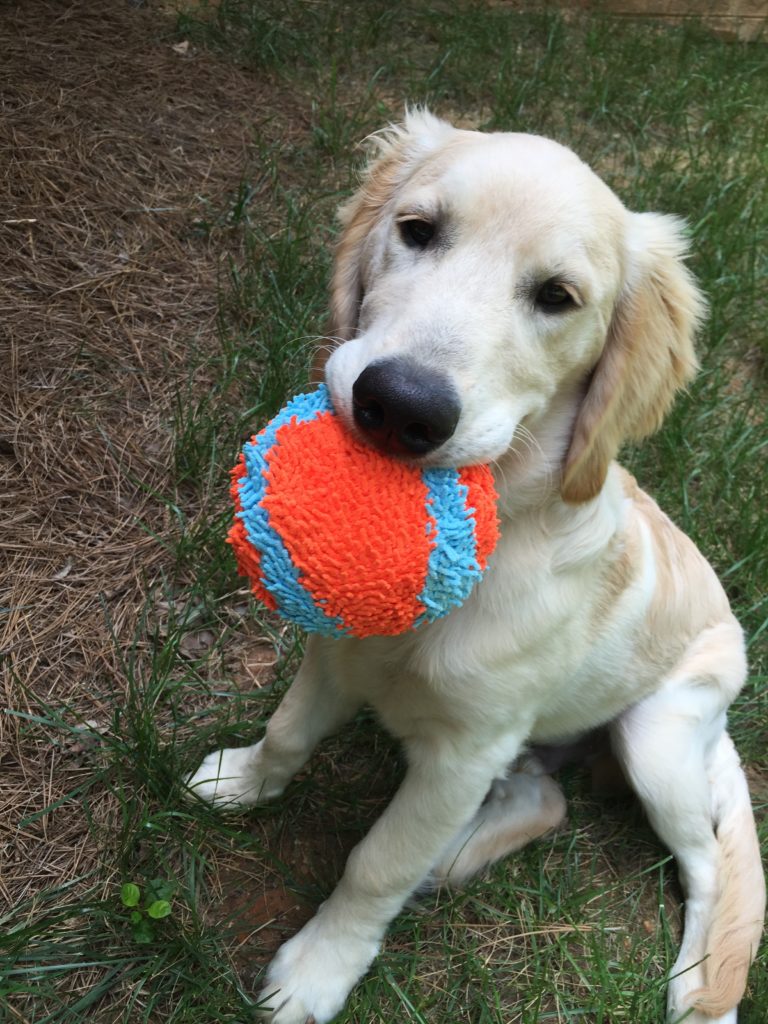 "Don't treat your ideas like they're nothing, don't treat yourself like you're nothing, because you and your ideas are important and meaningful and have the potential to become so much more than you realize."  Good encouragement for creatives (which is all of us in some way!!) – Do You Take Yourself Seriously? – by Sarah Cooper
"Yes. One little word changed everything. In wondering what was wrong with me, I had considered every other possible angle, from imbalanced hormones to bad influences to poor decisions. I researched new vitamin supplements, pulled away from friends, and even tried a new career. Until that day in the therapist's office, I never realized all I had to do was change the word I said over and over again." Wonderful reminder from hope*writer Meredith M. Dangel on Crash: When I said the wrong "no" too many times
I've been following country/bluegrass singers Rory and Joey's story since I first heard that Joey had advanced cervical cancer. She went on to heaven this past March, but her legacy lives on in her husband, Rory, and her daughter, Indiana. Rory has written out their story from the beginning and continues to work out his grief in his blog. He shared this post – to joey, with love – this past week on what would have been their fourteenth wedding anniversary. Please watch the preview of the film — it's an absolutely beautiful tribute to an amazing woman. (P.S. Have tissues ready…)
"Don't be afraid to grow. If you're going to become a stronger runner, you've got to push yourself beyond what you think you're capable of. Beyond what you were capable of yesterday. It hurts. It's painful. It's awkward and uncomfortable. Same is true of your relationship with God. Growth is difficult. But it's good." Does Your Relationship with God Look Different than It Did? Fellow hope*writer Katie Axelson asks a great question in this post, one which I strongly resonated.
Yummy Link of the Week: I made this rosemary chicken this week – it was featured in my easy gluten free dinner roundup, but I hadn't made it in a while — it's still a winner and I want to try it on the grill! I also saw these too cute Freezer Ready Mini Pizzas and I'm going to be on the lookout for some gluten free English muffins to try these on in the coming weeks!
***
Happy weekend, friends! Have a wonderful one!
***
{Linking up with Heather — check out more Friday Favorites here!}