No one would tell you that getting sick is a positive thing; however, it did help me this month to have much more reading time than usual when a summer cold took advantage of my exhaustion and forced me to rest and read for a few days while recovering. Thankfully, I had just been to the library a day before the illness struck so I had plenty of excellent selections! Looking forward to a lot more summer reading since I joined Modern Mrs. Darcy's summer reading club. We are reading five specific titles at certain times throughout the summer and then discussing. Although I love to read, I've never officially been in a book club so I'm pretty excited 🙂 
How has your summer reading been so far? I would love to hear about it in the comments!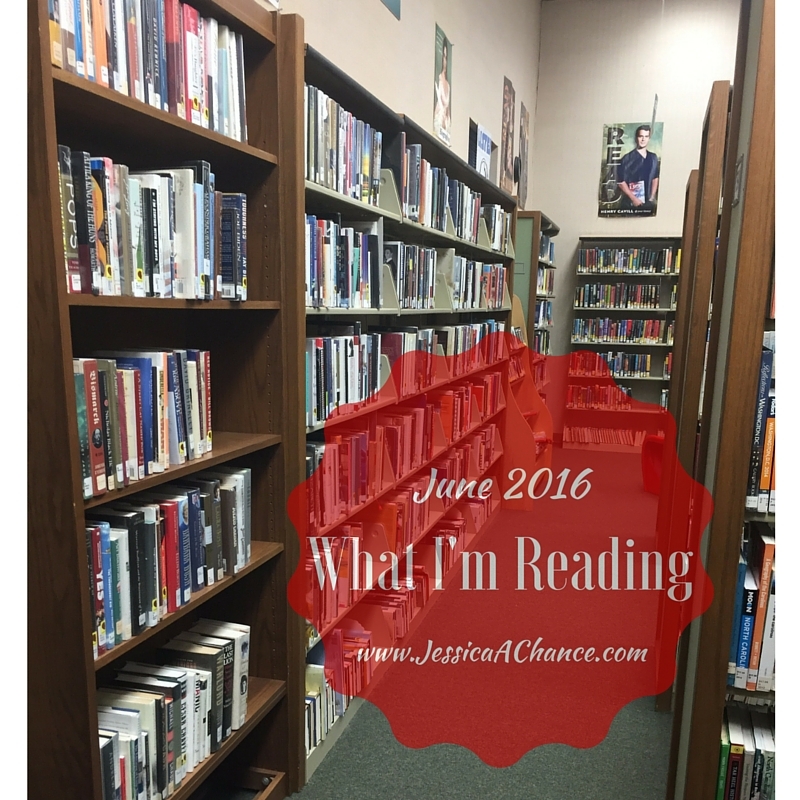 Read this Month:
The Light of the World by Elizabeth Alexander — A beautiful memoir about love, marriage, family, loss, and hope. This book was the extraordinary everyday book of the week last week. (4/5)
Alaska Twilight by Colleen Coble – Since we are visiting Alaska this summer, this Christian fiction book by a recognizable and read before author caught my eye. Although it was fairly predictable, it was fascinating to read about the Alaska wilderness and it was refreshing to enjoy a lighter (although there was some suspense) read after months of heavier ones. (3/5)
The Nightingale by Kristen Hannah – This book lived up to all of the high recommendations it received. I was instantly captivated by this story of two sisters during World War II, the excruciating decisions they were forced to make, and the brave choices they live out, even knowing the sacrifices required. Heartbreaking, yet hopeful with a twist I didn't expect; I truly enjoyed this book. (Warning: it is set during war times, adult themes involved). (4/5)
Called for Life: How Loving Our Neighbor Led Us Into the Heart of the Ebola Epidemic by Kent and Amber Brantly with David Thomas – As soon as this book caught my eye on the new release non-fiction shelf at the library, I couldn't wait to read it. Not only from a medical professionals' perspective, but as a former Dallas resident who lived blocks away from the hospital that cared for one of the first Ebola cases in the US, and as an admirer of the Brantlys and their work for Christ overseas, I was intrigued to read their story. The book didn't disappoint. Even with all the media coverage on Dr. Brantly and his fight against Ebola, I don't think it ever registered to me how close to death he truly was until I read his story in his own words. I found this to be a eye-opening read that was not only informative but inspiring. Highly recommend. (5/5)
The Bronte Plot by Katherine Reay – I was originally looking for this author's book titled Lizzy and Jane since I love Pride and Prejudice; however, The Bronte Plot was all my library had available, so I decided to give it a try. This book follows a woman named Lucy, whose less than scrupulous business dealings are uncovered causing important relationships in her life to be broken. Her deception revealed, Lucy has an unexpected opportunity to travel to England, a trip that shows her how much our pasts affect our present but how we have the power to change our lives despite this fact. A fun, although slightly predictable read, with enough literary references to please any bookworm! (3/5)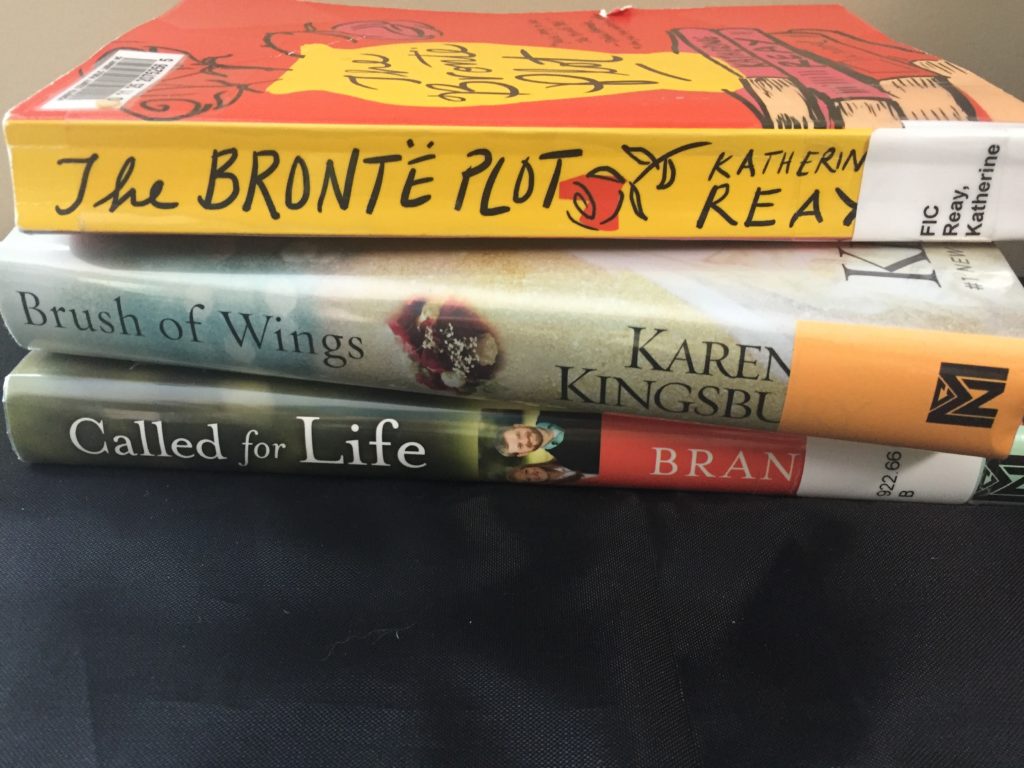 Currently Reading:
Being Mortal by Atul Gawande – So far, I'm loving this book!! Unfortunately, my library borrowing time ran out before I could finish and I wasn't able to renew, so I'm back in "holds – land" waiting for this one to be available to finish.
Brush of Wings by Karen Kingsbury – The third book in her latest series Angels Walking. I really enjoyed the first two books, but I'm afraid that this one may not end the way I want…
Stopped Reading:
Fates and Furies by Lauren Groff — Since I did not finish this, I cannot give a complete, fair review, but after the first couple chapters, I just couldn't take it. The characters were so selfish and unlikable to me, and even with the author's talent with words and imagery, I was so tired of the leading players' emotional drama that I just didn't want to waste anymore time on this one. (If you've read this one, feel free to weigh in — does it get better? Did I give up too soon?)
Bought this Month:
Emotionally Healthy Spirituality by Peter Scazzero — I heard this book recommended on Jamie Ivey's podcast by a guest who said it changed her life, and I haven't been able to get it off my mind. I'm curious how much my emotions (as I am quite an emotionally sensitive person) influence my spirituality.
Up Next:
The five books we are reading for the summer reading club include —
1. The One-in-a-Million Boy by Monica Wood
2. The Nest by Cynthia D'Aprix Sweeney
3. Everyone Brave Is Forgiven by Chris Cleave
4. The Forgetting Time by Sharon Guskin
5. Before We Visit the Goddess by Chitra Banerjee Divakaruni
I think those will keep me plenty occupied for a while, but with vacation time (AKA more reading time) coming up, I hope some of my other library holds will become available too!
***
What are you currently reading?? I would love to hear in the comments!
***
—>This is a link-up with Modern Mrs. Darcy – find more great books to add to your TBR list by reading other bloggers' posts on what they are reading here <—
***
To access all book reviews featured on this website: Read
Previous What I'm Reading Posts: