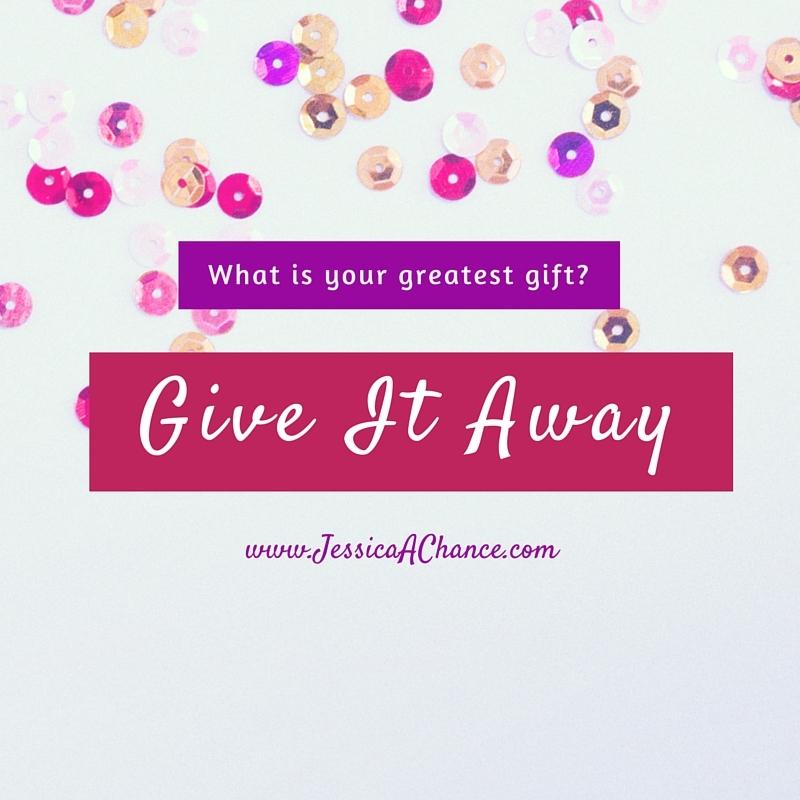 Giving is exemplified in so many different ways — monetary gifts, gifts of service, of time, or more simple gifts like a smile or a hug. Recognizing gifts can be easy when it's wrapped in a nice bow on your birthday, but other gifts can be harder to notice and appreciate.
The same can be true of giving. Usually it's easy to tell that you're giving something away, but it's a lot more difficult to realize what you are withholding.
Our church is doing a series right now on "Faith Works." We believe we are saved by grace alone; yet because we are a recipient of such an extravagant gift like Jesus gave on the cross, we believe it usually is evident in your life, in the way that you live, the way that you give.
As my husband and I discussed these messages, I shifted a bit in my chair as I started to think about what I truly was giving away. I realized I didn't really have many issues with giving away money  because money (don't get me wrong, I know I need it to live…but…) has never been the item to which I'm most attached.
However, ask me to give away some of my time and there's so much resistance there.
I realized this during our brunch chat as we reflected on our "comfortable" life and asked the hard questions  — Where do we need to give back? Where would it be most UNcomfortable to serve or give of our time or talent?
It truly begs the question: What is your most precious gift?
Time?
Money?
Hospitality?
Comfort?  
An Act of Service?
What is the hardest thing for you to give away?
Because that's what we need to give.
That's what Jesus asks of us when he talks through James about living out our faith in James 4:14-17:
"What good is it, my brothers and sisters, if someone claims to have faith but has no deeds? Can such faith save them? Suppose a brother or a sister is without clothes and daily food. If one of you says to them, "Go in peace; keep warm and well fed," but does nothing about their physical needs, what good is it? In the same way, faith by itself, if it is not accompanied by action, is dead. (NIV)"
Again, let me be clear, your deeds/works/kindnesses/donations/charitable activities do not earn you a spot in heaven. Jesus completed that task for you and me thousands of years ago and there are no caveats attached to grace. However, as Jesus followers and grace receivers, we should resist the allure of a comfortable life, giving away only "easy" things that do not really make a difference, and instead truly ask ourselves:
What is my most precious gift?
What do I treasure so much that I prioritize it over all else in my life?
How do I give it away?
For me — it's time. I hold my time clenched tight within my white knuckled fists, manipulating it into my plans for each day, attempting to control it by calendars and day planners and sheer force of will.
I can give away money, I can give away possessions, I can give away food, but oh, time. I love my time. My personal time. My alone time. My planned time. My time with family, friends, and doing activities. How dare something interrupt my schedule, MY time. And with that reflection, I know my most precious gift.
With a little soul searching, I am sure you can find yours as well, whether it is time, money, possessions, or any number of things that may not be inherently wrong but are made into our idols, our unwillingness to part with them a burden that stoops our already heavy bodies and souls.
How can we give it away? What does it look like to give away our most precious of gifts?
***
Despite my reflection, I continue to wrestle with these questions — what does it look like to give away some of my time, to give it to others, to serve in ways that may not be the comfortable ones I tend to lean toward. What does it look like to give away my most precious gift and to be outside of my comfort zone when I do?
Out of questions, only more questions — what other areas of my life do I hang on to, giving only when comfortable or convenient? I know the busyness of life doesn't miraculously change as I grow older, so what does it look like to start this now?
As I continue to think, pray, and reflect on next steps, I do know this: With ever gift I've ever given comes joy when it is received. It truly is better to give then receive, even if it's not easy or comfortable.
Because of –
Despite of –
No matter what –
I have been given, there's no reason why I cannot also give, in both large and small ways — for it not only brings my heart joy, but my Father in heaven, who gave us the greatest gift in His Son, Jesus, is pleased.