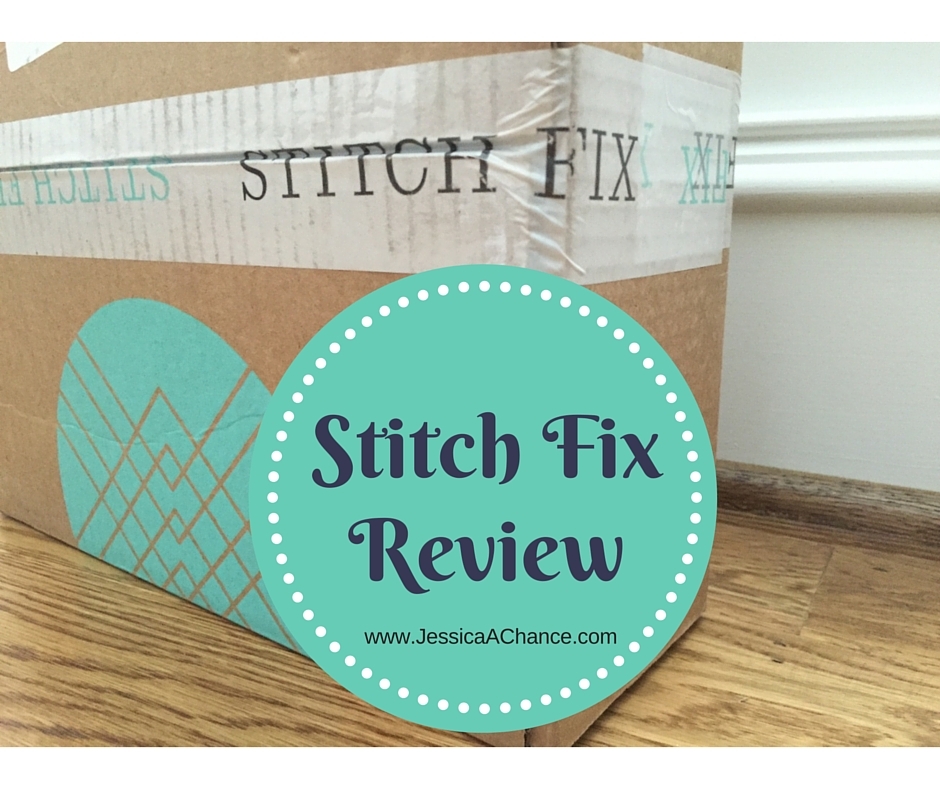 As always, I was excited to see the Stitch Fix (<–referral link) box arrive on my porch! I asked for fun summer prints this month as well as some dresses for a more casual wedding I have coming up. When I first opened my box, the colorfulness of the prints caught my eye immediately. I couldn't wait to try them all on.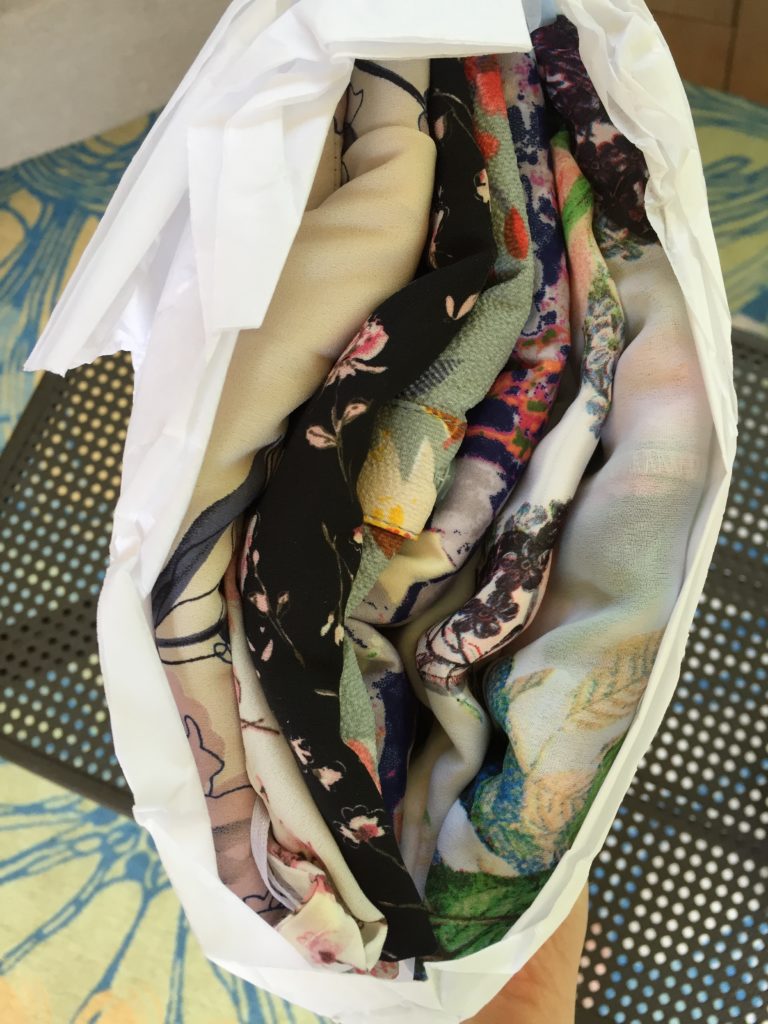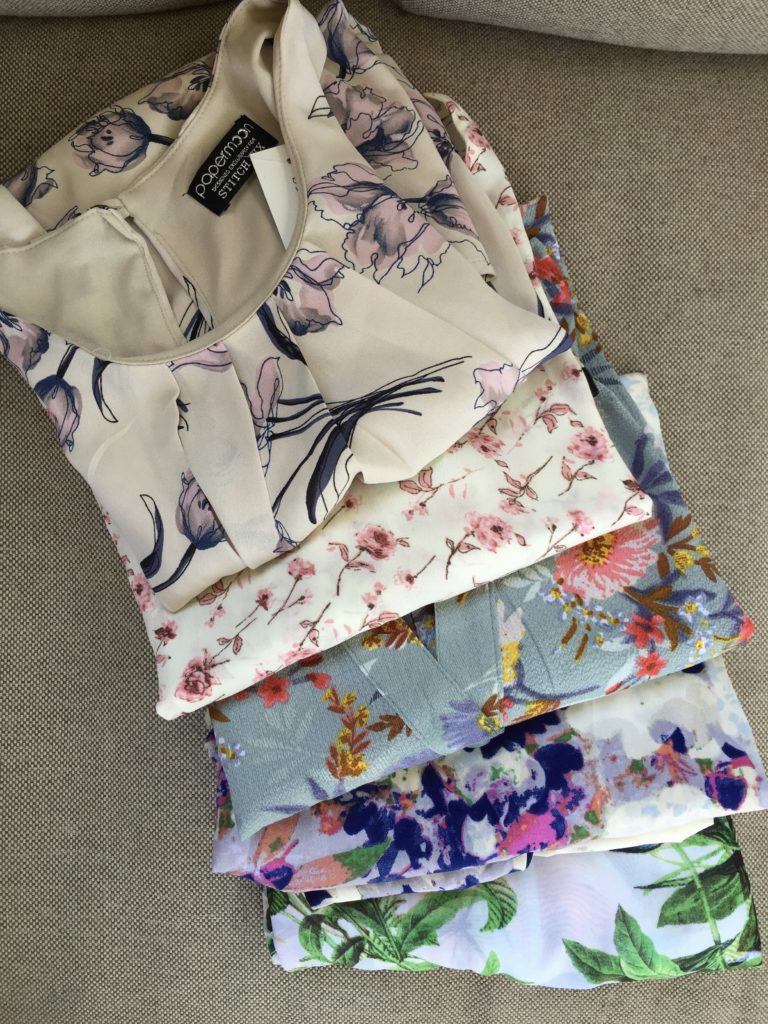 Isn't that a beautiful palate of colors? Now, though, the true test — do I like what they look like when tried on enough to keep them?
Papermoon Portree Tie Neck Blouse
I was torn over this top. It was one of those I really didn't like until I put it on; then I thought it was an easy, breezy summer top that could be dressed up or down. I liked the colors and uniqueness of the piece, but the odd texture in the fabric made it seem like an odd combination of "old" and floral. I've made a deal with myself that I ONLY keep items I love (learned from experience!). So I couldn't keep this one. Return.
***
Papermoon Lupe Crew Neck Blouse
This top is a muted tan/nude color background with a purplish-pinkish watercolor floral pattern. I loved the soft colors, the versatility, the fit, and the navy and black touches in the pattern. I felt this would be a great shirt with capris, jeans, and shorts! I've already worn it with capris and wedges out to dinner, and I'm so glad I added it to my closet! Kept.
***
Alice Blue Adaiah Scoop Neck Blouse
The delicate floral pattern and loose flattering fit seemed, at first, to make this top a contender; however, the arm holes were huge (I've heard this is a problem sometimes with Stitch Fix, but I've never had the problem before this fix), and the colors were hard to style (the top was more a creamy white than true white and since the bottom was black, I felt it was odd to style). The suggestions on my style card were light-ish colored jeans and a black skirt. I thought it definitely was better with the skirt, but couldn't get past the arm hole issue to keep it. Return.
***
Collective Concepts Katelynn Dress
This silky soft dress reminded me of a abstract watercolor painting. The pattern was pleasing and very feminine, and I liked the idea of a little more fancy summer dress. However, once again, like the top above, the arm holes were huge on this dress (to the point that undergarments were showing from the side). Plus the waist hit my body in an odd spot and the uneven hemline on the bottom wasn't my favorite.  Return.
***
Fate Ruby Maxi Dress
Oh this dress. I still wonder if I made the right choice. This dress was absolutely beautiful. I don't think the pictures do it justice. I felt like a princess in it — it was soft, flowy, and just classically feminine. This would have been an immediate keep except for three issues: the underlining stopped fairly high up my leg (see first two pictures). The remaining fabric was patterned, but still sheer. Although I didn't get a picture of the back, there was a tie and a large slit that left the top of the back open which makes undergarments a challenge. The final and most pressing issue was that I wanted this dress for a specific event, and I felt it wasn't appropriate. Usually I would have just kept it because I loved it so much; however, I just felt my issues with it really limited where I could wear it. So using my head, not my heart: Return.
***
 I loved this particular Stitch Fix (<–referral link)! Even though I only kept one piece, overall, this fix felt like the stylist really captured my style in all the pieces. I do really enjoy getting fixes, and I'm looking forward to the next one! 🙂
***
Previous Fixes that have been featured on the site:
***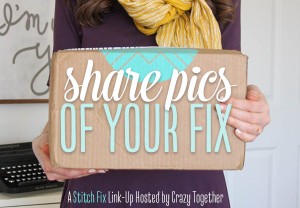 Linking up with Maria again this month — she always has great personal reviews and pictures of her Stitch Fixes on her site as well as features a monthly link-up for Stitch Fix bloggers across the web — check out her July post for more fun fashion!