Sometimes we look to learn from the most lofty of things when the best life lessons are found right in front of us in the most ordinary parts of our everyday life.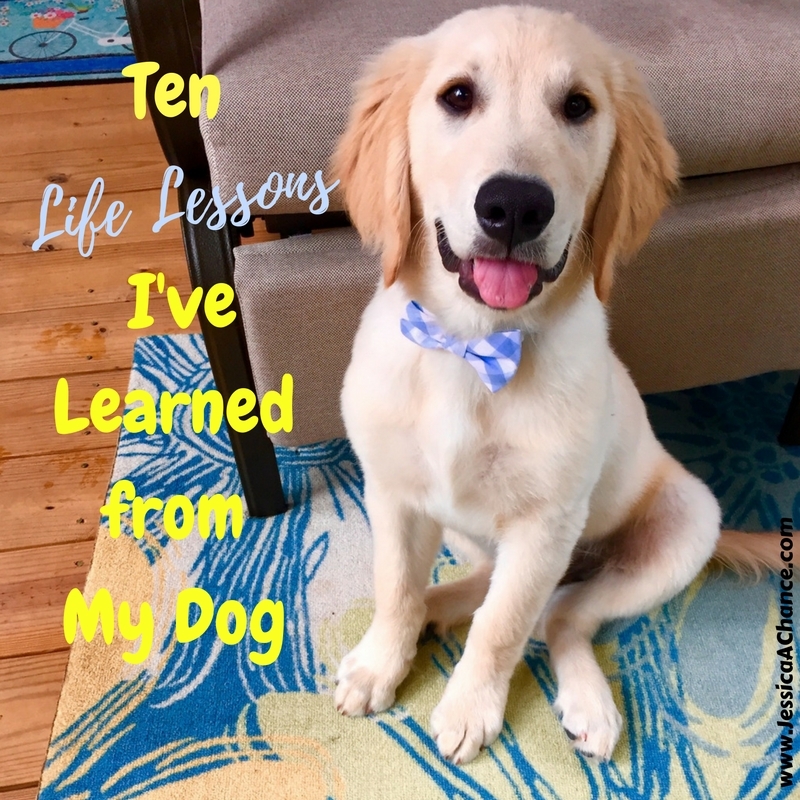 1. Have you heard the saying patience is a virtue? Well it's the hardest one — I'm going to prove it to you. 
I learn this afresh every day with Dallas, and I do think it's a life lesson that I will continue attempting to improve, yet never master throughout my life. Having a dog has tried my patience on so many levels…I can't imagine what a two legged child will do 🙂
2. Get ready to learn how to be humble (because I'm going to embarrass you in public…a lot).
From disrupting the entire vet's waiting room to jumping on a little boy while trying to play at the dog park, Dallas is always ready to help me improve my apology skills. Yet as the Bible says, pride goes before a fall, so a little extra humility is good for me!
3. Be silly, laugh — life's just squeaky…like my toys I play with at 5am!
Dallas was made to play and is excited anew every morning at the prospect of taking out every single toy he has and depositing them throughout the house. From squeaky balls to stuffed moose to a wishbone chew, he loves them all. While he bounces around joyfully from toy to toy, his delight in his simple pleasures in life remind me to look around and appreciate mine.
4. Let go of your need to have the house clean all the time — in case you haven't noticed, I have a lot of hair.
It's no secret I enjoy a clean house…it's also no secret that dogs are not inherently clean. Or at the very least have a magnetic attraction to any mud within their current playing location. As one of my favorite bloggers, The Nester says about your home, "It doesn't have to be perfect to be beautiful," and bringing Dallas home has made me live with that idea top of mind. 

5. Life's a jaunt in the backyard — loosen up, run some circles, have fun!
If you're lucky when you meet Dallas, you'll bear witness to his puppy circles that he still runs in the backyard. For no apparent reason, he'll take off at top speed and around and around he'll tear, under the deck, around the stairs, the length of the fence and back again. He does all his laps with a huge smile, without a care in the world. In these moments, I feel some of my life's tension loosen in my shoulders as I contemplate what on my to-do list will truly be the ending of the modern world if it doesn't get done…the answer is always nothing.
6. If you're with your people, all is right with the world.
Since being a young puppy, Dallas has absolutely loved people more than dogs or even toys, his second favorite. No matter your age, stage, job, appearance, or affinity for dogs — if you come around Dallas, he wants to be your friend. Russell and I are definitely his favorites though, and even though it sometimes drives you crazy as you trip over him for the fiftieth time while making dinner, he enforces one of life's most important truths — there's nothing like the feeling of being with people who love you, accept you, and meet you where you are.
7. Mealtimes are the best times.
Dallas would love double the mealtimes he has, but his little leap of joy when we go to the closet for his food shows he will take however many we decide. His joy of food and eating reminds me every time that meal times are important for us as humans too. Not only for the nourishment, but for the relationship building potential gathering around the table presents to us. Every gathering of people around a meal is a gift; it's up to us to accept it and make the most of it.
8. Practice makes perfect…except when it comes to my leash skills.
Having no experience training a puppy by myself nor having any children, I've struggled with how much repetition it takes to enforce a good habit, whereas a bad one doesn't even have to be taught! However, the evidence supports the cliche of "practice makes perfect" for Dallas' training, which encourages me to apply the same discipline I do when taking Dallas on walks to other areas of life in which I wish to grow.
9. We all want to be in control (even me, your four legged friend).
As Dallas has grown older and huge (almost seventy pounds now!), we've seen him challenge our "alpha" dog status more and more. From refusing to preform simple commands he's known since four months old to collapsing in a heap when we tell him to go to his crate for bed to throwing a puppy "tantrum" (jumping and nipping) when we don't pay him enough attention, he lets us know he's not happy with our authority. And I have to laugh sometimes (albeit through frustration and tears in the moment of his rebellion) as I think about how often I do the same thing in life. It may manifest differently, (I haven't bitten anyone lately) yet I pick fights with my husband to get my way, I am selfish with my time and throw "tantrums" when my day doesn't go as planned and sometimes I do my own form of collapsing by refusing when someone asks me to do something I'd rather not do. We all long for control, and I think my puppy gives me a glimpse of how God must feel when I stubbornly refuse to surrender my desires to His.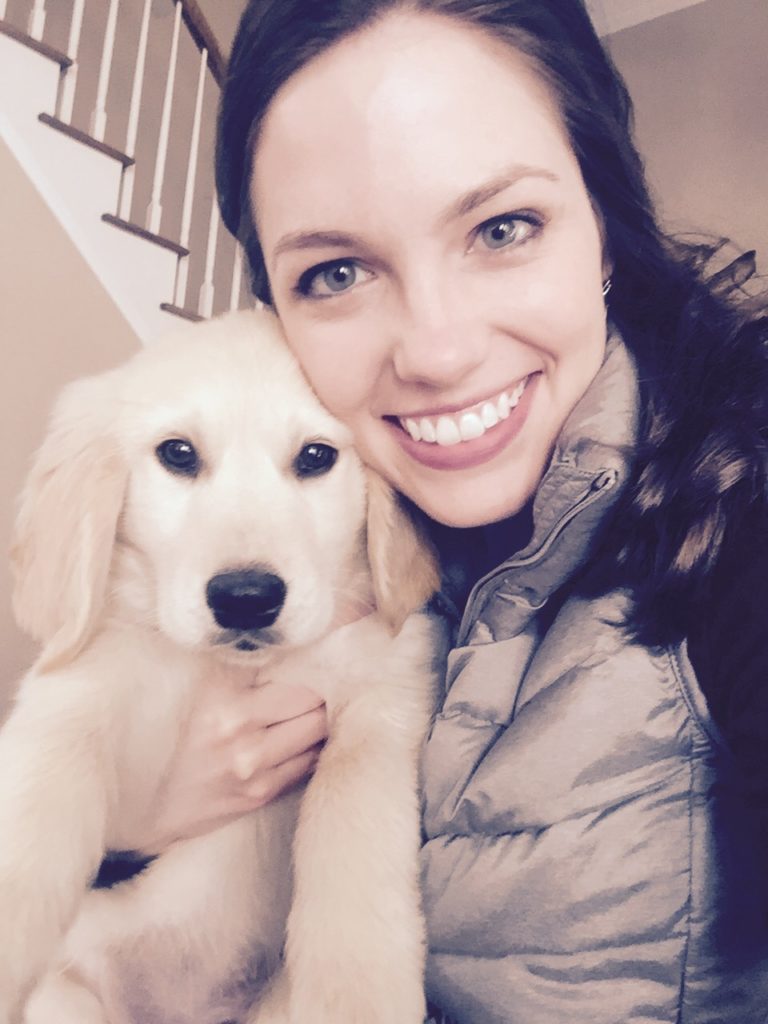 10. Unconditional love makes the world a better place…why can't you humans be like me?
This is the hardest, yet most important lesson Dallas has taught me. He loves me all day, every day, no matter if I just said something mean to him, yelled at him, took my bad day out on him, forgot to feed him lunch, ran out of time to give him a walk, or left him in his crate longer than usual. Regardless, he's waiting by the door, the gate, or the fence to greet me, tail wagging frantically, smile on his face, simply overjoyed to see me. 
Why?
Because Dallas' doggy love is simple and straightforward. He loves his "mom" and he will continue to love me even if I'm not perfect toward him. It reminds me of Someone else's love — our Savior, Jesus Christ. Yet His love goes much further than my dog's – Jesus loves me despite of seeing all of my heart, despite of my past or present disregard for His truths, despite my neglect of time with Him, despite my messy human nature — He loves me because I'm His precious beloved daughter, and He looks at me and says — That's my girl! Isn't she beautiful? I love her – always and unconditionally.
***
Do you have pets? What have they taught you about life?