It's Friday! First Friday in October! Has the fall-ish weather reached you yet? I know for a lot of people this weekend is bringing fear and anxiety about the hurricane bearing down on Florida and the East Coast, and, if that's you, I want you to know my thoughts are with all of you – be safe!!! Here in NC, we have quite a bit of rain in the forecast, but we are grateful to be more inland, out of the direct path. 
This week marked one full year of blogging for me! I have more to say about that next week, but I'm so thankful for this space and how much I've grown and learned through writing this past year. Here's to year two! 🙂
As always, below you will find the life and links that made my everyday extraordinary this week. Feel free to share yours in the comments! Have a wonderful weekend my friends!
Life Lately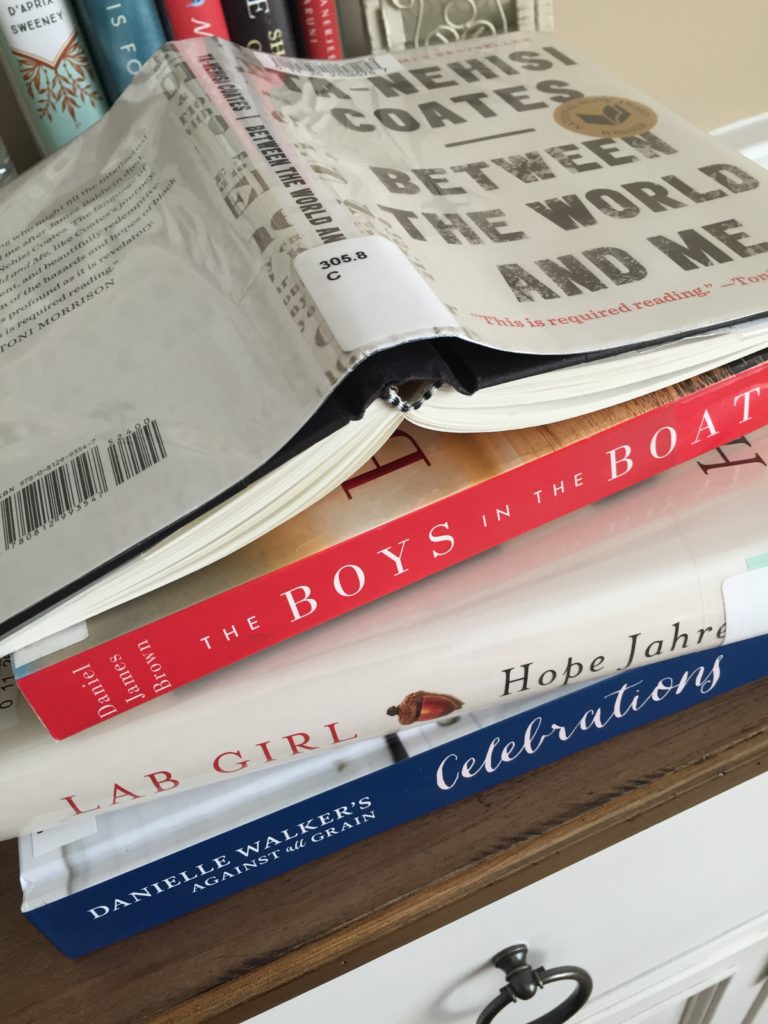 New Library Finds. I'm excited about all of these! I've already finished one — The Boys in the Boat — and I have a full review coming in my monthly quick lit, but all I can say is please read it! It's so good!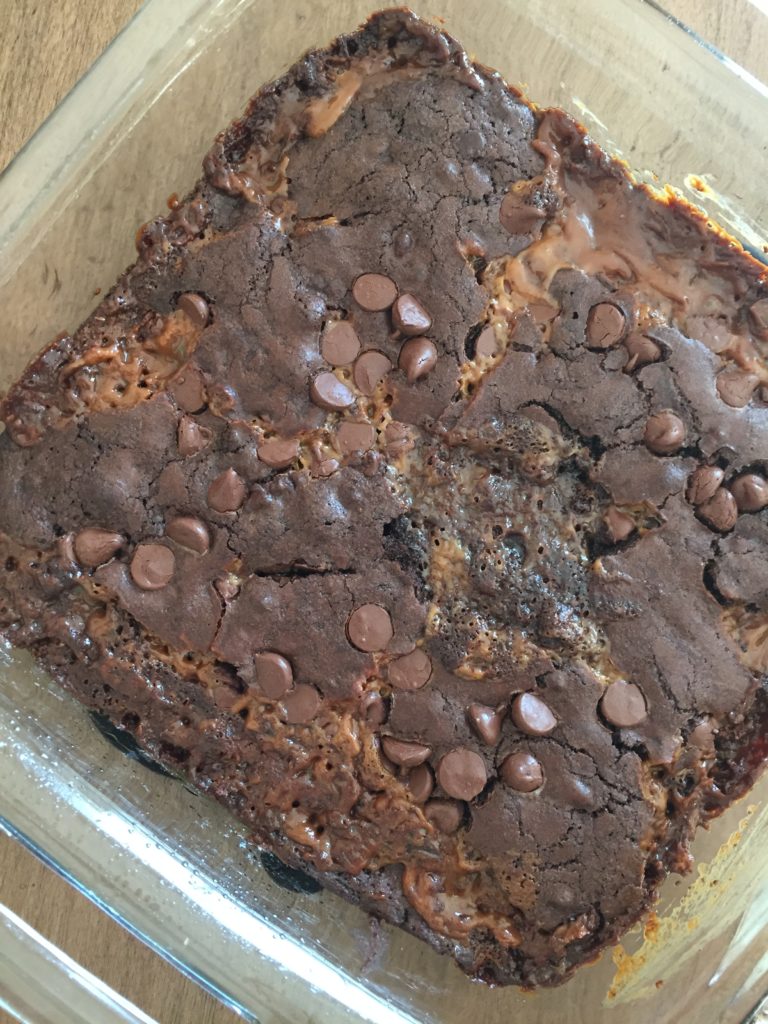 Gluten Free Turtle Brownies. These were for small group this week, and they turned out delicious! The recipe can be found on Betty Crocker's website. I left out the nuts because I thought there was a nut allergy, and although they would have been great with them, the caramel and chocolate chips alone took these brownies to the next level!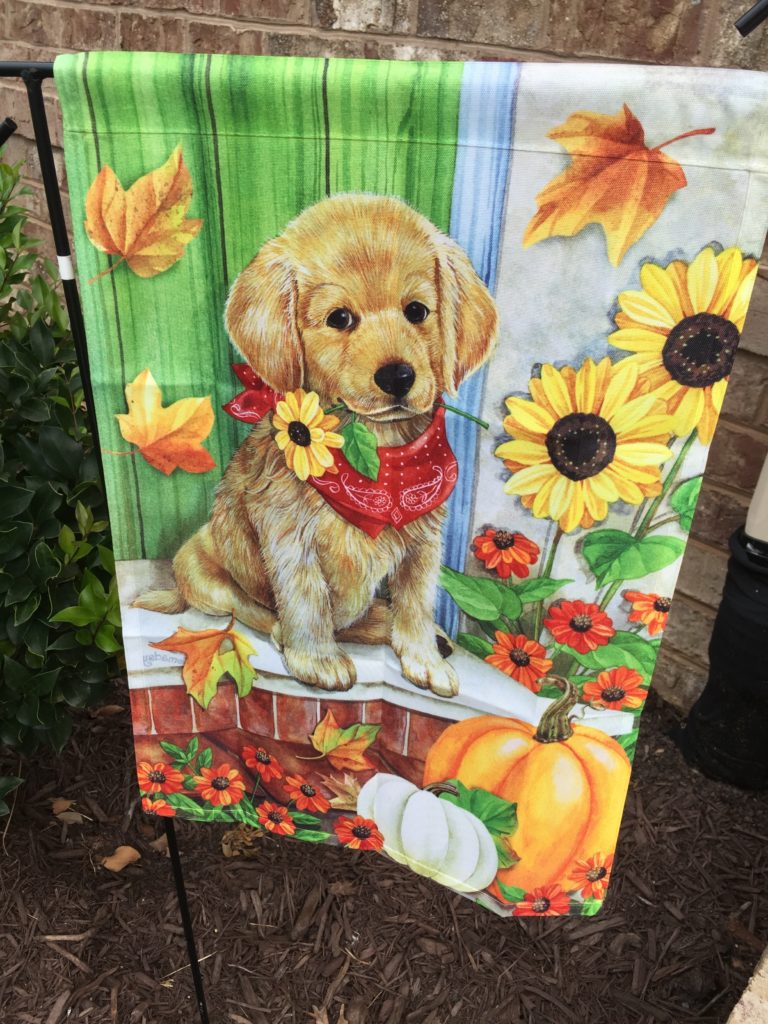 Fall Decor. We don't have many festive decorations for autumn, mainly because I save my budget for Christmas 😉 but I did get this adorable yard flag from Lowe's to replace our summer one — how cute is this??! It makes me smile every time I come home!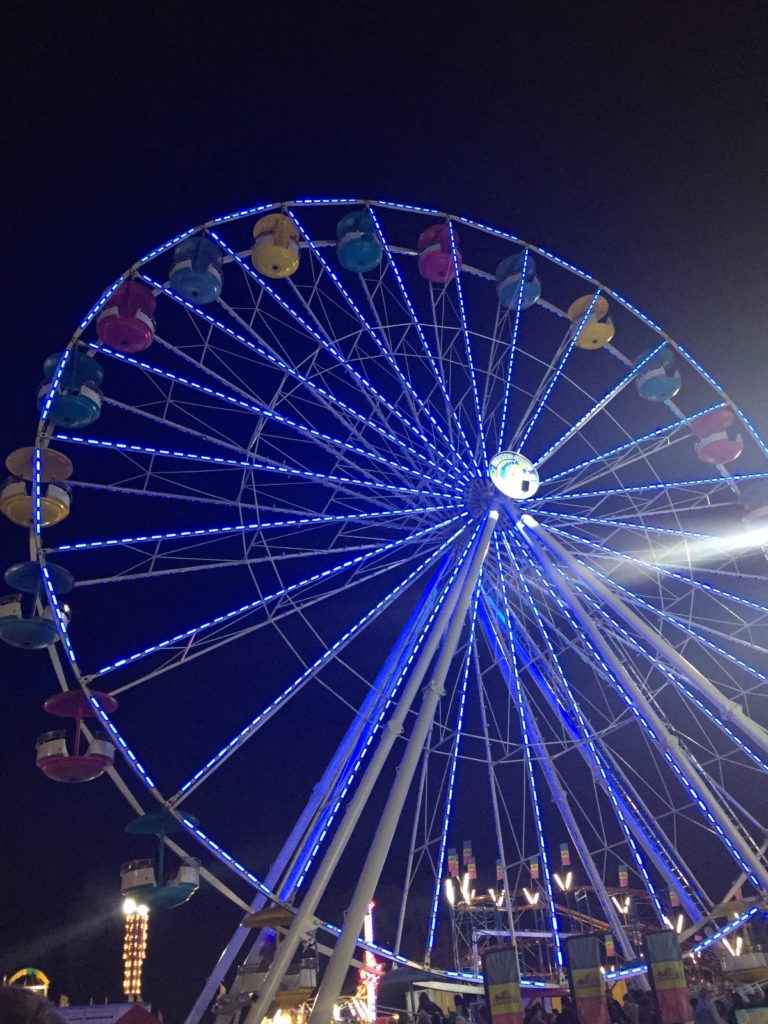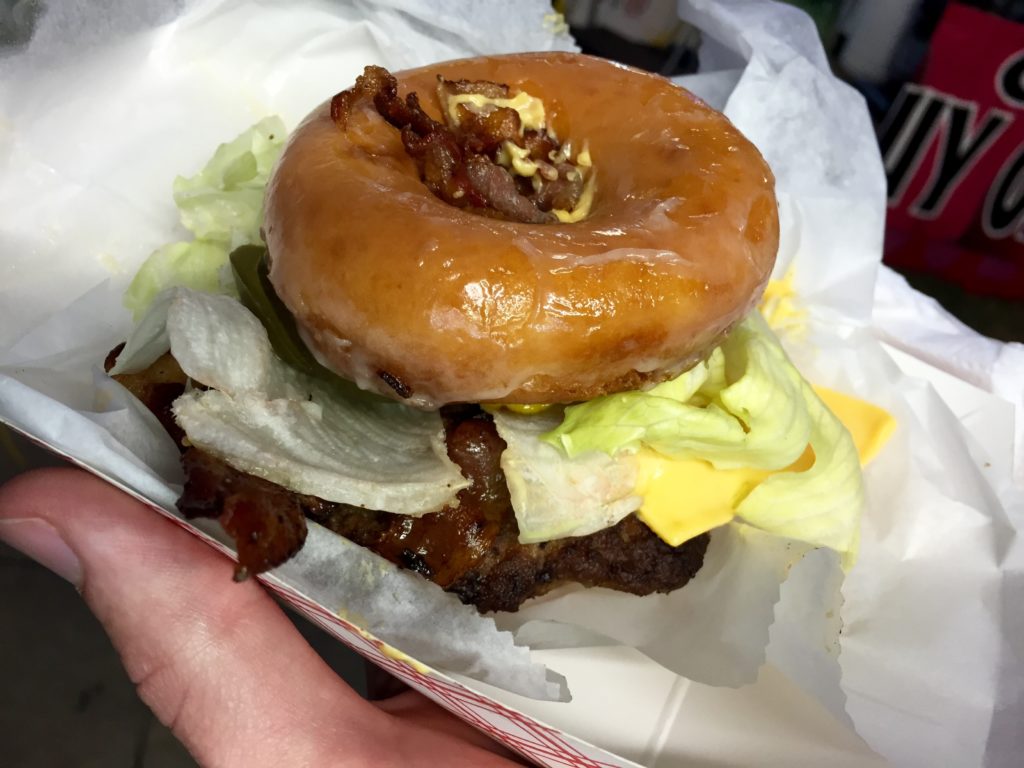 The Dixie Classic Fair. We had another Carolina first this week when we went to the local fair! It was so much larger than I expected (coming from the Texas State Fair), and we saw Passion play! I posted a video on my Instagram, but they were incredible. It was such a beautiful sight to see hundreds worshiping Jesus with the myraid of fair lights flashing behind. Also — our friend got the Krispy Kreme burger! Yep, that's a burger with two Krispy Kremes as the buns. That was only the beginning of some of the crazy fried creations available — got to love the fair (even if your arteries don't 😉 )
Dallas the Dog Picture of the Week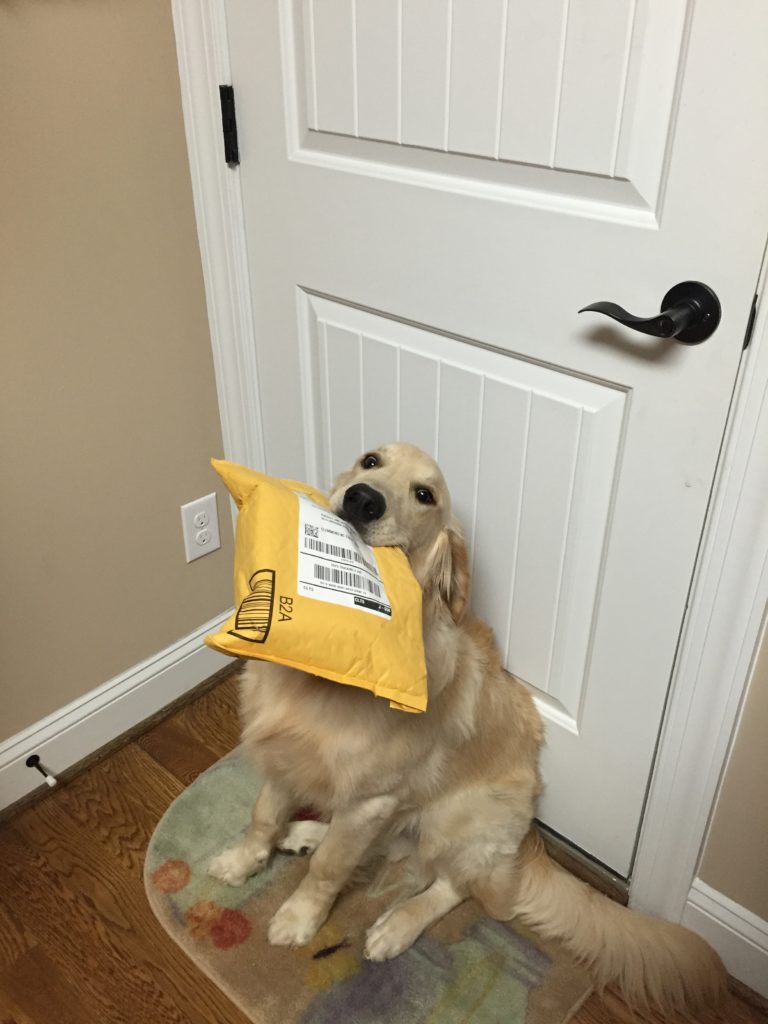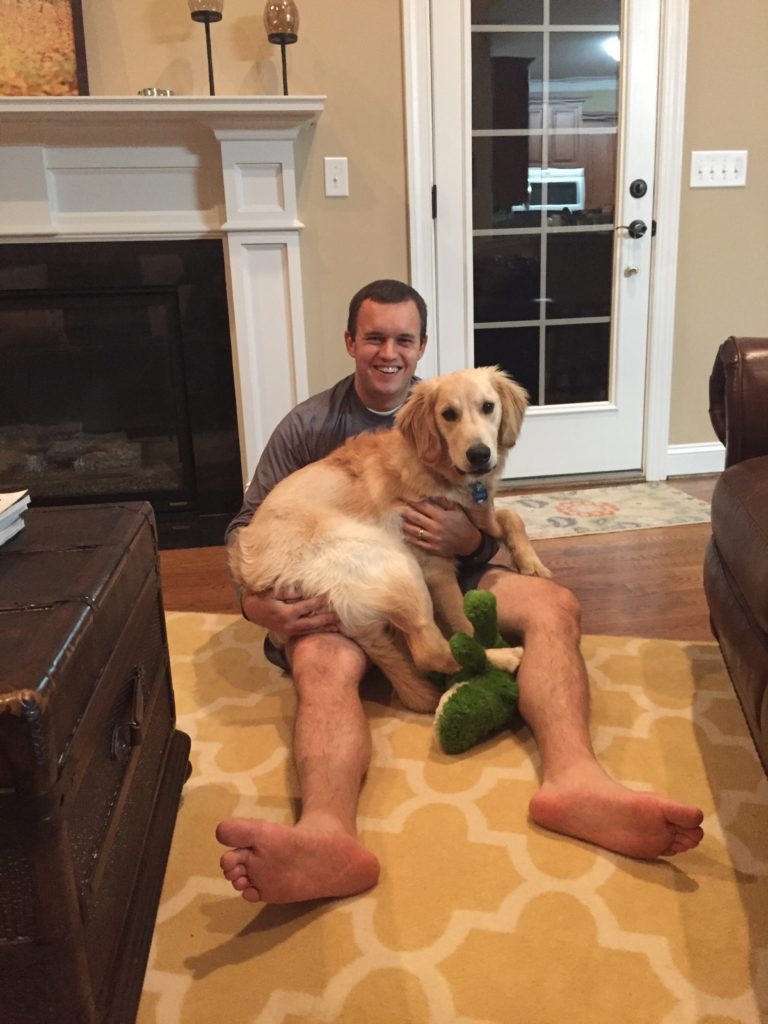 Well — we've headed into another valley on the puppy child front. He's gone from a sweet boy to the crazed maniac again. We think it's another growth spurt/hormone surge as this nine month old stinker is in the "teenage years." But it is NO fun! (We also tried to teach him to get the mail…it was a massive fail. He wanted to destroy it. haha) However, despite the craziness he's displayed this week, he still loves to pretend he's a lap dog when he's feeling nice. I can't say I mind 😉
Links Lately
"I add my own lie, that I have strived to earn my worth because I sometimes don't believe who I am is adequate. Yet I'm the girl God has used to write books about embracing who we are and becoming all God created us to be…A light bulb comes on as I realize suddenly that the enemy is lying to us in the area of our giftings." How We Can Beat the Lies We Battle by Hollie Gerth was just what I needed to read this week
"In each study, Pennebaker found that the people who wrote about emotionally charged episodes experienced marked improvement in their physical and mental well-being. They were happier, less depressed and less anxious. In the months after the writing sessions, they had lower blood pressure, improved immune function, and fewer visits to the doctor." Such an interesting report – You Can Write Your Way Out of an Emotional Funk. Here's How by Susan David
"In Christian circles we seem to have a problem with antidepressants, maybe more so than outside of the church. We don't talk about it much. And when we do, we like to talk about it in a 'they used to but thank God they don't need them any more' capacity. It is easier, cleaner, less messy. It chimes in with the version of the gospel we like to tell, of healing and health and resurrection…But, you see, I love Jesus and I am sure he is fine with my drugs." As a nurse, I feel strongly about mental health and wellness, but as a Christian I've seen tragedies happen due to misguided beliefs about that same topic — therefore I loved hope*writer Elli Johnson's post On Loving Jesus and Taking Anti-Depressants 
I listened to the Marvelous Moms podcast this week with Emily Meyer of the Freckled Fox. Emily is twenty-five with five young children, and her husband passed away this summer after just over a year long battle with stage 4 cancer. Emily's story is heartbreaking, but she is gracious and hope-filled in the way she shares her struggles and joys with the world. You can find out more about her on her personal blog – the Freckled Fox. 
Yummy Link of the Week – I'm all about the fall recipes right now, and I'm hoping to make Warm Apple Pie Bread  by Spend with Pennies this weekend — how delicious does that look??!
***
What's making your everyday extraordinary this week? Would love to hear about it in the comments! Have a great weekend!!
***
Linking up with Heather — check out more Friday Favorites here!