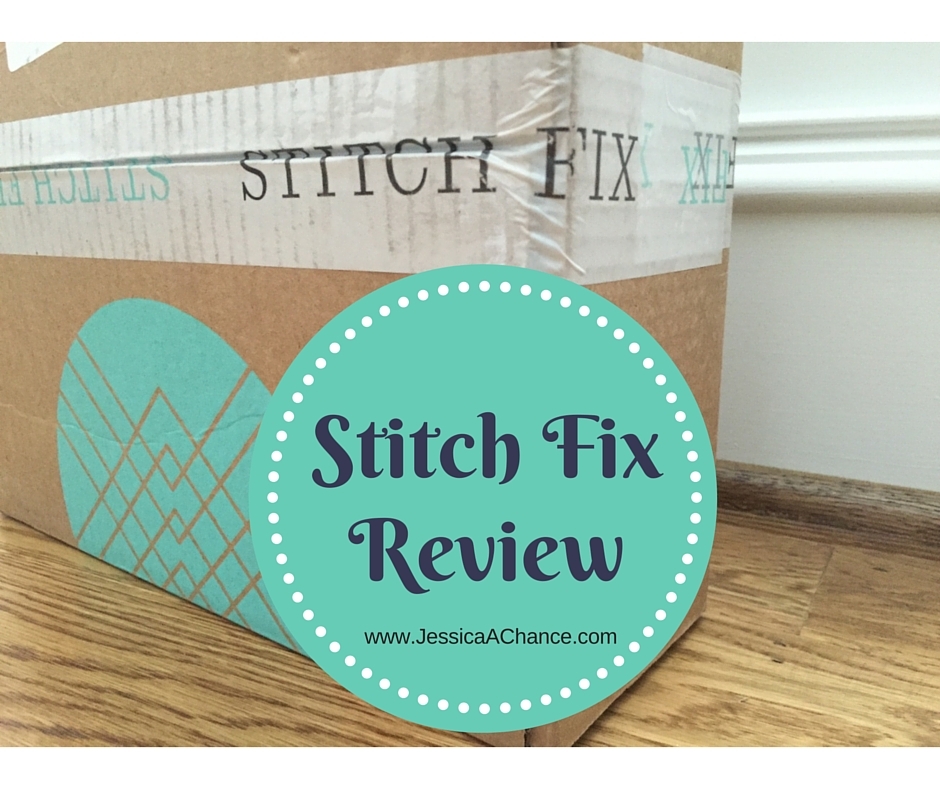 If it seems to you like I just posted my last fix here on the blog, you're right! I wasn't going to get a fix again so quickly; however, I had the brilliant idea to request an "all shoe" fix. The shoe department of my wardrobe is sparse right now (especially since Tieks failed me! 🙁 ), and although I realize I can just go shopping for some, we all know how much I dislike (aka loathe) the mall and the time and energy it wastes to go to five shoe stores and come home empty handed. Therefore, I figured with five pairs of shoes from Stitch Fix, at least one or two would be winners!
Imagine my disappointment when they notified me right before my fix shipped that they could not do all shoe fixes at this time. I was a bit frustrated because I didn't have time to change my note to my stylist so this was a random box without much direction from me to her…I think this showed in the clothes she picked. So this definitely wasn't my favorite fix (although there were so super cute pieces), but I did keep a shirt that I know will become one of the most beloved pieces of clothing in my closet!
As y'all have probably heard, Stitch Fix is a styling service that sends you five items as often as you'd like really (but usually on some type of schedule) for a $20 styling fee. The fee is then applied to your final bill. If you keep all five items, you get a 25% discount! Before you get your first fix, you fill out an extensive style profile to help your stylist get to know you. You can also send your stylist a note before every fix with your requests. I find the more you "pin" to Pinterest in terms of style preferences and desires, the better the service gets! I also recommend requesting the same stylist over and over so they can really get to know you.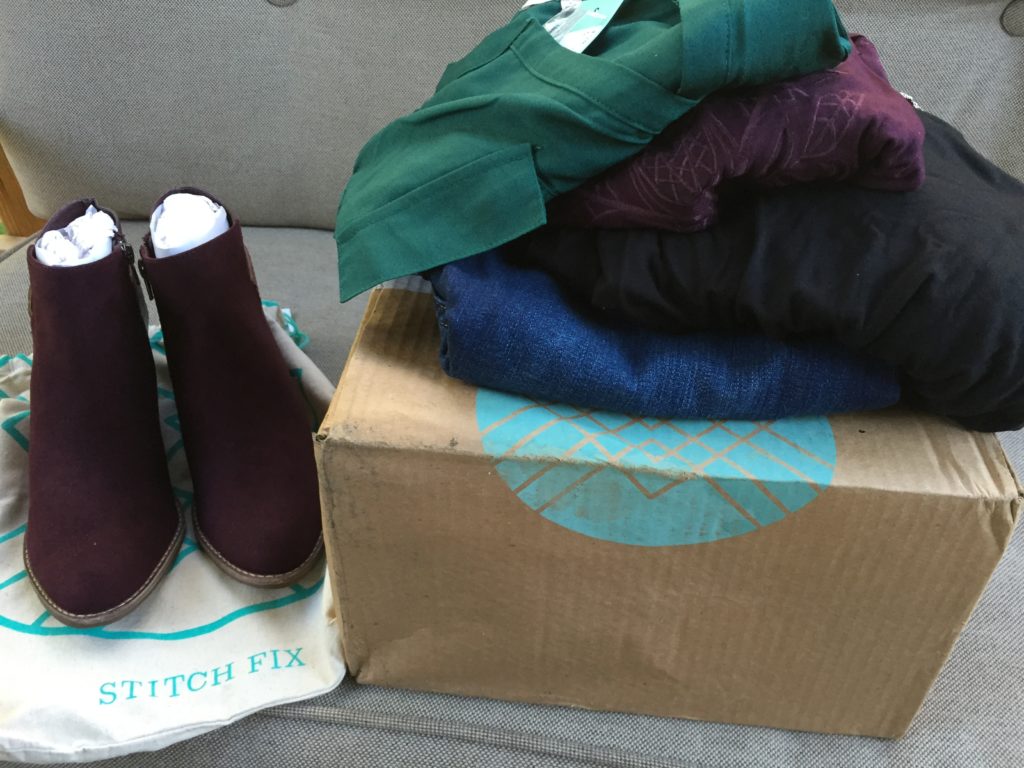 Jossie Two Tone Bootie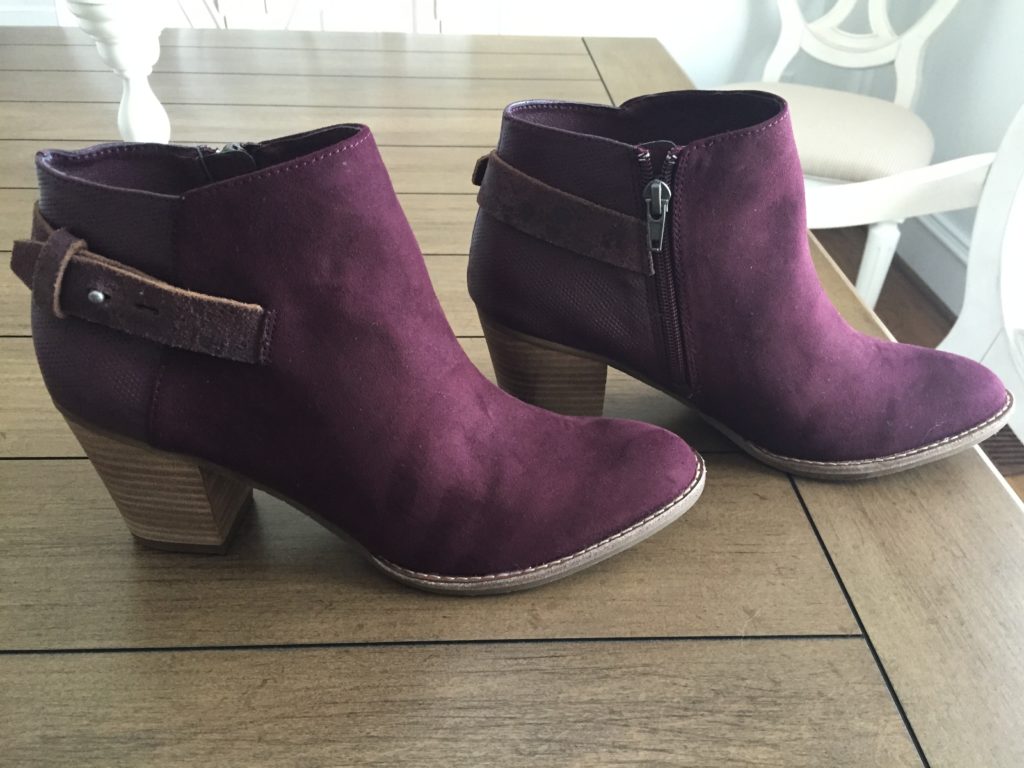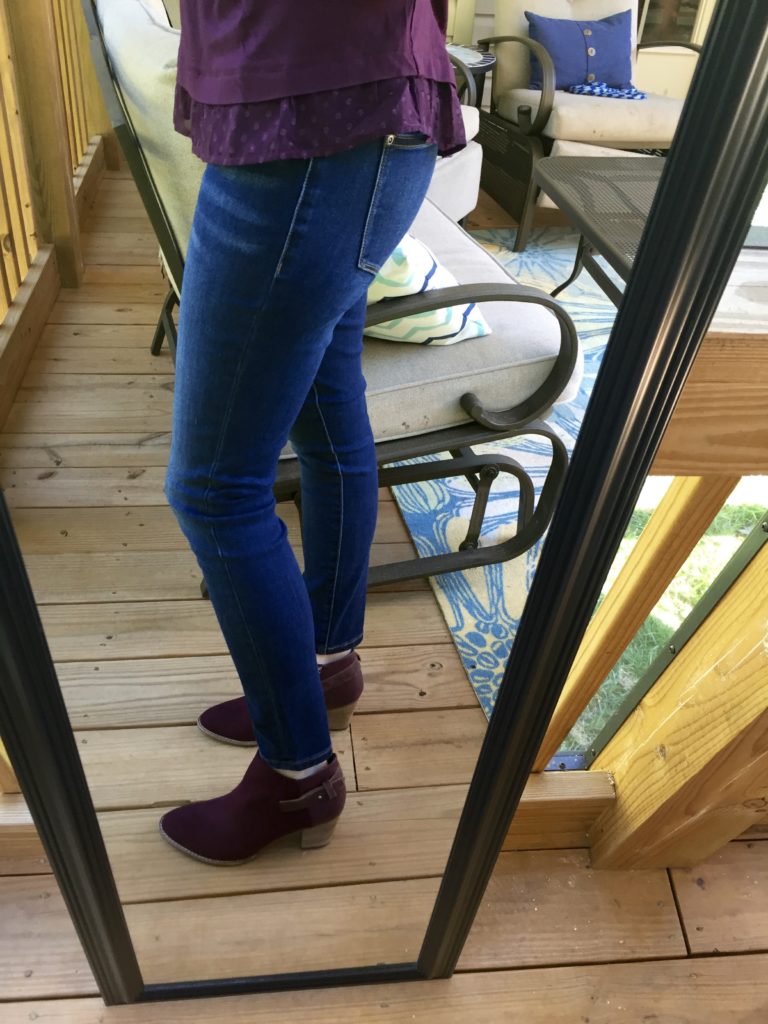 Ok – these boots are cute, I realize this; however, just look at the pictures in this post and you can see the evidence that I'm not a fashionista — therefore whyyyy would you send me burgundy boots when I asked explicitly for neutral shoes?!?! Maybe in the fashion world these are neutral, but in my world these would sit in the closet unless I was wearing a black shirt and jeans to pair them with — disappointing since these were the only shoes sent in this fix 🙁 — Return. 
Lila Ryan Liza Skinny Jean & Daniel Rainn Karan Embroidered Yoke Woven Hem Knit Top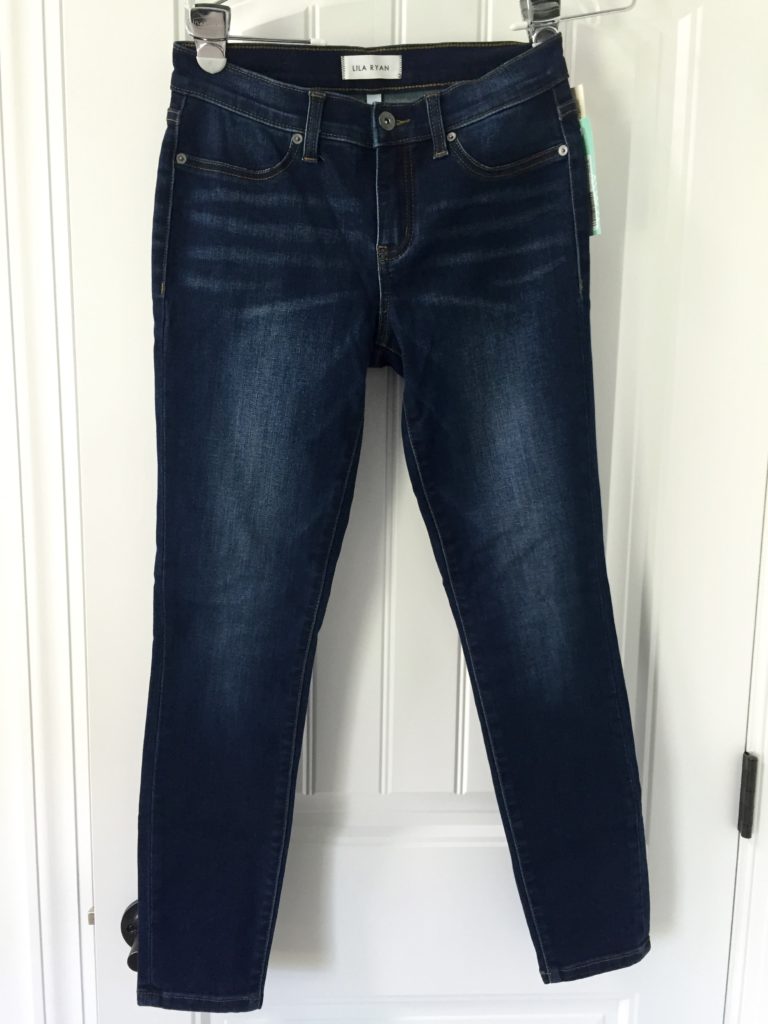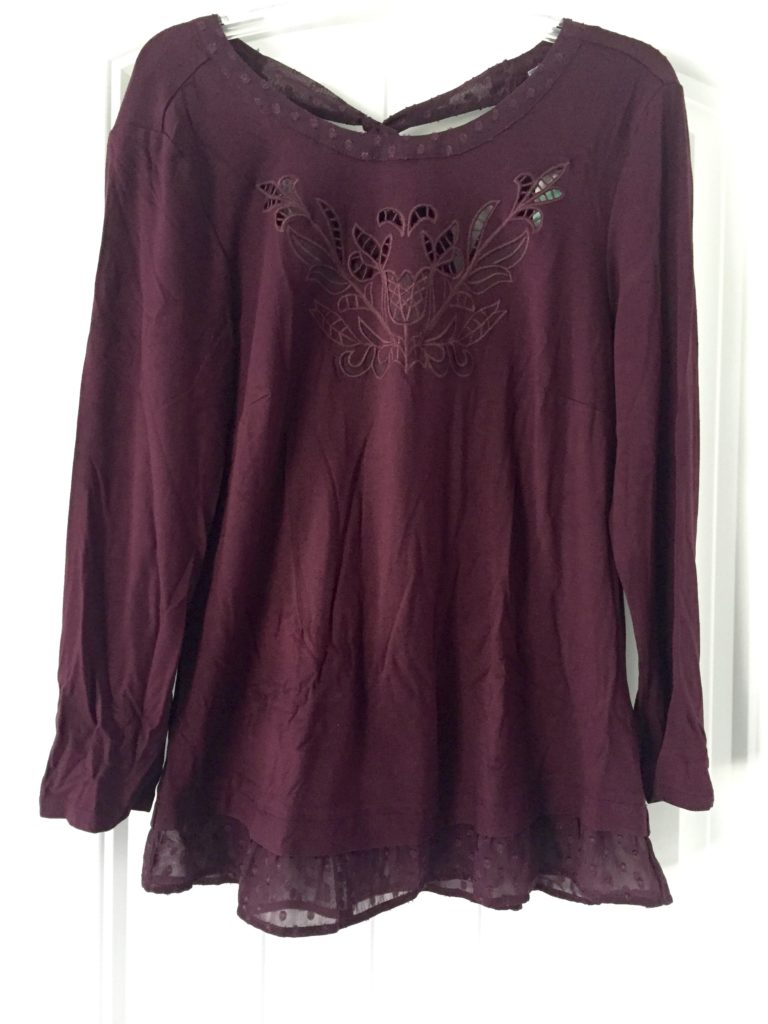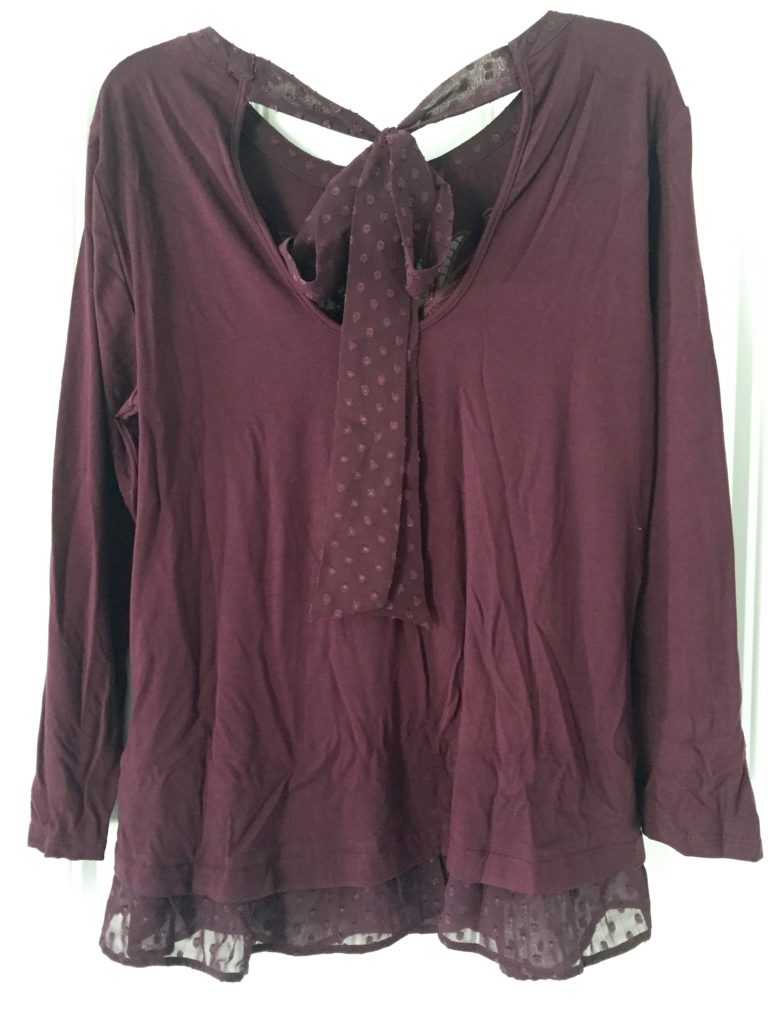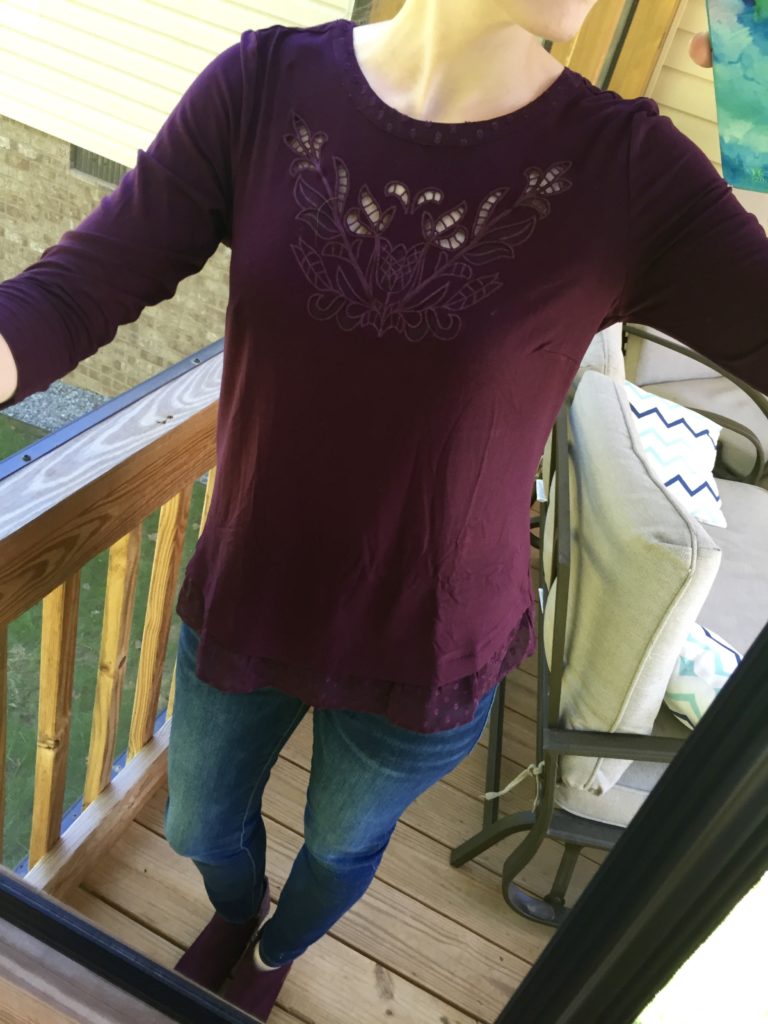 These jeans (which I'm wearing in all of these photos) fit well, had a great dark wash, but I didn't feel like I could justify the price since I don't need another pair of jeans right now. Also — I don't know if it's just a personal fit issue, but skinny jeans tend to be tight in my calves and then loose on my ankles which looks odd with booties to me. Anyone else with this issue? Is it just the brand of skinny jeans? My anatomy? Return.
As for the top, I was excited when I first saw she sent me a Daniel Rainn. I've wanted to try out one of his tops for a while now. However, although this one is as cute as could be as well as creative and feminine — it is not a winter top (except maybe if you live in Florida!). The "knit" is thin, flimsy, and due to the looser fit and details, layering this top just didn't work for me, although I think this would be perfect for someone who has better layering pieces than me. The open back was laughable as a fall/winter shirt — however, I could see this being perfect for the transition from winter to spring. But, as I'm looking for true cold weather clothes, I had to return.
41Hawthorn Tameron Button Down Blouse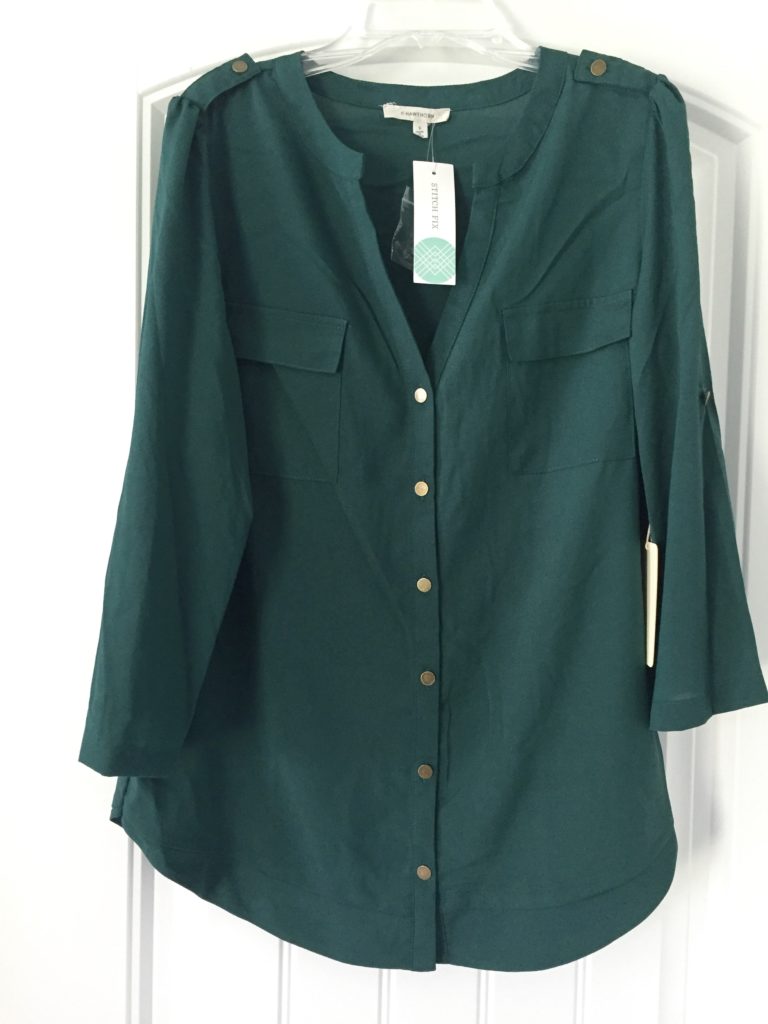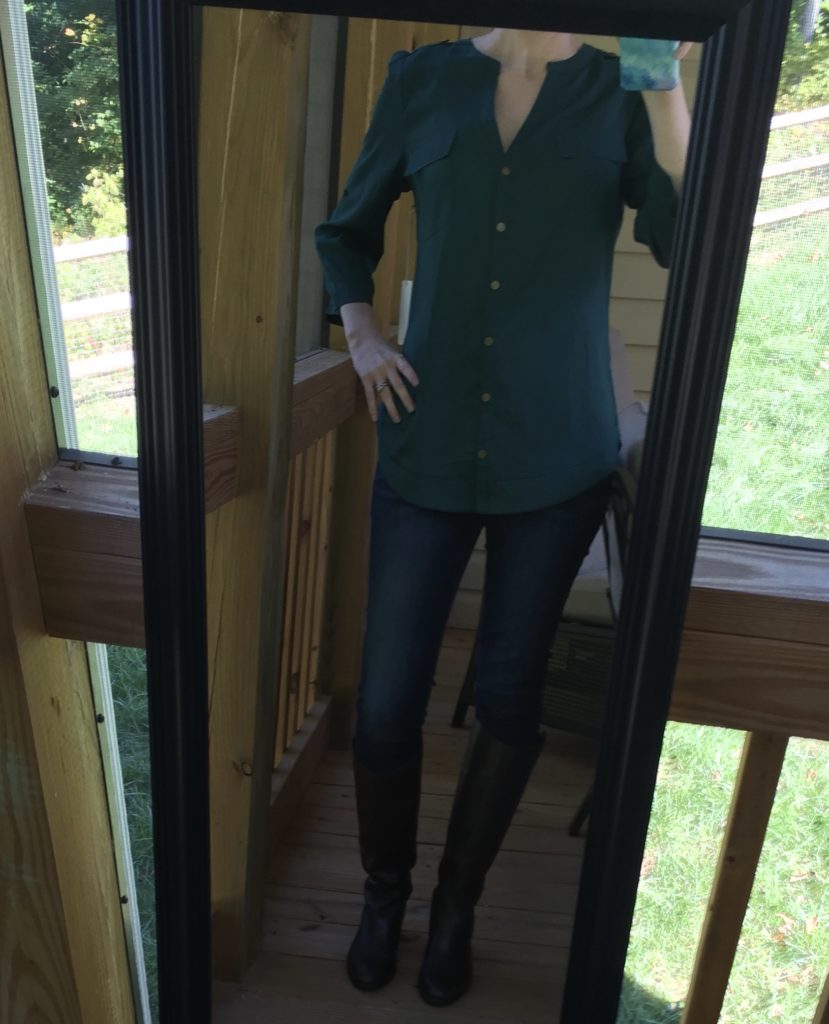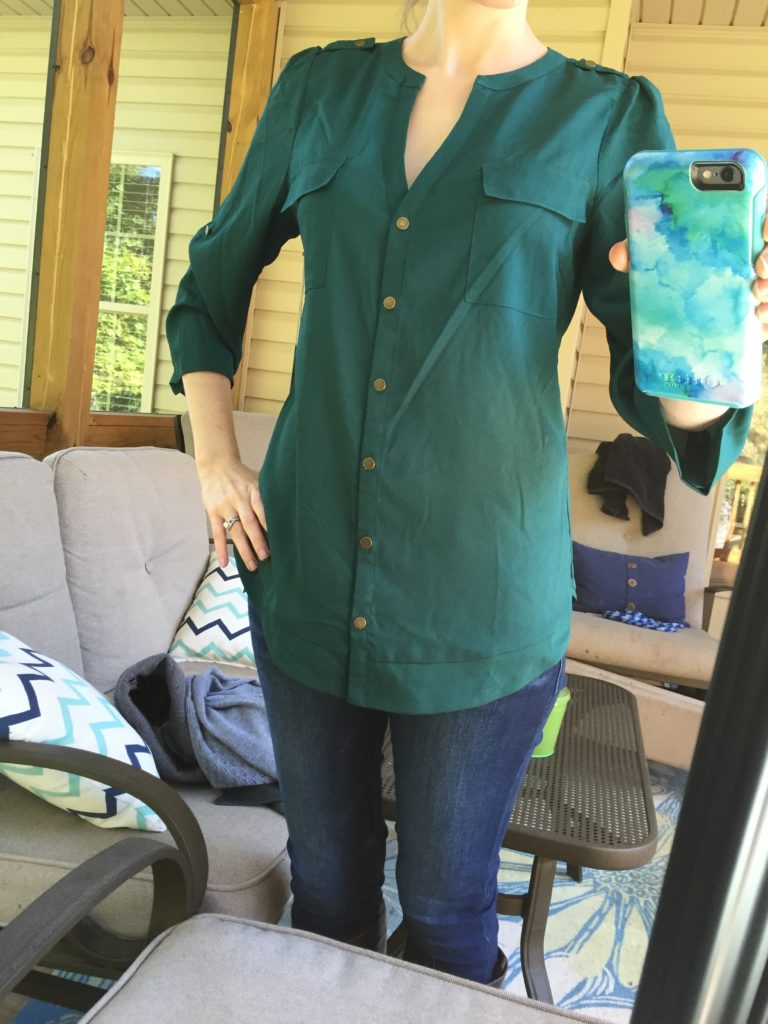 I knew the minute I opened the box and saw the color of this shirt it would be hard for me to send back. I love this green color — not too light, not too dark and it matches the color of my eyes. It's a harder color to find for me so even though I didn't think this top qualified as "cold weather clothing" either, I loved it too much to send back. It was a great decision. I've already worn it multiple times with jeans, brown boots, and a brown leather jacket. Kept (with great happiness! 🙂 ).
Kut from the Kloth Ollee Knit Dress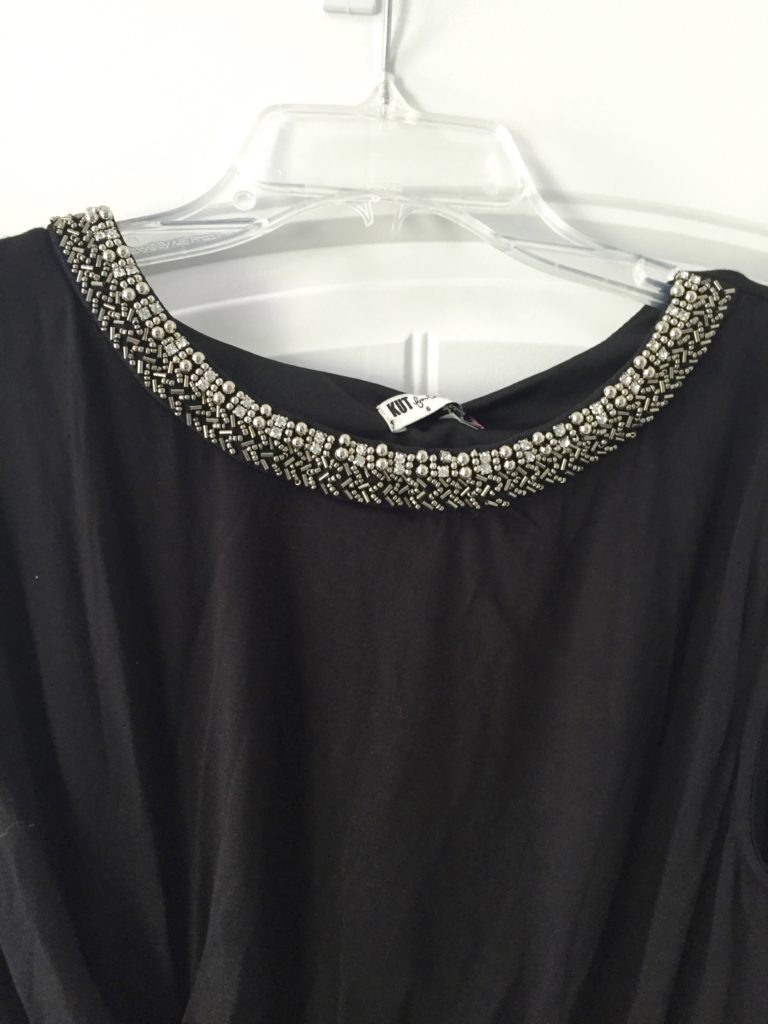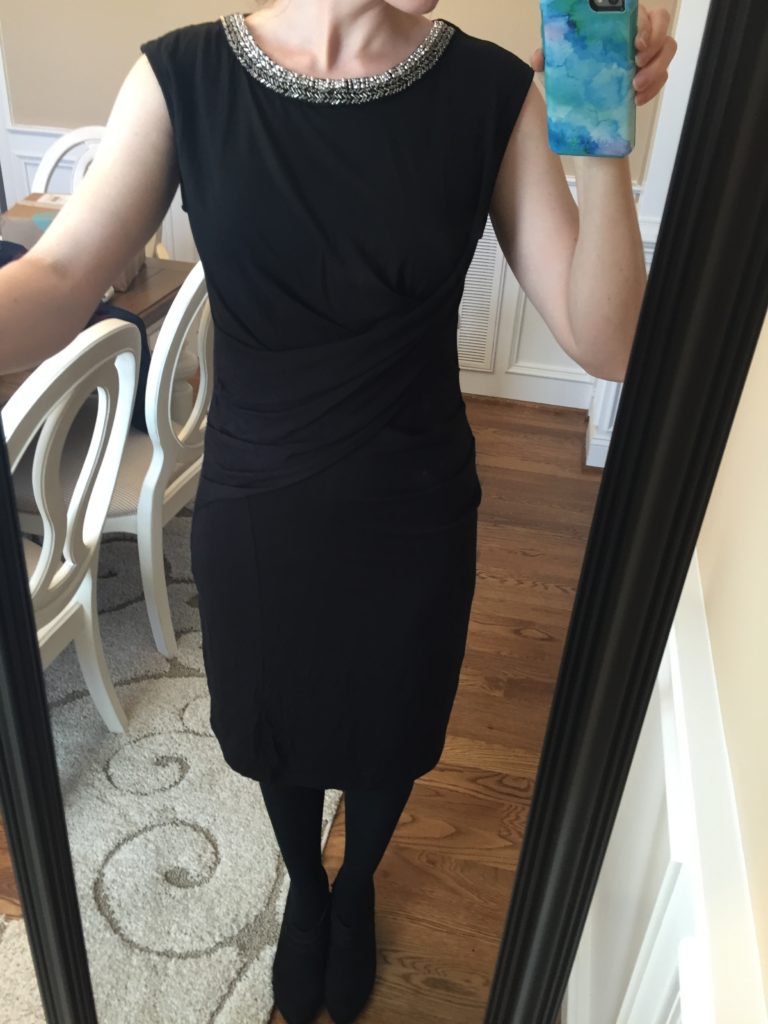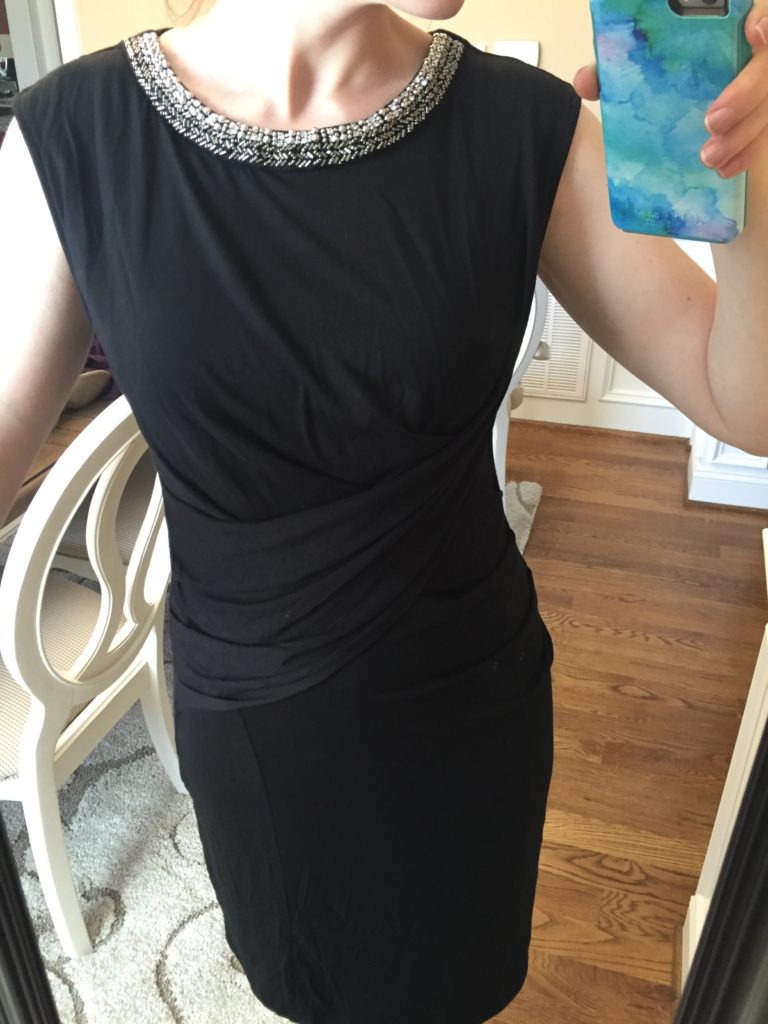 Another reason this fix was frustrating to me was this dress. Don't get me wrong, I love a little black dress — I have a few in my closet I wear all the time. What was frustrating was that I was sent a sleeveless sheath (hard to layer because you lose the defined waist) dress with a high neckline (also hard to layer) in October. In North Carolina. This is not Texas, not Florida, not Hawaii…forgive my sarcasm, but my request in previous months was a "long sleeved date night dress" and this isn't even close. Also, as a warning, it's extremely light weight material and the hemlines on the front (you can kind of see one in the last picture on the left side when looking at me) were very noticeable and almost looked cheap. It could have been the way it fit on me, but I wasn't very impressed. Return. 
***
Overall — disappointing. However, when I objectively look at my closet, I can see I'm slowly building a "grown-up" versatile wardrobe and Stitch Fix has helped quite a bit with that. I will probably hold off on any more fixes for a while, perhaps until after the holidays, unless I really feel a "need" for the next couple of months. However, I do enjoy getting that box every month, and I encourage you to try it if you haven't already! It does make you feel special to get five pieces picked with you in mind, even if you only keep one or two! 🙂
**
Have you tried Stitch Fix? Another styling service? What are your thoughts? 
***
Previous Fixes that have been featured on the site:
***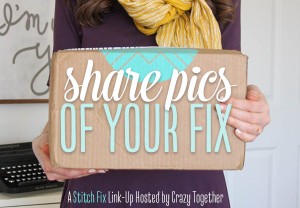 Linking up with Maria again this month — she always has great personal reviews and pictures of her Stitch Fixes on her site as well as features a monthly link-up for Stitch Fix bloggers across the web — check out her October post for more fun fashion!
***
{This post contains affiliate links, which means if you click through and make a purchase, the blog earns a small percentage. There is no additional cost to you. As always, thank you so much for reading!! }