I read some great books this month (month being defined as link-up to link-up: Oct 15 – Nov 15), but it was heavily weighted toward the October side. November has been a complete blur, thanks mostly to graduate school, but also due to the hope*writers workshop (which was wonderful!). With the holidays fast approaching and my graduate school load increasing daily, I'm fixing my eyes on Christmas vacation. It will be good both for my soul and for my reading life! 🙂
What are you reading? I would love to hear your thoughts on any of the books below or your favorites this month in the comments!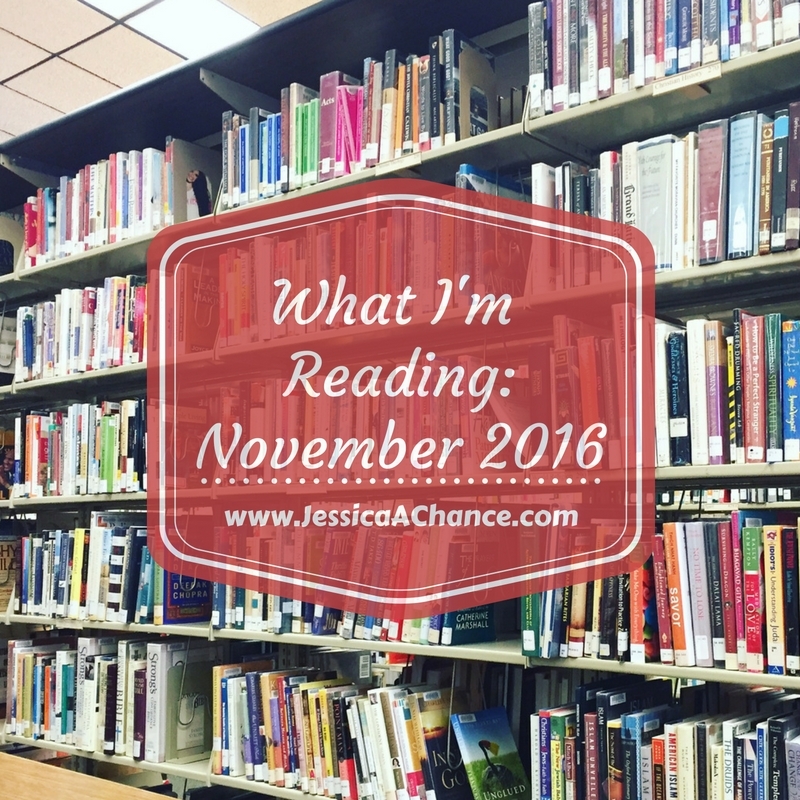 Read this Month
The Crown by Kiera Cass – this is the fifth book in the Selection series (my review of the series), and I've been waiting a long time to read this one! Even though there are mixed opinions about this "hunger games meets bachelor/bachelorette series," for some reason, I've found the characters likable since the first book. The first three books are better than the last two, in my opinion, but I still enjoyed all of them (3/5).

When Breath Becomes Air by Paul Kalanithi – I can't say enough good things about this beautiful book. Grab your tissues and prepare yourself for an amazing perspective on life, death, purpose, and what truly matters. Whether you're a health care professional or not, please read this book. Dr. Kalanithi, a gifted neurosurgeon, is diagnosed with advanced lung cancer in his thirties. This memoir written by him and published after his passing by his wife is his phenomenal legacy. (5/5)
Half Broke Horses by Jeanette Walls — I credit Walls' first memoir, The Glass Castle (my review) with igniting my love for memoir. Her second book, Half Broke Horses, did not disappoint. This retelling of her grandmother's story is, just like The Glass Castle, so unreal and intriguing that you will have to remind yourself throughout that you're not reading a novel! (4/5)
Between the World and Me by Ta-Nehisi Coates – This book was recommended to me by my Be the Bridge group and others. I found it informative with writing that cut deeply into my mind and soul. In our world, I so desire to be a bridge and to do my part to unify, not divide. To do this well, I believe I need to listen and learn more about injustices rendered and the stories of those different from me. (4/5) (Other suggested reading if you are desiring the same: Just Mercy by Bryan Stevenson.)
Currently Reading
Sacred Marriage by Gary Thomas — we are reading this for our small group, and since grad school is limiting everything right now, including reading, this is the only book I'm reading, chapter by chapter, week by week. I do recommend it so far – it has insightful thoughts on marriage!
Stopped Reading
I didn't officially stop reading anything this month; although one of my library holds expired before I was able to read it 🙁
Bought this Month
A Million Little Ways by Emily P. Freeman – I was lucky enough to buy this from the author in person and have her sign it at Nest Fest this past October. I love Emily's writing and have heard nothing but wonderful things about this work celebrating the art found in everyday life.
The Broken Way by Ann Voskamp – I'm so excited to start this book! I read the sample chapter upon buying, and I will never get over the lyrical beauty of Ann's writing.
Nothing to Prove by Jennie Allen – So I didn't technically buy this one, but I received it this month because I'm a part of Jennie's launch team! Just the title of this book speaks to this trying-to-recover perfectionist that lives inside of me. I will share more about this book as its release (January 31!) gets closer, but it's available for pre-order now!
Up Next
With grad school and life how it is right now, I'm saving up books to read for over Christmas break! Hopefully that list will include some I've been waiting to read for a while.
***
What are you currently reading? I would love to hear in the comments!
***
All book reviews on the site: READ
What I'm Reading Posts:
***
—>This is a link-up with Modern Mrs. Darcy – find more great books to add to your TBR list by reading other bloggers' posts here <—
***
{This post contains affiliate links, which means if you click through and make a purchase, the blog earns a small percentage. There is no additional cost to you. As always, thank you so much for reading!! }