Happy Friday, friends! I've missed doing these Friday posts, but November's non-stop crazy left little time for anything but the necessities of work, life, and graduate school. However, a light is coming called Christmas break, and I'm so excited! Christmas can be a stressful time of year if we get caught up in the presents and activities while attempting to keep up with everyone's pretty holiday decor on Instagram, so instead, I'm trying to remember that every holiday season will be stressful — it has to be a deliberate choice to decide to enjoy the holiday's magic moments or it can quickly become a countdown to January 2nd. 
That being said, I hope each of you are finding your delightful in the daily — and that it involves twinkle lights, cookies, and holiday cheer 🙂 Below, you will find the things in life and in links making my everyday extraordinary these past couple of weeks. As always, I would love to hear about your extraordinary everyday in the comments!
Life Lately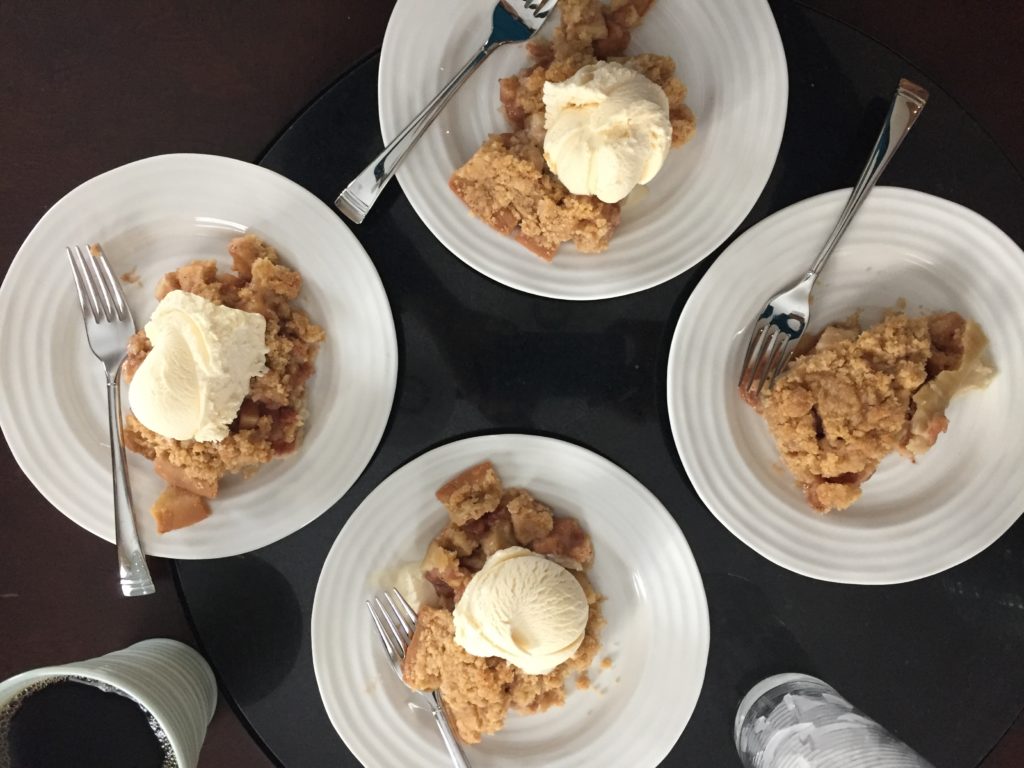 Apple Pie & Traditions. Since I haven't shared since Thanksgiving — to catch you up — our pie tradition is alive and well! My dad's family has always eaten pie for breakfast on Thanksgiving so I haven't missed in twenty some years (even when on night shift!). As I get older though, the tradition carries more weight than just a sweet treat — it's a simple practice that unifies my family who is scattered across four different states.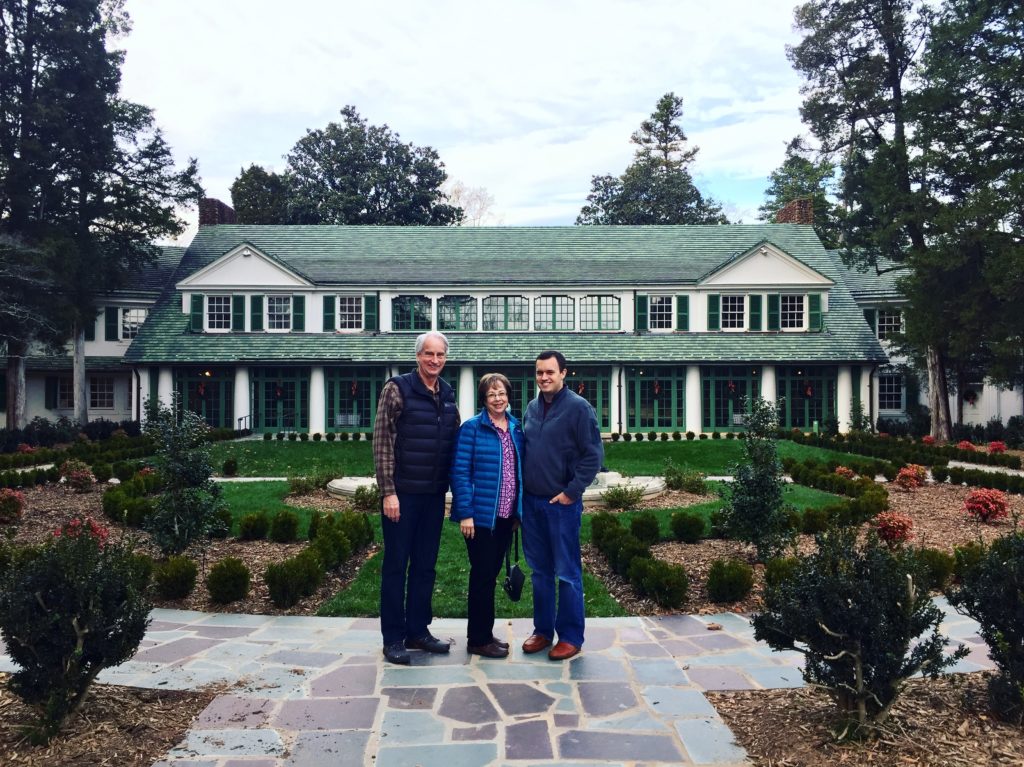 Family Visits. My in-laws visited the week of Thanksgiving, and it was a perfect balance of sight-seeing and relaxing. They are sweet people, and we appreciated their willingness to travel to us and spend time here in NC so much.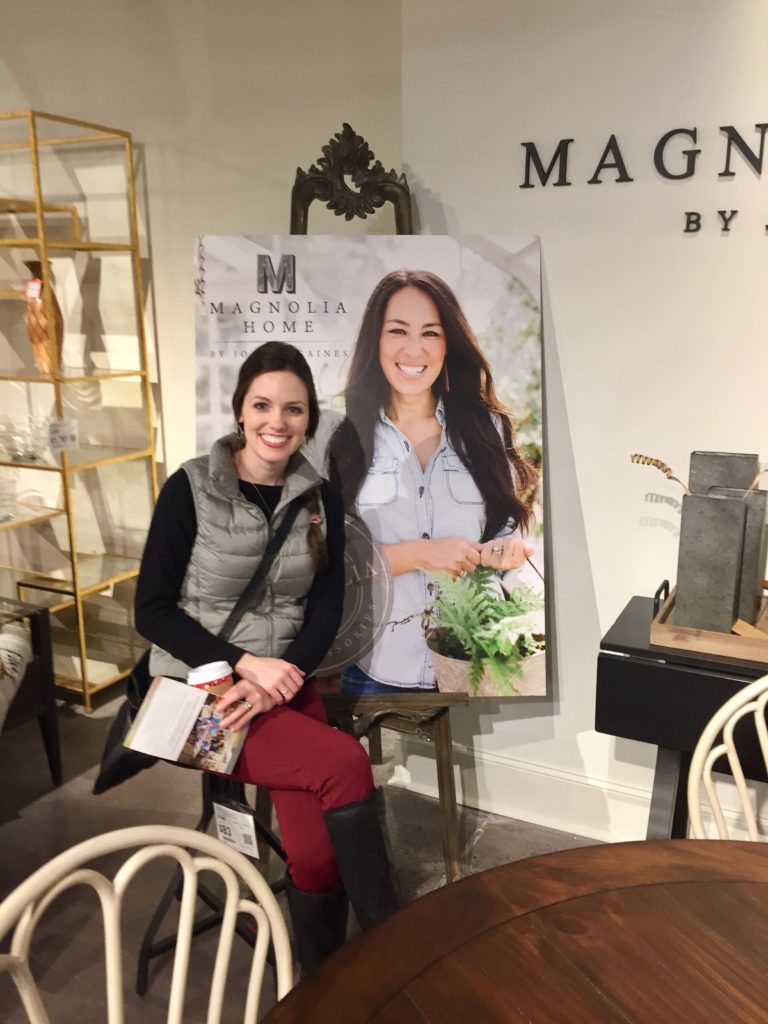 Seeing Joanna Gaines' Furniture Line. So this is probably as close as I will ever get to meeting Jojo, but it was so much fun to tour some of her collection at Furnitureland South in High Point with my mother in law. Fixer Upper always makes me smile, so it was especially neat to see some of her work in real life!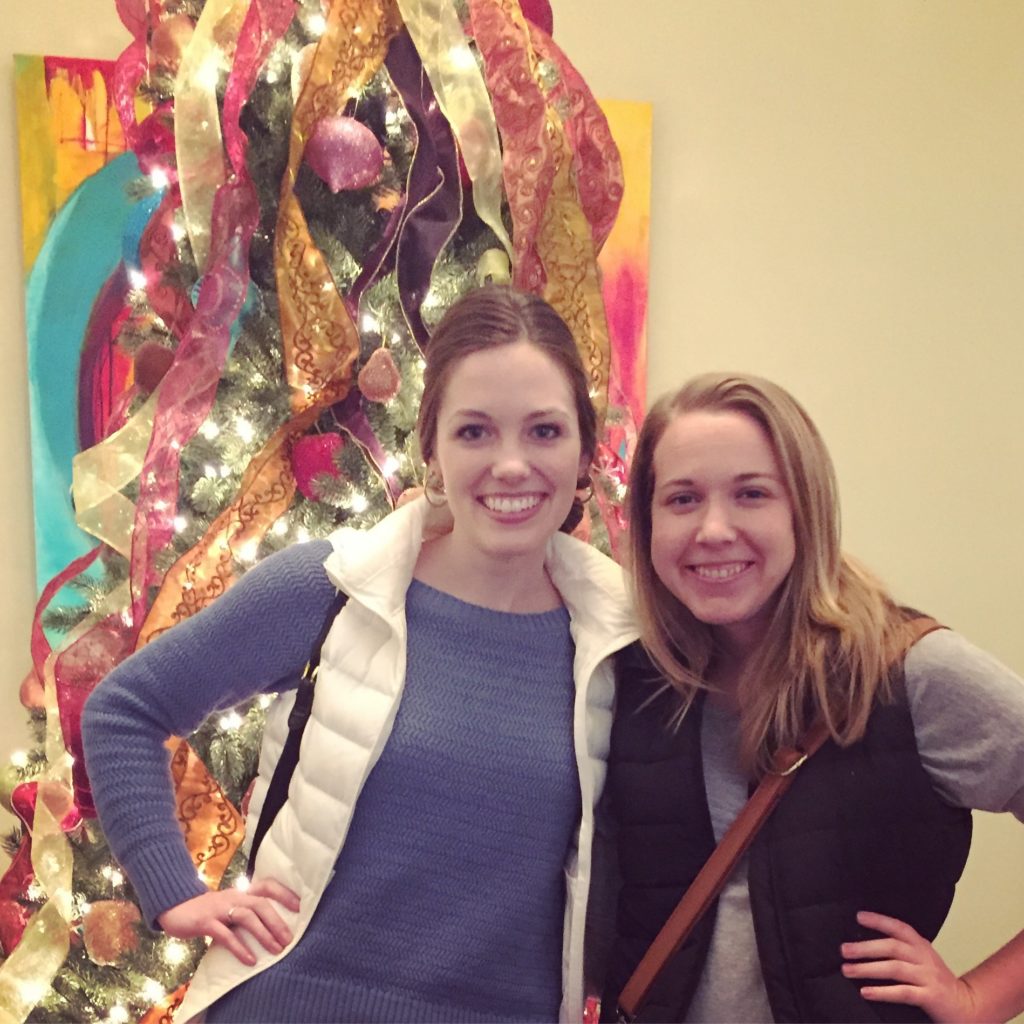 Enduring Friendships. Meeting up with this native Carolina girl for coffee over Thanksgiving was good for my soul. She's the type of friend who you can pick right up with like you just saw each other yesterday, and she made me realize how thankful I am for the friendships I have in my life.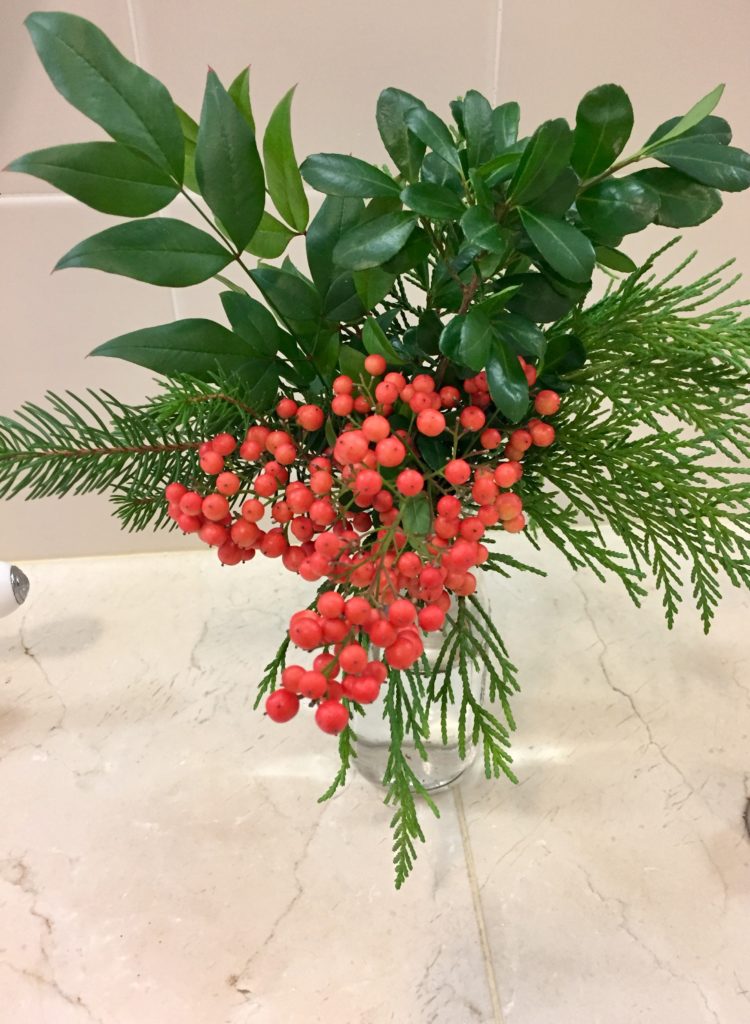 Random Festive Decor. This simple arrangement on a bathroom counter at a local museum made me smile. I love the punch of red, and the thought that I could probably recreate this at home.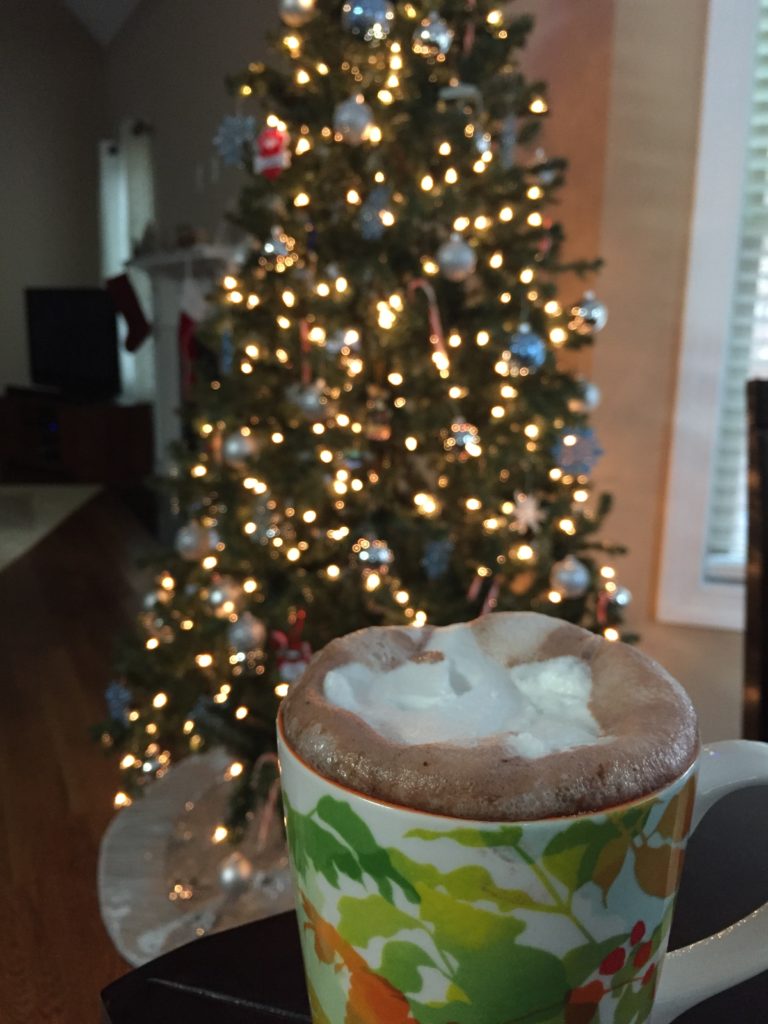 Encouraging my Holiday Spirit. I've moved to studying downstairs just so this view can help me shake my Scrooge like feelings of holiday stresses and instead remind me of how much I love Christmastime. The chocolate and whipped cream cocoa treat also helped 🙂
Dallas the Dog Picture of the Week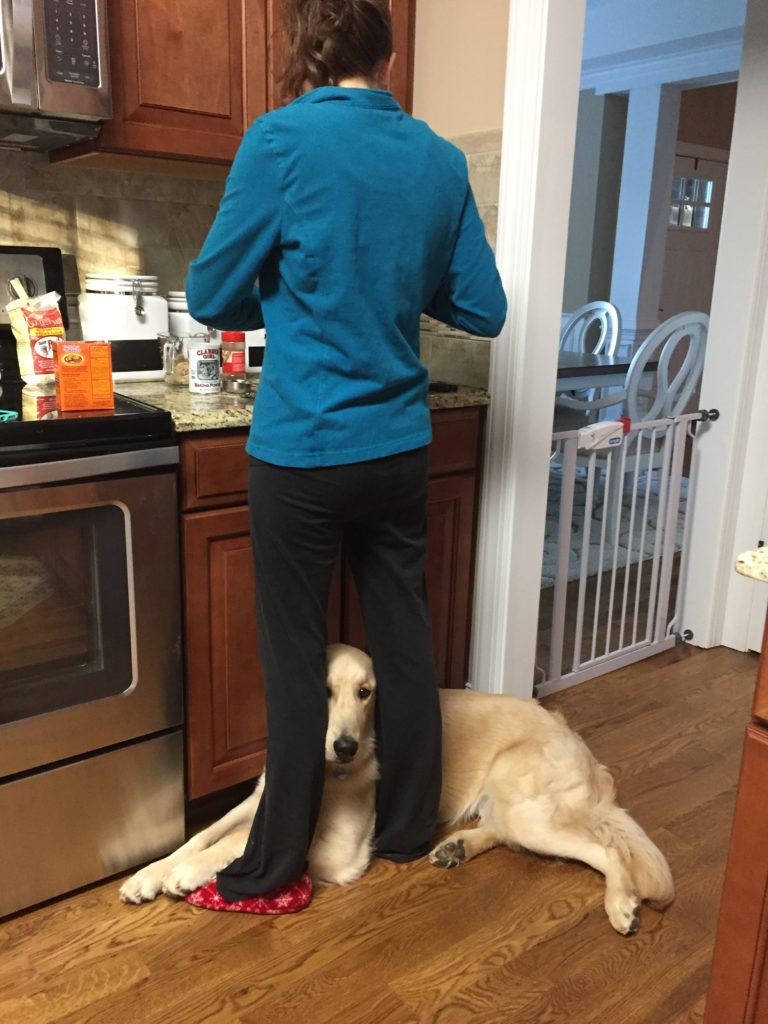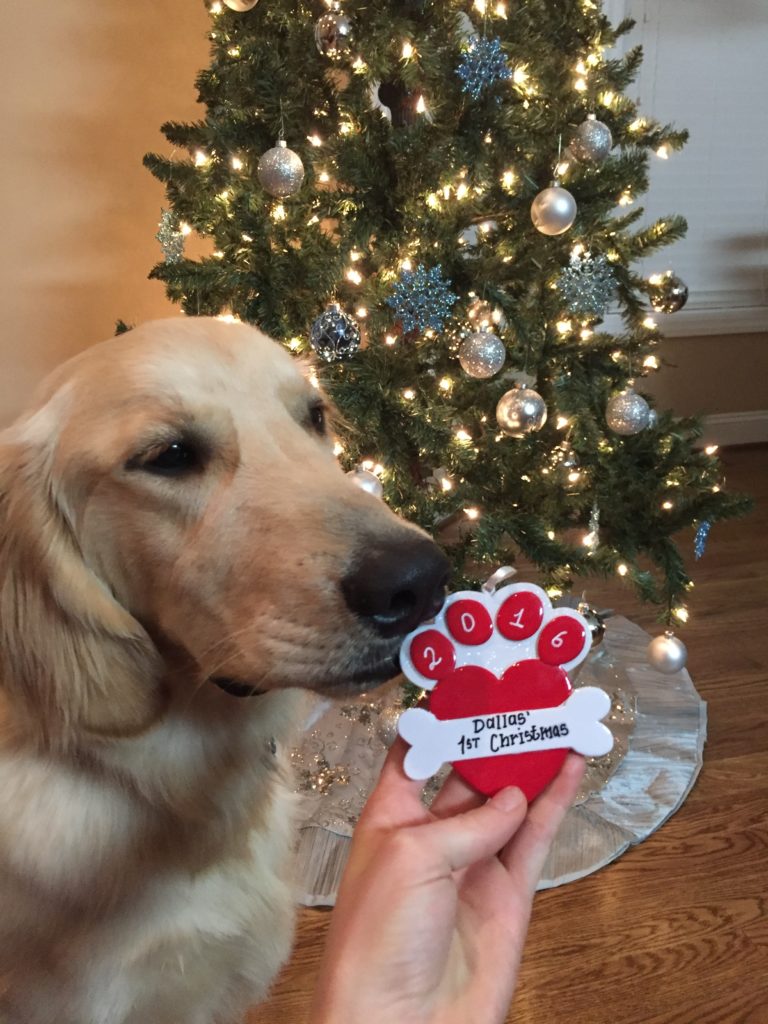 Dallas loves Christmas…and being as close to his people as possible as evidenced by the first picture!! It's cute until you trip over him constantly…and then it gets a bit annoying 🙂 So far, our tree is still standing despite his rambunctiousness, and it's been cute to see him curious about the lights and decorations! We can't believe he is just a little over a month away from turning one year old! He's brought a lot of joy to our lives, especially when everything has felt overwhelming. Such a sweet boy.
Links Lately
The end of the year means many kinds of lists in the blogging world, but I especially enjoy the "best books I've read lists" and gift guides! For best book lists, I liked Scott Kedersha's and Emily P. Freeman's posts.
As for gift guides — they are everywhere! I thought Living with Landyn's were helpful (and I bought a few things from them!), I also liked a Foodie Stays Fit (variety of people categories), Modern Mrs. Darcy's "worthwhile" stocking stuffer list, and Kendi Everyday (for variety of price points and people on your list)
"So now, I'm saying yes to intentionally slowing the heartbeat of my own life enough to inhabit this holiday season with gratitude, reflection, and joy….I'm saying yes to REST." 5 Ways to Cultivate Rest this Holiday Season by fellow hope*writer Amber Salhus refreshed me and my calendar
Y'all know how much I love Jamie Ivey's podcast — I highly recommend each episode really, as I enjoy each of them for different reasons. However, recently, author Ann Voskamp (One Thousand Gifts, The Broken Way) was on with Jamie — and I seriously can't stop thinking about it!! Her profound words while sharing how she is living them out everyday are still making me pause and consider what I want my legacy to be. Also — her reference to us as an Esther generation made me cry. Definitely worth your time to listen as you travel these next couple of weeks. (Also — Ann was on the hope*writers podcast as well! It was another beautiful conversation and a great encouragement for writers!)
Yummy Link of the Week
Tiramisu Pie??! Yes, please! And peppermint bark, peppermint ice cream, and espresso??! Oh my goodness, yes!!
***
Have a lovely weekend enjoying this most wonderful time of year! Stay warm! And don't forget to share your extraordinary everyday favorites in the comments!
***
Linking up with Heather — check out more Friday Favorites here!
***
{This post contains affiliate links, which means if you click through and make a purchase, the blog earns a small percentage. There is no additional cost to you. As always, thank you so much for reading and supporting this blog!! }