Winter was made for cozying up to the fire with a good book. I'm happy to report that my break from school and multiple plane rides were crucial in helping me squeeze in a few more good reads before 2017. Since the start of the year, I've finished a few books, including another Kate Morton that I was eagerly anticipating — I'm hopeful a few other holds will come available soon!
Here's to a great year of reading…as much as grad school allows… 🙂 What have you been reading lately? I would love to hear your opinion on the books below as well as what you've been reading in the comments! If you need more books for the New Year, check out Modern Mrs. Darcy's link up to see what others around the web are reading.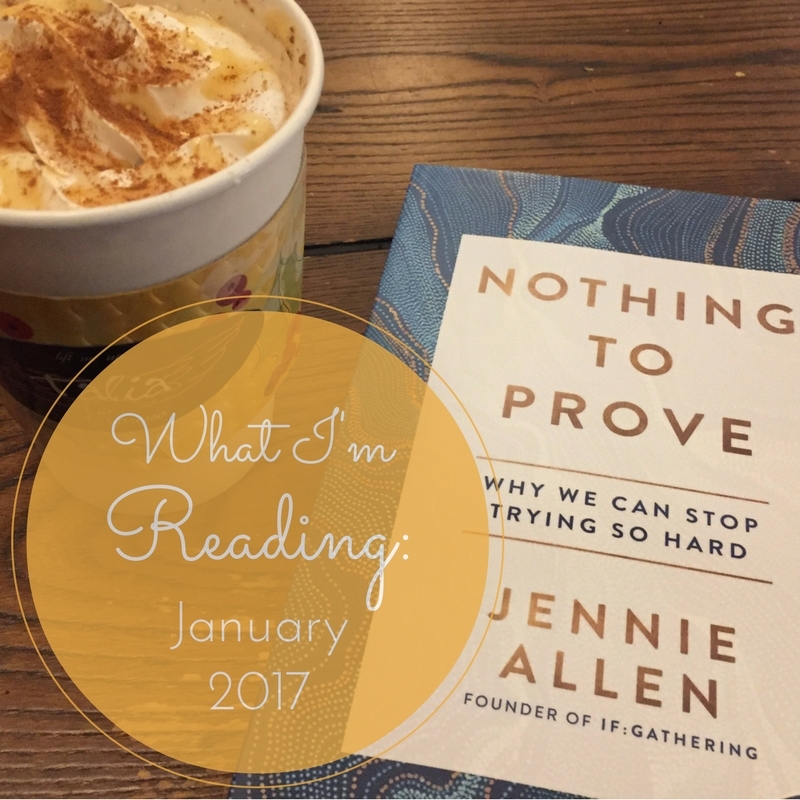 Read this Month
Hillbilly Elegy by JD Vance — this should be a must read for everyone! My husband and I actually listened to this book on Audible during our Christmas road trip. The author himself, Mr. Vance, reads the book, and I think that made it even more enjoyable. This memoir is so much more than just a story about one man's life — it's a intimate glimpse into a whole other culture, and because of that gives the reader an even better understanding of the people all around them. Vance grew up in rural Ohio, with mostly absent parents, a "hillbilly," he calls himself. Now a former Marine and Yale Law graduate, he offers this well-written researched read about both his life and the current culture in our country. Highly recommend! (5/5)
Glory Over Everything: Beyond the Kitchen House by Kathleen Grissom – the sequel to the best selling The Kitchen House, I may have liked this one even better than the original. A difficult read due to the subject matter, but the characters will stay with you for weeks afterwards (4/5).
The Accidental Tourist by Anne Tyler – I read this book after hearing it recommended on What Should I Read Next. I've never read an Anne Tyler before, and I loved her character development! I felt I could picture exactly how the main characters would look, talk, and feel due to her descriptions. Although the premise of this book was good — a travel writer, who hates to travel, loses his young son to a senseless act of violence and then must slowly piece his life back together — I was disappointed in the ending (3/5). (Fun fact: this was made into a movie in the 80s!)
Magic Hour by Kristen Hannah – Along with many other readers, I loved Hannah's The Nightingale that released in 2015. That being said, I've read a few of her older titles now, and although I haven't enjoyed any as much as The Nightingale, Magic Hour, a story about a child psychologist whose whole life crumbles around her due to the actions of one of her patients, was a good read. After the tragedy, Dr. Julia Cates is invited to help her sister in a small town with a mysterious child found in the woods. I found myself thinking about the characters after I finished this one (3.5/5).
First Women: The Grace and Power of America's Modern First Ladies by Kate Andersen Brower – If you know me at all, you realize this is a strange choice. I'm pretty much as anti-politics as anyone could be. I hate the fighting, the backstabbing, the dishonesty, and the double standards of politics (and did I mention the "debating" aka fighting?!); however, when a trusted source said she enjoyed this book, I decided to try it out. I actually truly enjoyed it, as it reminded me that although they are set up on an extremely public stage, at the end of the day, the first ladies are just that — human women, with struggles, emotions, joys, and defeats just like all of us. I thought the book became a little repetitive at the end, but overall appreciated this inside look into the lives of the women who sacrifice much for our country (3.5/5).
The Forgotten Garden by Kate Morton – Kate is my new favorite author and with the completion of this book, I only have one more of her currently published books (The House at Riverton) to read. Although The Secret Keeper remains my favorite, I enjoyed this read about family secrets and the high cost of getting what you think will make you happy. As always in Morton's works, I enjoy knowing there's going to be some type of twist and that situations and people are never what they seem (4/5).
Currently Reading
Present over Perfect by Shauna Niequist – I know this one has been in my "currently reading" category before, but it is SO good, I'm savoring every word. It's as if Shauna is inside my head and her words of wisdom and of God's grace are renewing my soul.
Sensible Shoes: A Story About the Spiritual Journey by Sharon Garlough Brown – My mother in law gave me this book for Christmas as it was a favorite in her book club. So far, I'm really enjoying reading about the journey of four women in different seasons of life as they search for peace and renewal. I can relate to pieces of each of their stories, and I'm thankful that my MIL passed this sweet read on to me.
Nothing to Prove by Jennie Allen – Y'all. This book comes out January 31, and I can't recommend it enough. I've been slowly making my way through it, trying to not highlight every sentence, but it's been a challenge. Like Shauna's book above, Jennie gives words to feelings that I never thought anyone could understand. This book is a breath of fresh air, and I know I'll read it over and over again.
Stopped Reading
I didn't stop reading anything this month.
Bought this Month
Deep Work by Cal Newport – I bought this one on sale this month, and I'm looking forward to diving in – I've heard nothing but great things.
Up Next
Deep Work is high on the list, as well as finishing those I've been slowly reading before more of my holds become available.
***
What are you currently reading?
***
All book reviews on the site: READ
What I'm Reading Posts:
—>This is a link-up with Modern Mrs. Darcy – find more great books to add to your TBR list by reading other bloggers' posts here <—
{This post contains affiliate links, which means if you click through and make a purchase, the blog earns a small percentage. There is no additional cost to you. As always, thank you so much for reading!! }