Happy May! We are on the cusp of summer reading season! I've just about had my brief summer break — school starts again on Wednesday — but thanks to some travel this past month, I've managed to read quite a few good books! As always, I'm linking up with Modern Mrs. Darcy and readers around the web for this quick lit post.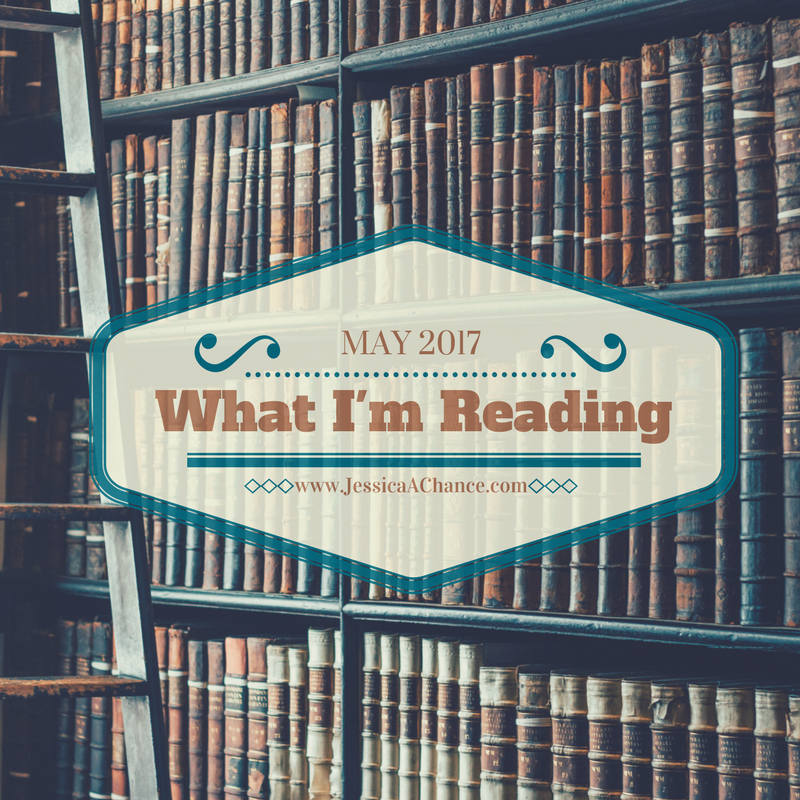 Read this Month
At Home in The World by Tsh Oxenreider – Tsh and her husband Kyle have always been world travelers, even meeting each other on a dusty road in a country I had never heard of many years ago. Over ten years later, they have three kids, jobs, and a home in the Pacific Northwest; yet they haven't lost that desire to see the world and show their kids how amazing it truly is. So they take a school year and do just that. This memoir documents their journey from China to New Zealand to Africa to Europe and some countries in between, all the while asking the question — where or what is "home"? I loved this book. Tsh made me feel as though I was traveling with them, all while asking myself what makes a home to me. Never pretentious, just honest with beautiful writing – this is one to add to your TBR. (5/5) 
The Heiress of Winterwood by Sarah Ladd – Amelia is a young woman who will inherit a large fortune and estate upon her twenty-fourth birthday as long as she meets one condition: she must be married. All is going to plan until Amelia takes motherless baby, Lucy, into her care. Before this, Edward seemed like the perfect match; yet as their wedding approaches, Amelia has her doubts. And what happens when Lucy's father, a naval Captain, returns home? I enjoyed this historical fiction novel which reminded me of Julie Klassen's works. (3.5/5)
Hotel on the Corner of Bitter and Sweet by Jamie Ford – I believe I first heard about this one on Modern Mrs. Darcy's podcast. I immediately loved the title, and the book itself did not disappoint. Told in flashbacks between the 1940s and 1980s, this is the story of Henry, a second generation  Chinese American who lives through the second world war in which his best friend, a Japanese American girl is placed in an internment camp. The characters were vividly described, and I appreciated a glimpse into what that time period was like in America for persons of color. (4/5)
Love Lives Here by Maria Goff – I mentioned last month how we were honored to hear Bob Goff, Maria's husband, speak at my in-laws church. I couldn't wait to dive into Maria's book, and it was lovely. Most chapters could almost stand alone as short stories, but put together they paint a beautiful picture of the impact an ordinary life can have when influenced by the power of God's love. A wonderful book. (4/5)
A Match Made in Texas by Mary Connealy, Karen Witemeyer, Carol Cox, and Regina Jennings – This book is pure fluff, and I throughly enjoyed it. I borrowed it specifically for our weekend at the lake and the four Christian romance stories set in Texas made me smile…and better yet, not have to think too hard 🙂 I read quite a few of these novella books in high school and college, and this one brought me back to those days. (3/5)
Currently Reading
H is for Hawk by Helen Macdonald – A memoir I heard about on the Modern Mrs. Darcy podcast as one of her guest's favorites. I've barely begun this one, but I'm so curious to read about how a hawk helps one woman on her journey of healing.
Stopped Reading
The Mothers by Brit Bennett – Although when I read the premise of this book, I was unsure if it was for me, I had heard so much buzz about this book, I decided to give it a try…and stopped reading about 50% through. That is not to say this is not an engaging, well-written book (the author's debut, I believe), but I found myself getting more and more frustrated with the characters and the lack of redemption/restoration that was present in their lives. Maybe the ending would have changed everything for me, but I just couldn't spend my precious reading time on the equal chance that it would not. (Also – warning: there are quite a few heavy adult topics covered in this one.)
The Readers of Broken Wheel Recommend by Katarina Bivald – How cute is that book cover? And the title? The premise about book pen pals plus a book store in the middle of nowhere — I thought it sounded like a great plane read; yet after the first couple of chapters, I just couldn't get engaged. This may be one I just picked up at the wrong time, so perhaps I will try it again someday. Have you read this one? Thoughts?
Bought this Month
At Home in The World by Tsh Oxenreider – Although a new release, this one went on sale this past month and I scooped up the Kindle version. Since I loved it so much (see above), I'm glad to own a copy!
***
What have you been reading lately? I would love to hear in the comments!
All book reviews on the site: READ
What I'm Reading Posts:
—>This is a link-up with Modern Mrs. Darcy – find more great books to add to your TBR list by reading other bloggers' posts here <—
***
{This post contains affiliate links, which means if you click through and make a purchase, the blog earns a small percentage. There is no additional cost to you. As always, thank you so much for reading!! }