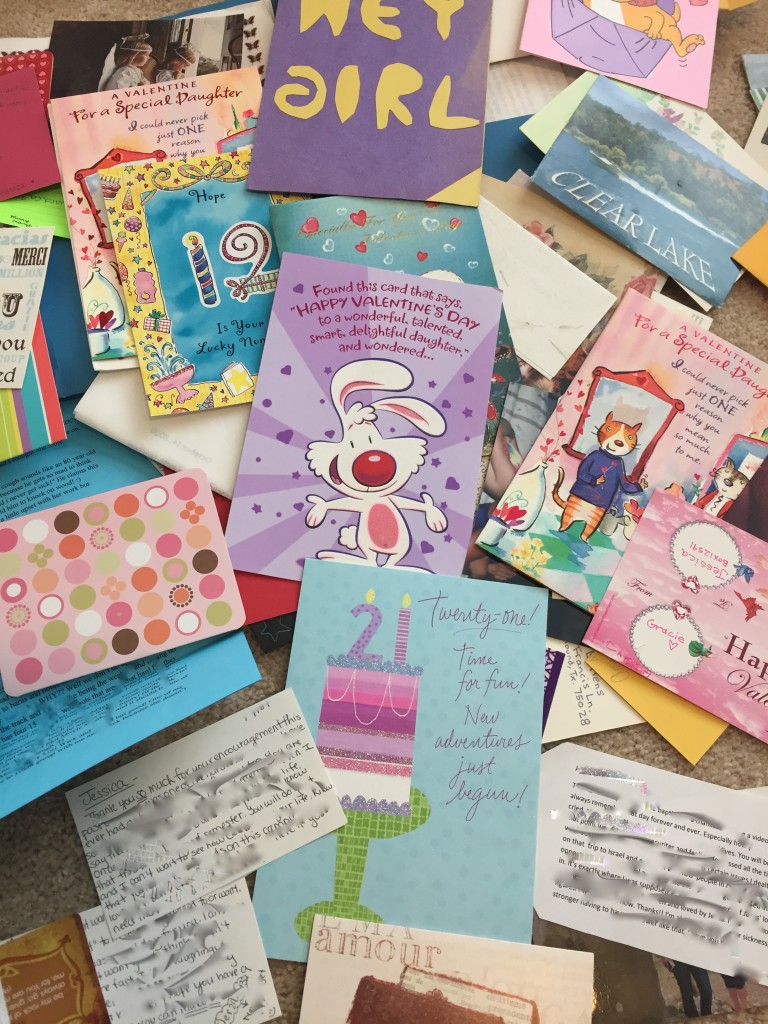 Since we moved so quickly, there was no time to sort many things before the moving truck arrived. That being said, I left the most intimidating task of sorting through the boxes of momentous, photos, and keepsakes until last. These boxes may in fact include every card, note, or scrap of paper that has been written to me for years (read: I finally threw away my Valentines from 2nd grade…so, yea…you see what we're dealing with here…2nd grade was a great year – what can I say? 🙂 ). In the past when I went through these things, I just couldn't let anything go – they were all so special and all meant something to me. It felt as thought I was losing something precious. All of my memories are still precious to me, but I'm trying to be more realistic in that I haven't read my 2nd grade Valentines since 2nd grade…why am I transporting them across the country, and should I really store them for years? Let's be honest, my kids are not going to want to savor every word on their mom's 2nd grade Valentines cards – they will have their own!! Being sentimental definitely has it's challenges…ahem….
This time around though, I tried to remember the advice I just read in Marie Kondo's book (review coming soon!), "The Life Changing Magic of Tidying Up." She says "It is not our memories but the person we have become because of those past experiences that we should treasure. This is the lesson these keepsakes teach us when we sort them. The space in which we live should be for the person we are becoming now, not for the person we were in the past" (emphasis mine). These powerful statements continue to resonate in my life as I reminisce about the past and sort through pieces of my life that bring to mind so many memories.
Memories fascinate me as they are so personal and fluid, every changing, yet staying just the same. That frozen moment of time that happened just yesterday in your mind. No one perceives the moment exactly the same way, which creates many an interesting family dinner, many a hurtful discussion, and many, many emotions. Some prefer to never "walk down memory lane" whereas other live on memory lane whether due to a medical condition or a present state of life that is difficult to endure. Personally, I love to reminisce, to remember when, to laugh at the yesterdays — but there are also some memories that pierce my heart deeply – opportunities missed, family or friends hurt by my actions. It's a hard walk down the lane sometimes, and other times, I'd rather avoid it all together.
In the end though, I think the main thought that stayed with me long after my 2nd grade Valentines were being recycled for a good cause, was that memories are powerful…and we each have an opportunity every day to make them. Sometimes life is daunting, but I bet each one of us, even on the worse of days, can remember a good memory, remember the joy it brought, and in turn, brighten those hard days, that season when the storms come. Remembering that your everyday is extraordinary – it's all in the little things – that's where the memories play a part. When a certain food, scent, song, or phrase brings a memory to mind – it's an opportunity to remember, celebrate, mourn, or cringe, but most of all it's an opportunity to learn from the past and embrace the present wherever you may be.
Similar to what Kondo said, our pasts have made us who we are today, but we have the present days to help shape our future. The sentiment behind my 2nd grade Valentines was strong, I'm sure; however, I wish to fill my life with the love and happiness that the gifts of the present bring, without cluttering it with echoes of the past.
Are you sentimental? Anyone else have momentos from long ago? Do you like to walk down memory lane or to focus more on the present day?