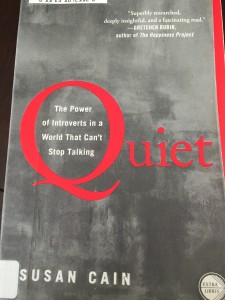 Before I was finally able to check this book out from my local library — I had received many recommendations for it. As a pretty off the charts introvert (ISFJ for those of you who appreciate "official" personality types 🙂 ), I was excited to read this book with such an personally intriguing title.
Quiet: The Power of Introverts in a World That Can't Stop Talking did not disappoint – it was a little different than I expected – but overall offered great insight into the mind and the influence of introverts. I guess I expected more of a "self-help" type read, but this book was more of a throughly researched deep dive into the world of personality (mainly introverts, obviously). However, the author also delved into the American ideal of personality, cross cultural views of introverts, marriage between introverts and extroverts, how to empower yourself as an introvert, and how to see this characteristic as an asset within business, friendship, relationships, and as a parent.
Since I identify as an introvert, I especially enjoyed this book. I found myself nodding and thinking, "That's why I do that!" or "I can completely relate!" over and over again. I think this is a great read for all you introverts out there, but also for the extrovert. According to Cain,  one third to one half of people are introverted, even if they seem extroverted, and I think it is good for all to ponder how the personality types best work together.
Author's website: Susan Cain (this has some awesome resources and information on it!
***
Do you know your personality type? Have you read Quiet yet, and if so, what are your thoughts?
{Disclaimer: EE Reads books are featured simply because I enjoyed reading them and wanted to share them with you! I buy or borrow all books myself. No affiliate links in this post. Thanks 🙂 }