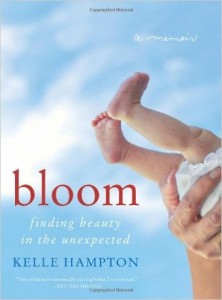 {Image Via}
Bloom: Finding Beauty in the Unexpected is a rich, breathtakingly beautiful, achingly honest memoir written by a mother who finds out her second daughter has Down Syndrome on the day her daughter is born.
Kelle Hampton shares her story with raw emotion, touching grace, and a depth that leaves you speechless and in tears. I remember when Kelle's original blog post on her daughter, Nella's, birth went viral back in 2009. I recall reading it and crying at the feelings it evoked. Her memoir is just as touching, lovely, and authentic.
I highly recommend this book where Kelle documents the first year of life with Nella — the struggles, the learning curves, the joys, the broadening of her horizons, but mostly the love — the love of a mother for her child, no matter what.
To hear Kelle's vision for the book – watch the Bloom Trailer
Author's Site/Blog: Kelle Hampton
Bloom on Amazon
***
Do you enjoy memoirs? What are you currently reading?
***
{Disclaimer: {EE} Reads books are featured simply because I enjoyed reading them and wanted to share them with you! I buy or borrow all books myself. No affiliate links in this post. Thanks 🙂 }