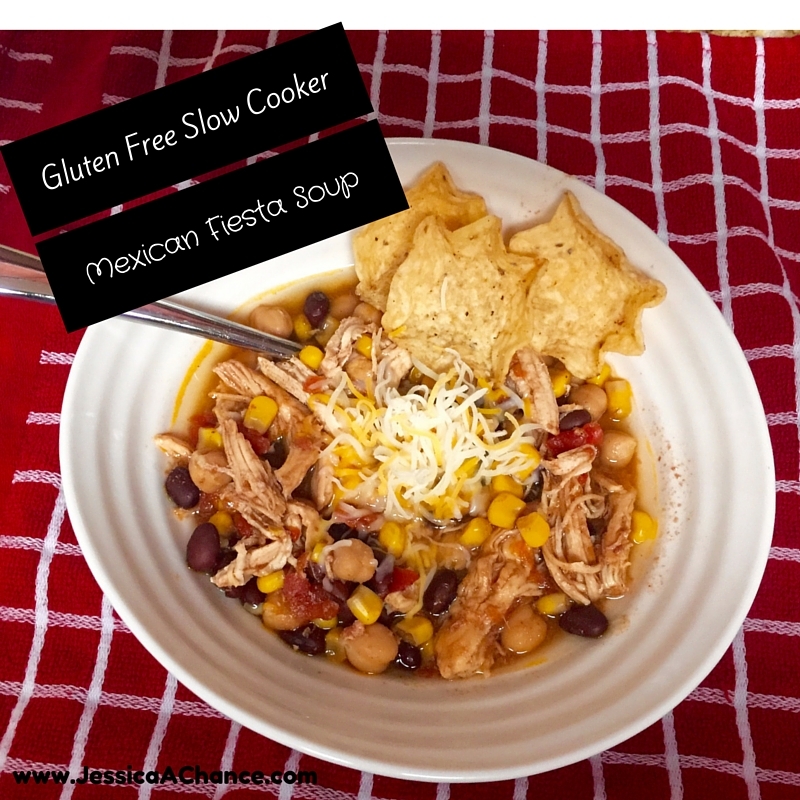 This recipe combines some of my favorite things — the slow cooker (AKA Meal Planning Savior), warm dinners for winter, flavorful food, and an EASY ingredient list.
Once upon a long time ago, I believe my mom received the original recipe for this dish from a friend. Since then, it has been modified and tweaked both to be gluten free and to fit with our palates. The best part? It's so easy and the possibilities to make it your own are endless!
So without further ado – throw the following ingredients into the slow cooker one morning this week and you will return that evening to an absolutely delicious dinner. I think this could also work wonderfully for a party as one of the main dishes or soup course.
Ingredients: (as always – check your ingredients to insure they are all gluten free — you never know with how quickly companies change things…)
4 Frozen Boneless, Skinless Chicken Breasts (you can do non-frozen but adjust your cooking time accordingly)
1 Can Rotel (we did "original" but feel free to modify to your desired spiciness)
1 Can Corn
1 Can Black Beans, drained (I use the low sodium version of all canned items)
1 Can Garbonzo Beans (chick peas), drained
1 Cup Gluten Free Chicken Broth (or 1 chicken bouillon cube, but these are hard to find GF)
6 Tsp or 1/2 packet Taco or Fajita Seasoning
Optional Toppings: Fiesta blend cheese (or any cheese really), Tortilla Chips
Directions:
–>Starting with the chicken on the bottom, add all above ingredients to your slow cooker except taco/fajita seasoning
—>If liquid from the broth does not cover everything, add some water just until all ingredients are submerged in liquid
–>Stir in taco/fajita seasoning and any other seasoning you would like
—>Cook on low for 8 hours (probably only about 6 hours for non-frozen chicken and only 4 hours on the high setting –**every slow cooker is different so make sure the chicken easily shreds and feel free to test the internal temperature if you're paranoid like me 🙂 )
—>Using two forks, shred chicken into smaller pieces (it should literally fall apart when touched if completely cooked)
—>Serve while hot and steaming — optional toppings include: fiesta cheese blend or your favorite cheese blend, tortilla chips, or whatever your chef's heart desires.
This makes enough for 4-6 people. I make a big batch and refrigerate it for lunches for the week.
Enjoy! If you make it, let me know what you think! I would also love to hear what creative ingredients you added to personalize it 🙂
***
Favorite slow cooker recipe? Favorite winter soup recipe?