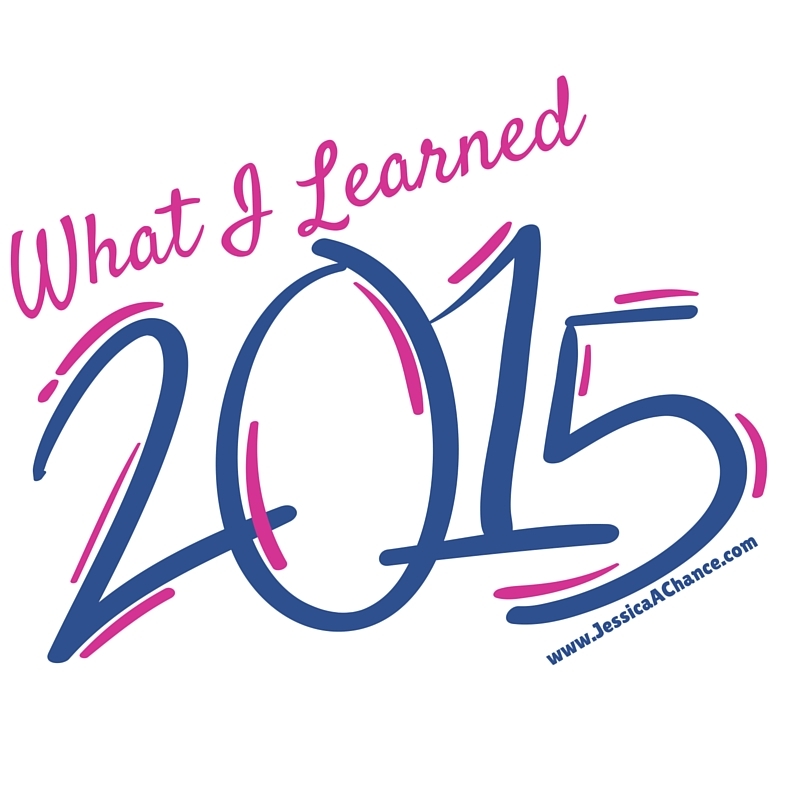 As we say good-bye to 2015 (how?! what?! when did this happen??!) and look ahead to the brand new beginning January always brings, I think a some reflection is always vital. Even though the song which says, "I know where I'm going, cause I know where I've been," was not written for this particular exercise, there's a lot of truth in learning from your experiences to guide you as your life journey continues.
Here is an assortment of things I've learned in 2015:
Home is really about the people, not the place. As you may know by now if you've read the blog for any length of time, my husband and I moved this year away from family, our community, and a wonderful church in the bustling city of Dallas, Texas to the quieter, country roads of Winston-Salem, North Carolina where we didn't know a soul. There have been exciting days of discovery and tearful days of missing the familiar.
In all of it, I learned that my husband is now synonymous for home. Where he goes, I go and the joy I find in us, in our family of two supersedes the longing for the conveniences we miss from Dallas. I am also reminded that it is the people, the community, that truly make a city home. As we move into 2016, we hope to find more of our place here in Winston.
It's hard to start over. The flip side to the above is simply: moving is hard. Post college graduation was the last time I "moved" but at that time it was back to a city with which I was familiar with family a thirty minute drive away.
The realization that home is about the people, namely my husband, did not make the adjustment easy by any means. Going from a wonderful community of people living life beside you to knowing not one person is tough. I think we knew that intellectually, but it took living it to really fully understand.
The crockpot is my new best friend. I used it enough in the past to like it, but this year my feelings definitely grew into love for this special kitchen appliance. The best dinner nights are the ones you fix at 8am and get to forget about until eating the deliciousness at 6pm.
I enjoy memoirs – As much of a voracious reader as I am, I am sorry to say that the genre of memoir was basically unfamiliar to me until this year. Once discovered, I whizzed my way through new favorites like The Glass Castle and Bloom. The latest one I've read is Sapphires and Garlic — review to come next week!
I think I'm loving memoirs so much because the stories are about real people, what they learn, and because the glimpses into others' lives, cultures, and work are both fascinating and enlightening.
The embracing of my introverted nature is vital to my mental health. I've always assumed I was an introvert as I dislike large crowds and prefer reading books to parties. However, I read Quiet this year, and it really resonated with me. I appreciated Susan Cain's encouragement in the book to acknowledge your strengths and weaknesses as an introvert so you can function at your full potential. I think this is true for all personality types — knowledge is power and realizing how certain things make you act and feel is a valuable life skill.
My social media time must be limited. I did a social media fast this summer — read about it here and here, and I was shocked to learn how much social media and really any type of media affects my thoughts and mood. I want to continue to be conscientious of this truth in the coming years.
The best part about getting cable for football season is that HGTV is included in the package. Both my husband and I didn't grow up with cable and were encouraged to play outside every possible hour of the day; but now we are adults and one of us loves college football. So we get cable for the fall and winter seasons AKA football season. Now, I actually don't mind football (yep – that's a true statement; I have a post on that soon), but what I really love about cable is HGTV. My productivity might take a nosedive, but my happiness and irrational hopes about the supposed affordable costs of home improvement projects knows no bounds.
True friends span the miles. It continues to amaze me how simple phone conversations, a quick text, or a Google hangout with friends who have known you for years can give you a boost of happiness for days. Despite the distances, despite the changing life seasons, the added stressors of jobs, relationships, and children, I'm so thankful for friends who can start up conversations like we never stopped and who aren't afraid to counter my crazy emotional tirades with gentle friend inspired truths.
Marriage reveals your selfishness in ways you cannot even imagine. Celebrating our first anniversary this past August was wonderful, the excitement continues to abound as we continue this new journey of marriage together, but I think we would both say that along with the joy marriage brings has come much growth. I think the greatest thing it has shown me is how inherently selfish I am.
As a single woman with a steady job, steady income, and fairly stable life, I didn't realize how much my life revolved around me and what I wanted to do, what I wanted to eat, what I wanted to spend money on, where I wanted to go, etc, etc. Thankfully I married the most patient man on the planet, but it's been a learning curve to remind myself (daily) that it's just not all about me. I have a feeling the marriage lessons will not end here 🙂
Despite our differences, despite our fears, we all still have the power to be kind. In the later half of this year many hot topic issues have arisen as the world has become more and more unstable. Everyone seems to have an opinion, being it from a religious or political point of view, and all of us feel as though our personal thoughts are correct. I'm not against debate (although I would rather go to the dentist daily than really engage in it), but I think in the dissension and the fear, we lost the important, simple act of being kind to others, no matter how much we disagree with them. I wrote about what I was learning on this topic here.
Acknowledging dreams and gifts and pursuing them is not selfish. I have always loved to write — in fact, while moving I found a story I wrote in kindergarten along with many other stories written during my childhood years. Those forgotten treasures of pencil scribblings forming barely decipherable sentences were precious as they caused me to reflect on past dreams and reminded me that I still have time to write, to learn more about the craft, and to see where it takes me.
Enter this space — it's been so therapeutic, creativity sparking, and rejuvenating to formulate sentences again, the keyboard clicking and clacking away as I write reflections, reviews, and about embracing everyday moments. Thankful to learn it's never too late to pursue what you enjoy – and very thankful for YOU who reads, comments, and gives thoughtful feedback.
God is in control. To close, I think this was the greatest lesson I learned this year, and a lesson I will continue to learn throughout my time on this earth. I am not truly in control, I am not sovereign, my perspective is not His perspective — and for that I am so grateful. My faith gives me joy, peace, and so much hope for the eternity we are promised because of Jesus Christ.
"Who shall separate us from the love of Christ? Shall trouble or hardship or persecution or famine or nakedness or danger or sword?
…No, in all these things we are more than conquerors through him who loved us. For I am convinced that neither death nor life, neither angels nor demons, neither the present nor the future, nor any powers, neither height nor depth, nor anything else in all creation, will be able to separate us from the love of God that is in Christ Jesus our Lord."
Romans 8:35-39
***
What was one of the lessons you learned in 2015? I would love to hear! Thankful for each one of you! Happy New Years' Eve!
***
**Linking up with Emily P. Freeman on this post — check out other bloggers' What I Learned: 2015 here.**