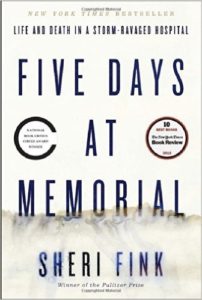 Image Via
Last August marked ten years since Hurricane Katrina decimated the city of New Orleans. While in NOLA in 2014, my husband and I toured a display at a local museum about the tragedy. Before that tour, I was extremely ignorant about the full extent of the impact this storm had on so many lives– I had seen the heart breaking pictures back in 2005, but as a high schooler on the cusp of going back to school, my mind was filled with "important" things like my first day of school outfit and surviving volleyball conditioning.
When I saw this book, Five Days at Memorial, recommended, I was intrigued. It appealed to me not only as a medical professional, but as a citizen of the United States and an empathetic human being.
This book describes, from many different vantage points, the five days of the storm's aftermath at Memorial Hospital. For those of you unfamiliar, there were questions raised after the water receded about the possibility that physicians decided to euthanize and/or hasten the deaths of some of the more critically ill patients at the hospital when rescue seemed to be hopeless.
I flew through the first half of this book, slowing way, way down as the stories of the storm's aftermath seeped into supposed facts, legal jargon, and the extremely exhausting, ever fluctuating debate on what the truth about those five days really is.
Overall, I thought the author's research was extremely thorough, and her ability to keep most bias and personal opinions to herself was admirable (there still is some). I wavered greatly throughout the book — as a medical professional, my empathy and horror for those healthcare workers and patients left behind in a flooded hospital with no electricity and no backup generators knows no bounds; yet as a human being whose loved one could have been one of the patients whose death still remains suspicious, I can't help but feel deep grief and anger toward the possibility of their life ending sooner than necessary.
This book delves into the many ethical issues surrounding those five days as well as the nationwide debates on euthanasia and end of life care. It also touches on emergency preparedness for hospitals, which I found extremely interesting.
Be ready for a deep dive into five days of what some would consider to be a healthcare worker's worst nightmare. I think my largest takeaway from this non-fiction ethical expose was not the question of whether or not euthanasia utilized at Memorial, but of how many epic failures of emergency systems, communication, and leadership there had to be for there to even be this debate in the first place.
Author's website: Sheri Fink
Five Days at Memorial on Amazon
***
Have you read much on Hurricane Katrina? What are you currently reading?
***
{Disclaimer: {EE} Reads books are featured simply because reading them made my everyday extraordinary, so I wanted to share them with you! I buy or borrow all books myself. No affiliate links in this post. Thanks 🙂 }