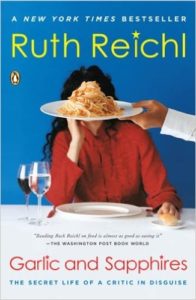 {Image Via}
First, I must implore you to not be remotely hungry when reading this delightful memoir, Garlic and Sapphires, written by former New York Times restaurant critic Ruth Reichl. Lately, I have been eagerly consuming memoirs (see The Glass Castle & Bloom) as though they were my favorite meal (pun intended 🙂 ); however, my enjoyment of this novel was so unexpected and rendered me pleasantly surprised.
It will come as a shock to no one that I do not particularly love cooking nor am I particularly adept at it; yet I will be the first to admit I love eating. Good food especially, even with my gluten free limitations and a slightly picky palate for unique culinary experiences. This is why this memoir about Reichl's time as the famous New York restaurant critic was so deliciously delightful in that her extraordinary descriptions of her experiences and meals at some of New York's most respected eateries transported me to the chair right next to her.
Reichl's memoir is not only filled with good meals and recipes – she also weaves in stories from her childhood growing up in New York City, making the renown crowded, sometimes rude city that much more endearing. Some of Reichl's best stories are from the times when she disguised herself as a variety of women dreamed up in her imagination in order to observe what a restaurant is like when you're not food royalty.
Not only does she allow the reader a glimpse into the world of a restaurant reviewer, in between the courses of her many, many meals, she also learns much about herself, her purpose, and what she wants the rest of her life to look like. As for her memoir — I would give it four stars, the highest honor a critic could bestow.
Author's Website: Ruth Reichl
Garlic and Sapphires
on
Amazon
.
***
Do you enjoy memoirs? Do you think you would like being a food critic?
***
{Disclaimer: {EE} Reads books are featured simply because I enjoyed reading them and wanted to share them with you! I buy or borrow all books myself. No affiliate links in this post. Thanks 🙂 }