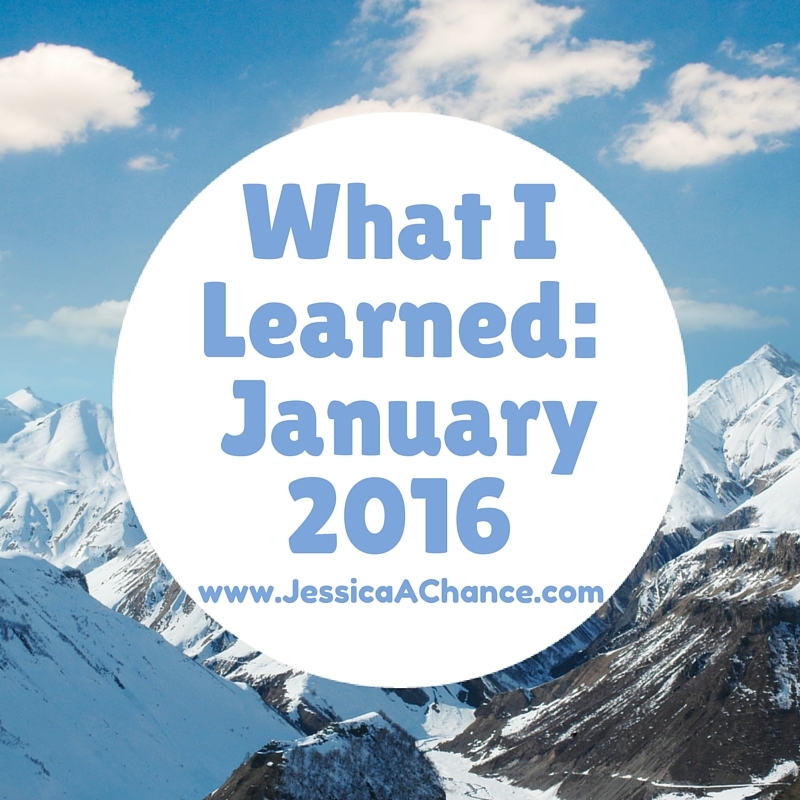 January and February are the longest and slowest months of the year. Can I get an amen? Maybe it's just me, but this January was no exception. When the thought runs through my mind that perhaps the month has moved more quickly than usual, I just remind myself that I started the month in the hospital, just a few short weeks ago, and I cannot believe it. That hospital room feels like a lifetime ago — so in my reality it should be March at the very least!
All of that being said, the seemingly endless month of January gives us plenty of time to learn new things…and I did learn a few. What have you learned so far in 2016?
New Year's Eve in the hospital is not a party. I rang in 2016…asleep, in a hospital bed. It definitely was not the usual NYE celebration; however, I realized and wrote about how there was much to learn from the perspective shift including a renewed passion for my calling as a nurse.
If you borrow Kindle books from your online library, and can't quite finish them by the due date, you can trick your Kindle by keeping it in airplane mode. This feels sneaky to write down, but there's a lot I am willing to do to finish a good book! 🙂 This month, I had some long awaited library holds become available all at once. I didn't want to miss out, but I can only read so fast!! I found out, by accident really (due to actual airplane travel), that even if the borrowing period ends, as long as your Kindle remains on airplane mode, the book will remain on the Kindle! 🙂 Maybe this is common knowledge, and it makes sense due to the lack of wi-fi in airplane mode, (meaning no communication to and from the Kindle) but I hadn't realized it before this month.
Having wonderfully caring family and friends cannot be quantified.  I realized this fact many times before in my life, but being so vulnerable in the hospital changes your focus in many ways. Even though it was hard being away from "home" (NC) and sick; I am very thankful it was back in our former home of Dallas so my parents, in-laws, sister, and friends were there as a support system for both me and my husband while I was admitted.
Noisli is a really fun way to enhance productivity and/or relaxation. I found this neat website through another blog, and I encourage you to check it out! It's a site that provides (for free!) background noises to help improve your focus. There are many different, extremely realistic sounds including wind rustling through the trees, a campfire crackling, rain trickling down, and even a "coffee shop" bustling with people to simulate working in a busy environment. My favorite is the wind, I pretend I'm on my back porch in the springtime or in the aspens of Colorado in the summer. 🙂
Utilize my self-awareness when scheduling events in advance. As I get older and become more aware of myself, my personality, my energy levels and emotions, I feel more empowered to make better decisions when it comes to my schedule. This month in particular, when I looked at the calendar to schedule an event that was weeks away, instead of just filling up the available hours — I took a closer look at the surrounding days and already scheduled events before making a decision. I know that I am not the best version of myself if I over commit. So this month, I used my overactive imagination to my advantage and tried to picture how much I would enjoy having an energy requiring event every single night of an already busy week…the answer was not at all. So I said no to some events. Simple? Yes. Life-changing? Yes, yes, yes!
Podcasts make me want to drive all day. Ok, ok – I know – I'm like the last person in the world to jump on the podcast train, but as my husband will tell you, I'm always wary of new technology (haha). However, one of my favorite bloggers, Anne Bogel at Modern Mrs. Darcy started a new podcast, What Should I Read Next? and I just had to listen. Before her podcast, I had only listened to Serial (with the rest of America), Season 1, on my drive from TX to NC (and it did live up to the hype — I need to listen to season 2 soon!).
Anyways, I really enjoyed Anne's new podcast and eagerly listened to all three episodes. Since I had more than usual car time this month, I also listened to three episodes of The Happy Hour with Jamie Ivey and now I want to listen to the other seventy!
***
Your turn! What is something you learned in January?? Any podcast recommendations?
***
This is a link up with Emily P. Freeman. Visit her What I Learned: January post on her blog to read what other bloggers learned in January.
***
Previous What I Learned Posts: