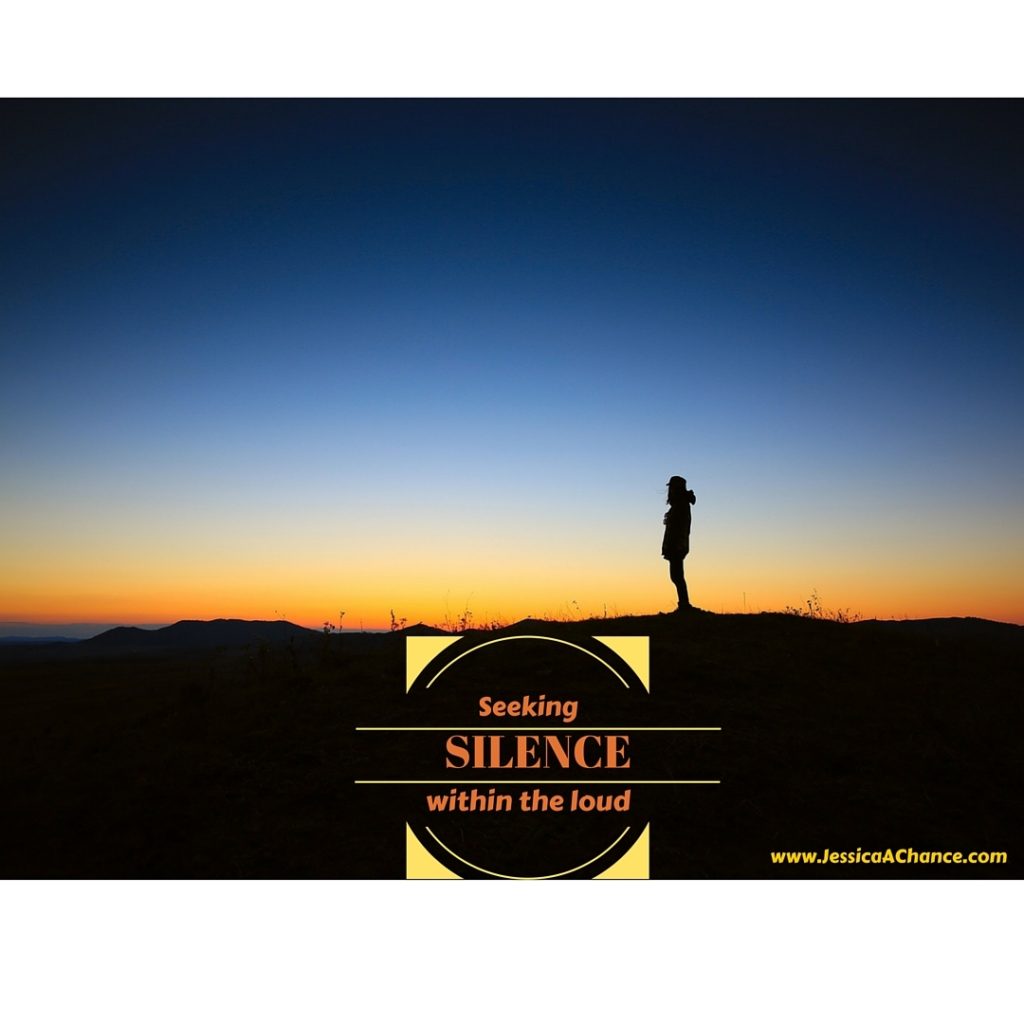 What does it look like to still our minds within the cacophony that is assaulting us on every level, on every side, every moment? Whether it's Instagram, CNN, Facebook, Twitter, the musings of your family and friends, or the voices that reside inside our minds — how do we seek silence? How can we possibly be still?
I've been wrestling with these questions for weeks now, and probably should have been acknowledging them for even longer, but the inevitable symptoms of my mental health breaking down manifested only recently. I know, and I've written about before how much I require silence, minimal stimuli for a least a small part of my day to function at my highest level. In that silence, there cannot be an allowance of any stimuli- it must be sacred. Me and my thoughts. Only.
No phone. No computer. No internet. No podcast. No talking.
This is core knowledge for me about myself now…yet many times I allow people's voices, posts, or that one scroll through Facebook or Instagram yell louder than my common sense and my need, triumphing and trampling over what I know is best for my soul as my fingers obey the subconscious bidding.
Why? I've asked this countless times yet I haven't paused and let the silence speak before letting the loud begin again.
Why? The questions linger like cooking onions does, perfuming the air whether you try to tamper them or not, becoming, eventually, so overpowering that you must pay them mind.
Why? Why let the loudness all around me dominate, control, and manipulate my emotions, my time, my mental wellness?
After all, I have a choice.
I choose what I let enter my mind, my heart, what influences my spirit, my mood. I choose to numb thoughts, feelings, and ideas with others' lives, stories, drama, and opinions. I let personal mindlessness win.
Time after time after time.
It's different for all of us, but there's something we could probably honestly point to that we use to numb life's ups and downs. Not the occasion treat, nap, or shopping trip — I'm talking about the things we turn to when life feels too overwhelming to face or our thoughts feel too heavy to explore. The things we use to delay coping.
For me, it's usually the Internet. Whether social media (usually), blogs, articles, podcasts, music, or video clips — there's always something that can distract me from the task or emotion at hand. None of these things is inherently wrong, yet when used to feed the loud surrounding me, I cannot call it healthy.
As Lent approaches, a new, second job is about to begin, a puppy is soon to join our family, writing is opening exciting new doors — these along with the everyday responsibilities of managing my house, loving my husband well, and working my current job that will not end when the second begins — there's enough loud in my life without all the additional things grasping for my attention.
How can I find the silence? The stillness for my God given mind to work, ponder, explore, feel?
This question remains.
And I continue to contemplate it. I know the possible answer, but don't want to make a decision hastily, even though it needs to be made. You see, Lent starts this Wednesday the tenth, and although I usually do not "give something up" for those six weeks — I'm pondering changing that this year.
Because seeking again some true silence in my life is of priceless value in renewing my creativity, passion, peace, and joy; and as hard as it may be to break ingrained habits, nothing is worth having those stolen from you.
***
I heard this song by Jonny Diaz while writing this post — I feel it was written as the writer reflected on this very thing — You can listen here. 
How have you found silence in the loudness of life? Or do you thrive on loud? I'd love to hear your thoughts in the comments!