Before I share with you our amazing weekend getaway to Pinehurst, I want to wish my wonderful husband a very happy birthday today!! My Love means the world to me, and I'm so thankful for the partnership we have in marriage. He's a man of integrity, grace (lots of it for me 😉 ), and a man who loves Jesus. I'm so grateful for his life, and I'm happy to celebrate that today!! Love you, baby!
Since the beginning of our relationship (except the first year of dating), we have done a little March getaway each year in honor of Russell's birthday. One year it was Austin, Texas, the next Fredericksburg, Texas and the Hill/Wine country of Texas. This year, with a big move to an area that boasts many awesome golf opportunities and with it being the big 3-0 for my husband, I decided we needed to go big or go home 🙂
I found a sweet little deal for the off season to go to Pinehurst this past Saturday through Monday. It included two rounds of golf for him and two spa treatments for me! Win. Win.
Here is a recap of the weekend — bottom line — if you get a chance, Pinehurst is definitely worth the visit!!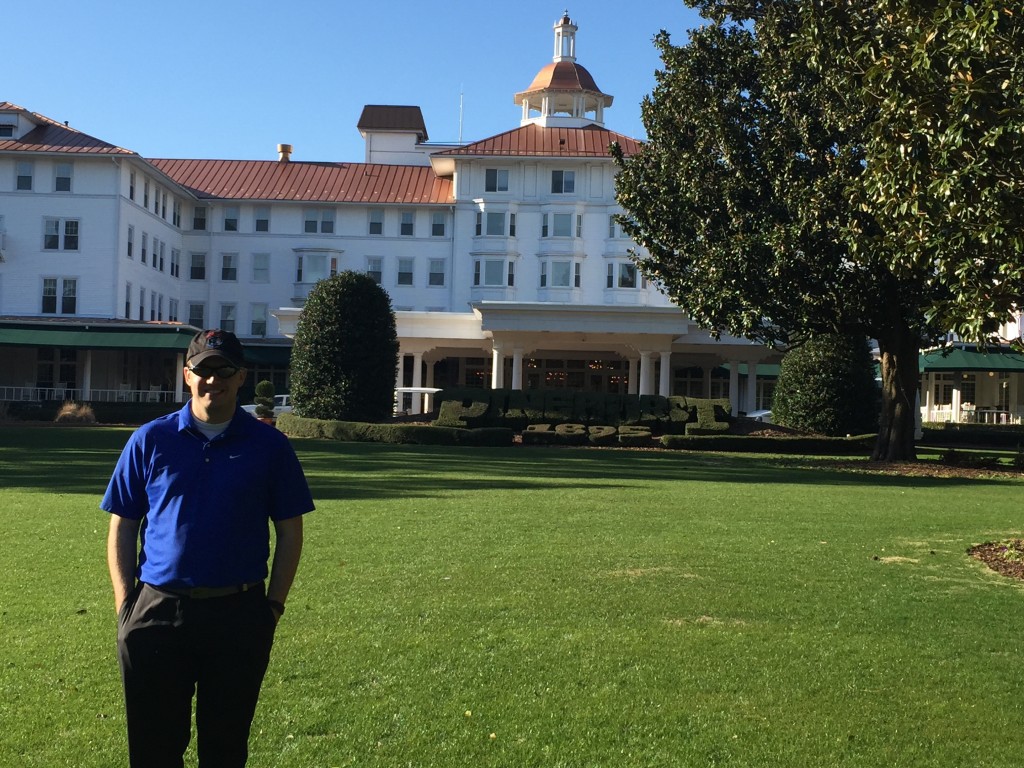 The Carolina Hotel
We stayed in The Carolina Hotel, which didn't disappoint. It's a classic style building with ornate but southern furnishings. Our room was lovely, the bed was amazingly comfortable, and we had a view out to the front lawn. There were two restaurants and a coffee shop in the hotel as well as a heated pool and hot tub area. The historical significance of Pinehurst is so well maintained that I felt awed just being there.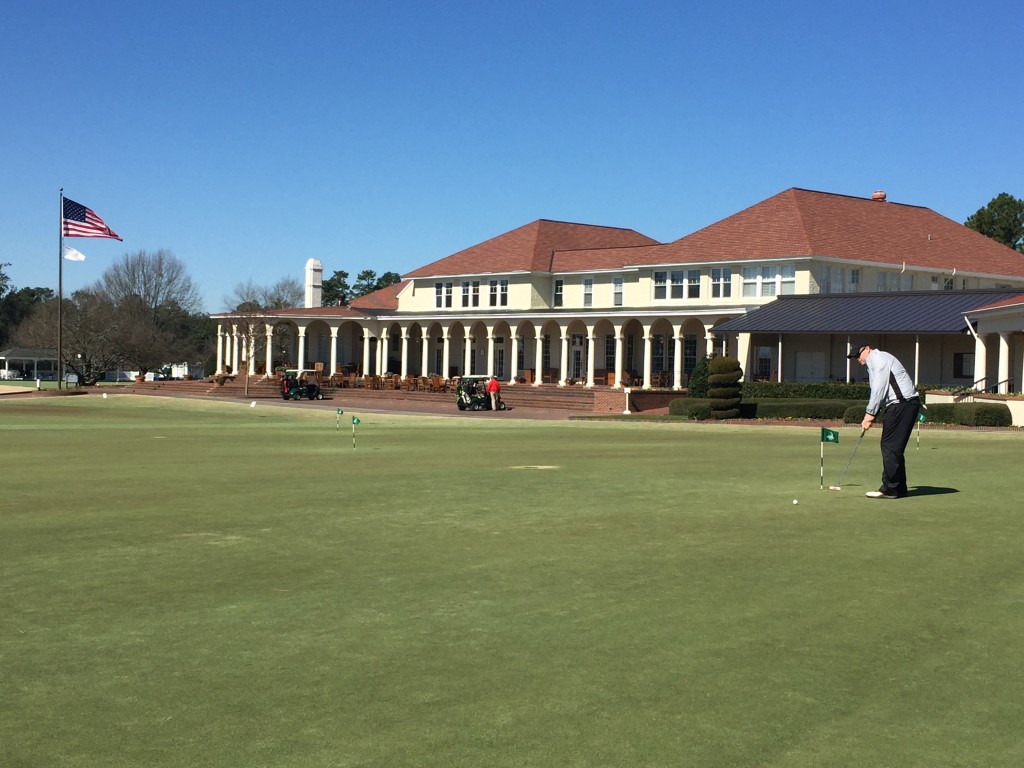 The Golf
Of course, the golf is why we went as we were celebrating my husband's birthday, and he likes golf. Pinehurst is known as the "Birthplace of American Golf," and they have hosted the US Open multiple times on Pinehurst course #2. After this weekend, I can see why. The courses (there are nine) are beautiful, well maintained, and the setting would be hard to beat. Again, the rich golf history is all over the walls of the clubhouse, and it was fun to see black and white pictures of people playing golf there in the 1900s!
Russell played course #3 and #4. I ended up driving the golf cart on course #4, and I'm so glad I did. The weather was absolutely picture perfect for us on Sunday, and I couldn't bear the thought of being inside. Plus, I kinda like spending time with my man 🙂 As for those of you who are actually wondering about the playing golf part, per my husband, the greens are very tough, subtle changes that make them very unpredictable. So there you have it — practice up! 🙂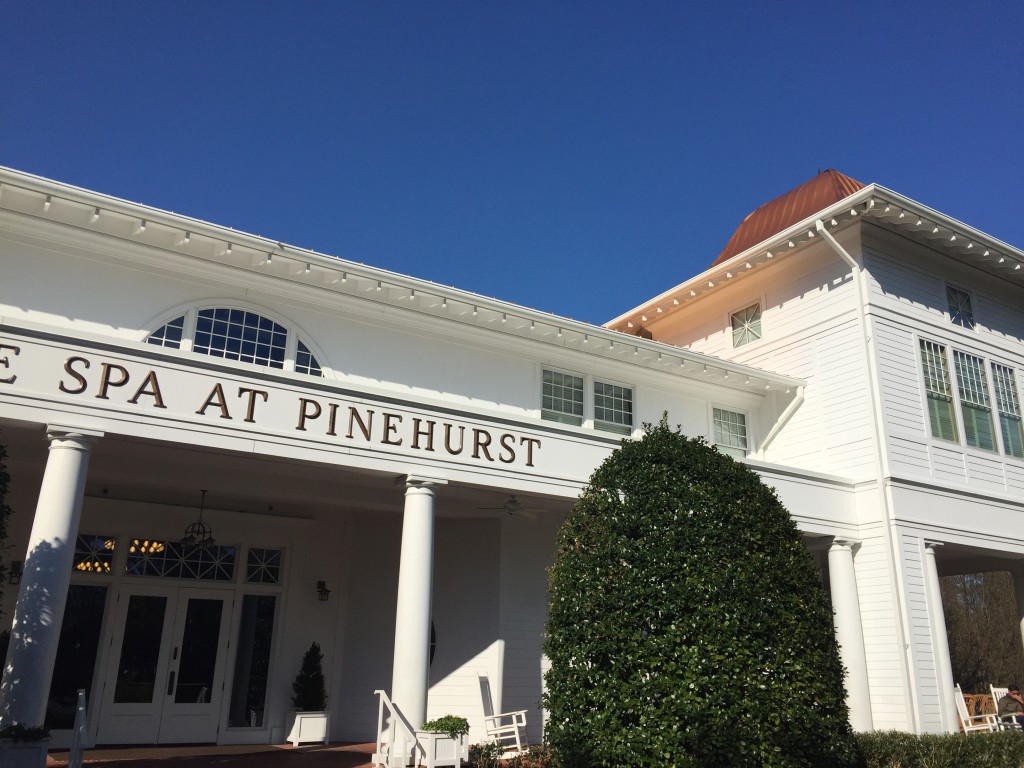 The Spa
I'm not usually someone who pays for spa services as I prefer to spend my money on other things; however, every time I receive spa services, I wonder why I make that choice! 🙂 The Spa at Pinehurst was no exception. I felt spoiled the minute I walked through the door! They provide a robe and slippers to each guest and you have access to all the facilities including the main pool, a separate "ladies only" area with sauna, hot tub, and lounging spa, and the locker room. I chose a seasonal massage and the magnolia pedicure. Both were absolutely lovely. I don't have pictures of inside the main area of the spa — I was too busy putting my feet up, drinking the provided smoothies, and relishing my latest read. Blissful.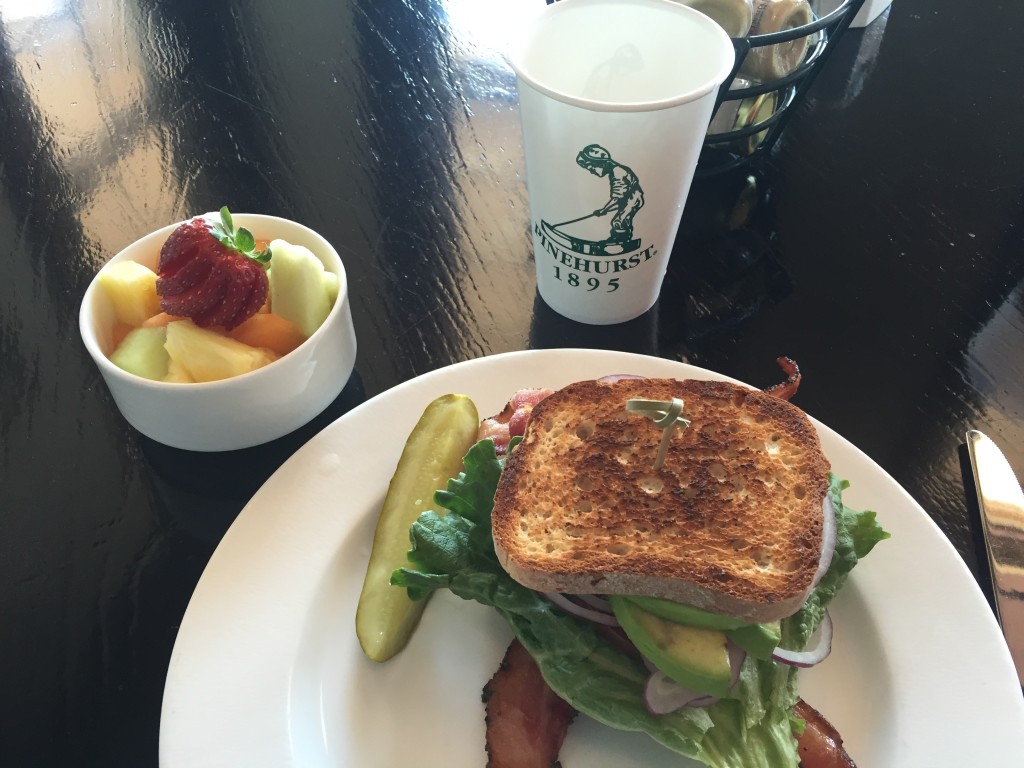 The Food
We were greeted upon check-in with afternoon tea and cookies in the Carolina's lobby, and this special touch really set the tone for the rest of the culinary delights we enjoyed through our stay. From the AMAZING breakfast buffet (think of literally every single breakfast food, pastry, fruit, yogurt, plus a make your own omelet line, etc and you may scratch the surface) that we enjoyed both mornings to the small little "91st Hole" where we grabbed a quick sandwich, everything was delicious. They accommodated my gluten free needs with no problem (the chef always came out and spoke with us personally about modifying the menu) — and I never felt I missed out at all. Our last dinner in the Carolina Dining Room was seriously one of the best meals I've ever had.
Overall Experience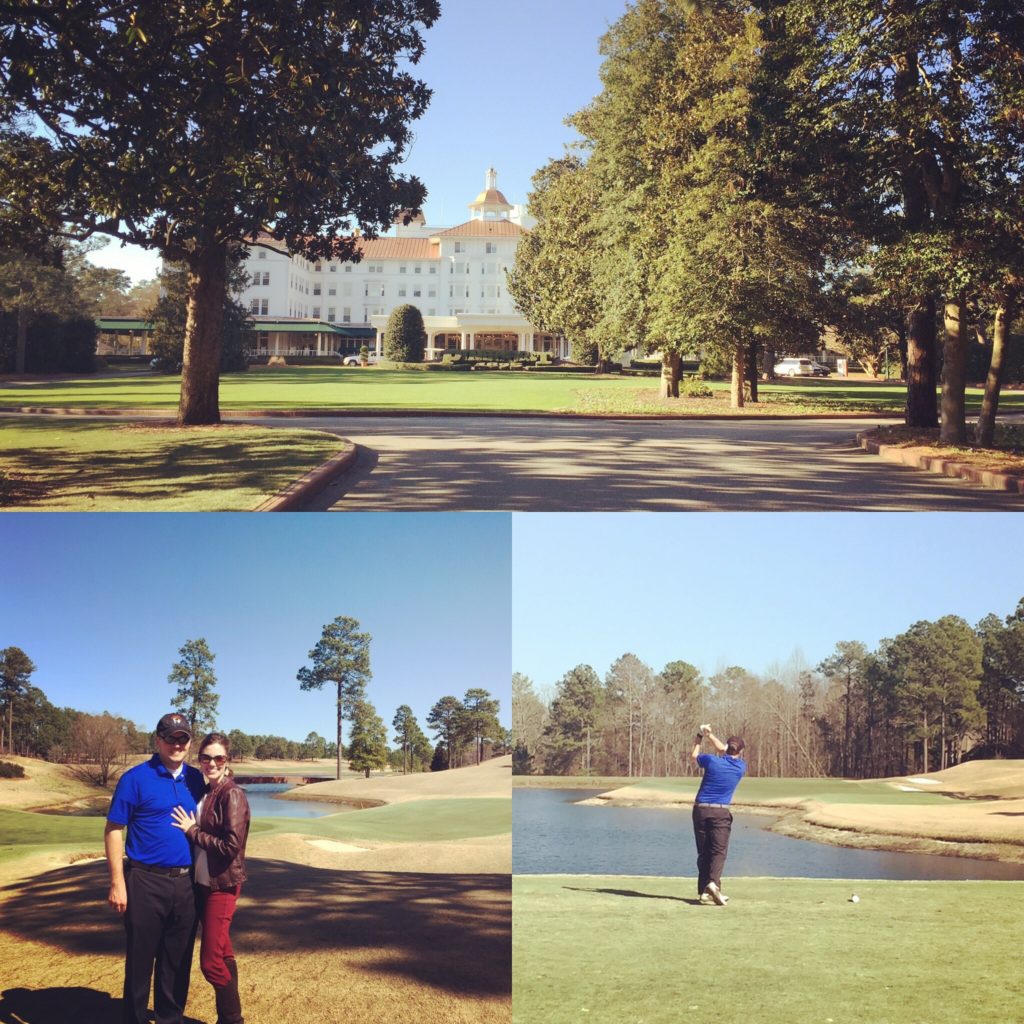 What a wonderful weekend we had at Pinehurst! I can't think of a more memorable way to usher in the next decade of my husband's life. From the hotel to the spa to the golf to the food, the service was impeccable. I know we will always treasure the time we were able to spend there, and I'm sure we will take guests there in the future. If you're in North Carolina or passing through, my advice would be to look for off-season packages and go for it! I do not think you will be disappointed! 🙂
***
What was your most recent vacation? Do you prefer gifts or experiences for special occasions? I would love to hear your thoughts in the comments!