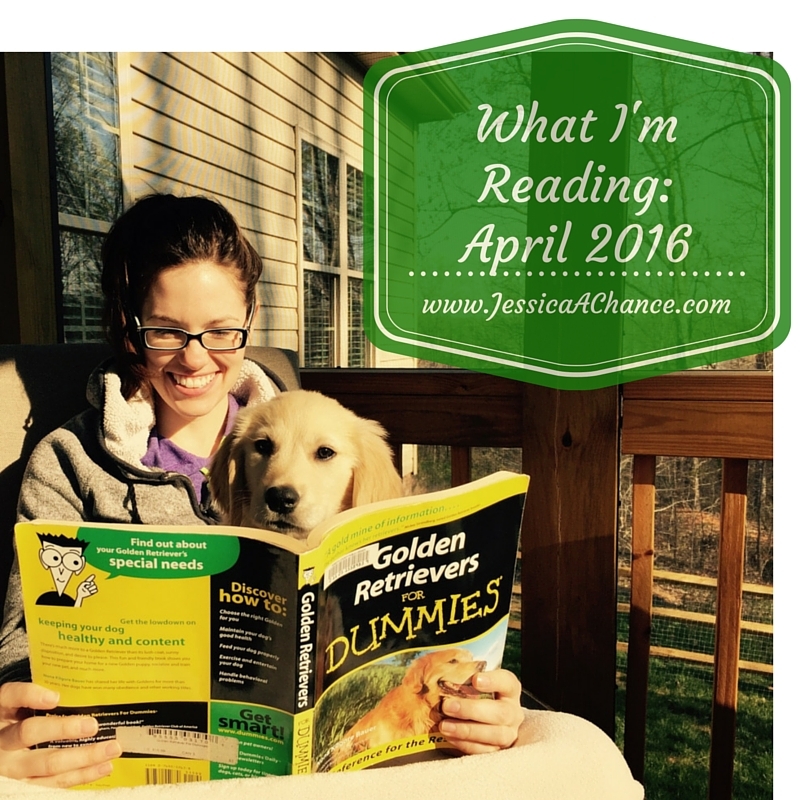 April is halfway done, but mentally I'm still in March! Getting a puppy and starting a second job will do that to you! 🙂 Nonetheless, reading remains a refreshing and renewing part of my life so although the busyness of the season of life may decrease the number of books I've read — I'm still (and forever will be) reading.
What are you currently reading?
Read this Month:
Me Before You by Jojo Moyes – I heard SO much about this book and since the movie comes out this summer, I put myself on the waiting list at the library. Honestly? I'm still very conflicted about this one. So.many.feelings. I don't want to spoil anything, and while I did not enjoy/agree with the ending; I do think this book could provoke great discussions about the ethical and moral dilemmas contained within. (3/5)
The Nurses by Alexandra Robbins – This was a gift from a fellow nurse and wonderful friend. It's a large book so it took me a bit to read through, plus on my days off from work, it's hard to actually relax while reading about work; however, I very much appreciated this extensively researched work about "the heroes of the hospital — the nurses." I found it to be quite an accurate portrayal of hospital politics, work environment, and the emotional, physical, and mental sacrifices that nurses make. The book did an excellent job of explaining the heart behind nursing — serving and caring for others despite the hazards the job entails. (3.5/5)
We Never Asked for Wings by Vanessa Diffenbaugh – I requested this book through my library after reading Diffenbaugh's first novel, The Language of Flowers (my full review here — cliffnote version: I greatly enjoyed it). Although I did not like this book as much as her first, I still found her character development and descriptive narratives to be the best parts. The book follows a single mother who is forced by her own mother to finally take responsibility for her children. An unexpected, but lovely story of family, love, and second chances results. (3/5)
Looking for Lovely by Annie F. Downs – Annie was one of the hosts of IF:Gathering 2016, and while I haven't read any of her previous books, I heard her on the Happy Half Hour with Jamie Ivey Podcast right before Looking for Lovely released, and because of her description of her latest, I had to pre-order it. I wasn't disappointed. It's an authentic vulnerable read, yet accessible in its truth. An encouraging book I would recommend to everyone who needs to remember to look for the lovely in their lives; yet isn't always successful. (4/5)
Currently Reading:
Big Magic by Elizabeth Gilbert – I finally reached the top of my library hold list for this book! It took forever, and unfortunately, my hold ran out before I could finish 🙁 I'm back in line though and hopeful for a chance to finish this celebration of creativity soon.
Out of Sorts by Sarah Bessey – If you look back to my previous what I'm reading summaries, this one made the "currently reading" list quite a few times — I'm almost done with this beautiful, thought-provoking book and will do a full review when I am.
Bittersweet by Shauna Niequist – Shauna's writing is captivating; she has such a gift for words. I just discovered her as an author with Bread and Wine (review here) so when her previous work, Bittersweet was on sale this month, I snatched it up! It has not disappointed so far — I'm so glad I discovered the genre of memoir when I did! I love it.
Bought this Month:
Girl Meets God Lauren F. Winner: Speaking of memoirs, here is another one that is now waiting for me on my kindle. It was on sale for 99 cents and I've heard great things about the author….we shall see 🙂
Bittersweet by Shauna Niequist: on sale, and like I said, I couldn't resist after how much I enjoyed Bread and Wine!
Looking for Lovely by Annie F. Downs: Pre-ordered this one – definitely worth it!
Up Next:
I still have quite a few previous purchases waiting on my Kindle, and as always, I have many books on hold at my online library. So we shall see what the rest of April and the beginning of May bring — I do hope to incorporate some fun fiction as many of my recent reads have been quite heavy.
***
How is your reading in April so far? What are you currently reading? I would love to hear in the comments!
***
Previous What I'm Reading Posts:
All Featured Book Reviews:
–>This is a link up with Anne over at Modern Mrs. Darcy; check out her post to see what other bloggers are reading this month! <—