Well — we are halfway through June, friends, and I can't believe it! What I can believe is the necessity of Fridays in life. Can I get an amen? This Friday is made even more special because it's the Friday of what I've deemed my birthday weekend 🙂 My birthday falls on Sunday this year (on Father's Day, just like 28 years ago on my true "birth" day!); and since last year's birthday was spent with a moving truck parked in front of our house, I'm excited to celebrate this one a little differently (and with no boxes, thank you very much!). 
How is your summer so far? Vacation time coming up for anyone? I would love to hear! Feel free to share in the comments! Below, as is the Friday tradition around here, you will find the life happenings and links that made my everyday extraordinary this week! Summer is such a fun season!
Life Lately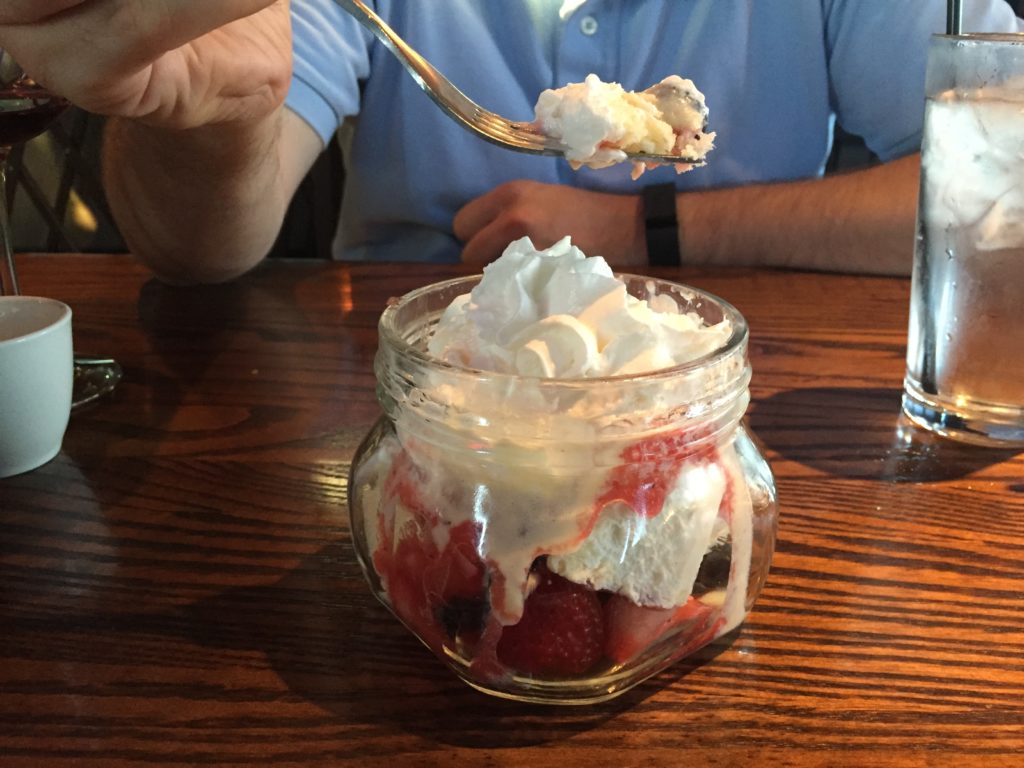 Date Night Dessert. Date night was to P.F. Chang's this week — a familiar place was what I was craving and their gluten free menu never disappoints! Since the gluten free dessert menu has been changed, my beloved chocolate dome is no longer on the menu; however, this Berry Ginger Shortcake made the sadness fade a little bit as it was the perfect summery confection to end our meal.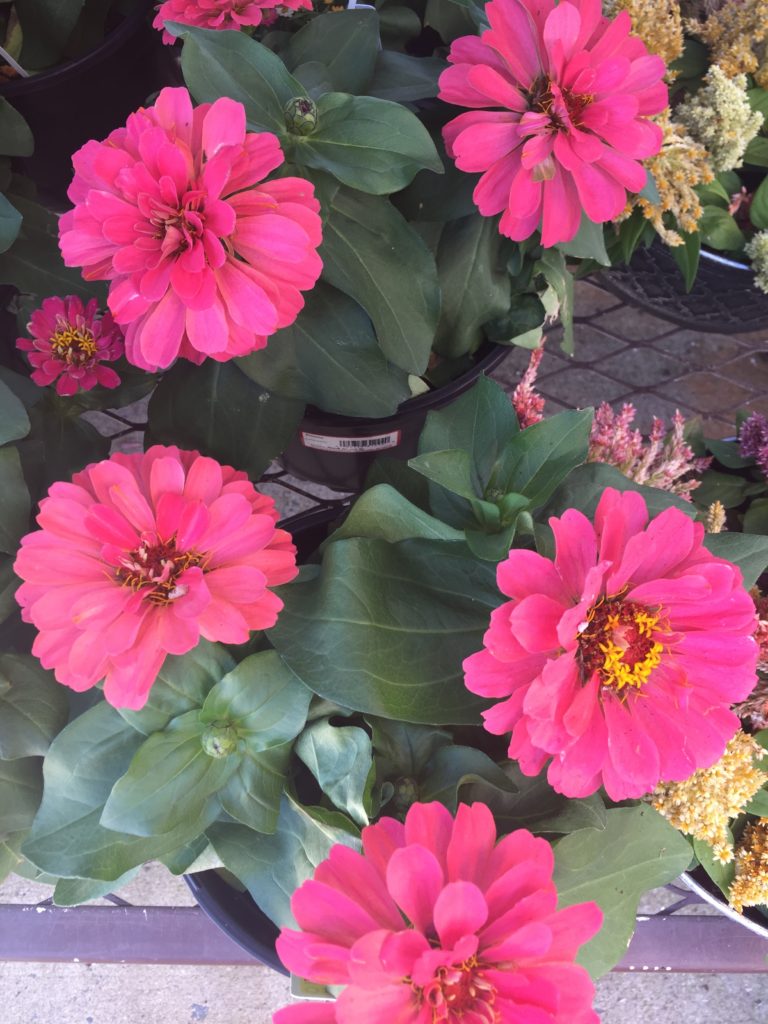 Bright Blooms. These pretty in pink blossoms brightened my day at Lowe's where we went for some outside improvement items. The trip to my husband's favorite store was even more exciting than usual (haha) because our puppy came with us — he loved it!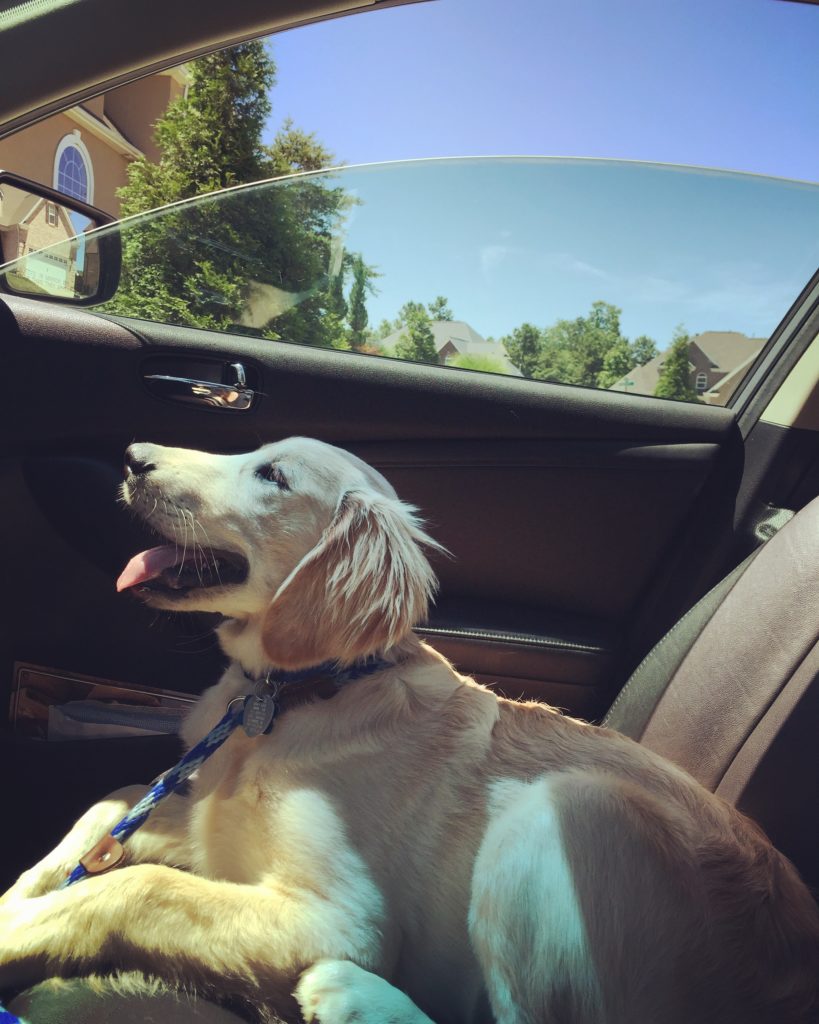 Driving Dallas. Speaking of the puppy, I drove him around our neighborhood this week to test his front seat skills. Let's just say they have some room for improvement, and I don't think he will graduate from the trunk any time soon. (Somehow driving with a forty-five pound dog attempting to sit on your lap doesn't feel quite safe…)
Classic Cookies. I've craved chocolate chip cookies for weeks now so on my day off this week, I decided I would make some from scratch. They didn't disappoint so I brought some warm ones to small group to share. (Partly for selfish reasons — if left in my house, I'd eat them all!! 🙂 )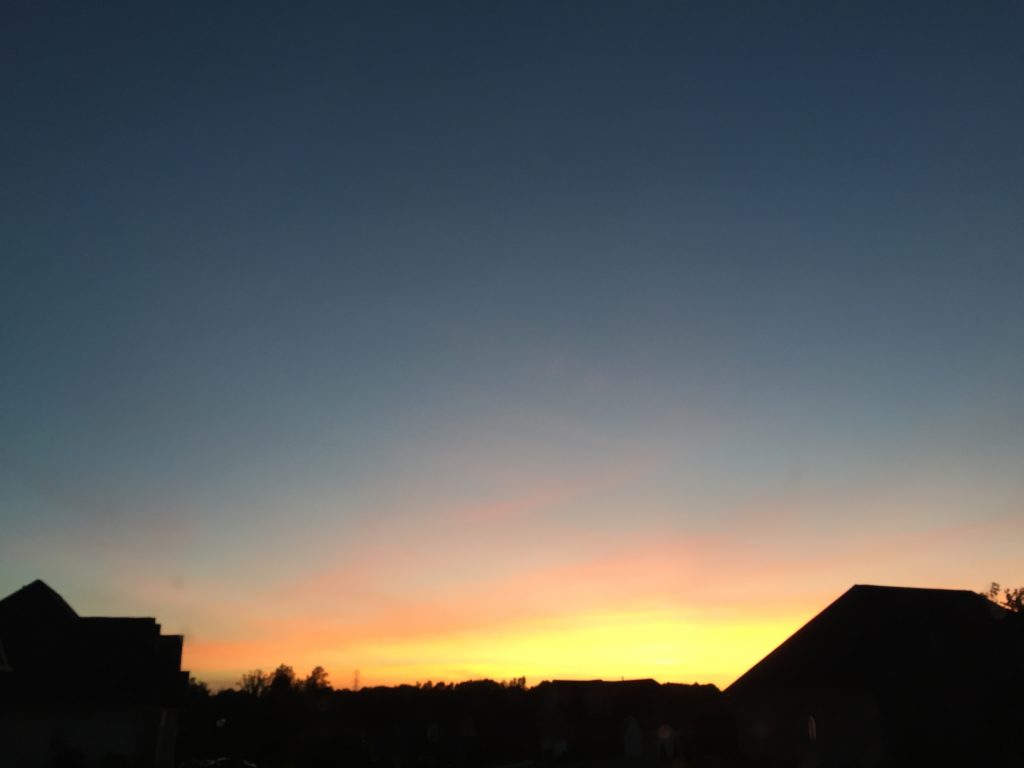 Stunning Sunsets. I just can't get over Carolina sunsets! You may have surmised that with how many pictures of them I post on the blog — but every evening it seems better than the night before. We have such a creative God.
Dallas the Dog Picture of the Week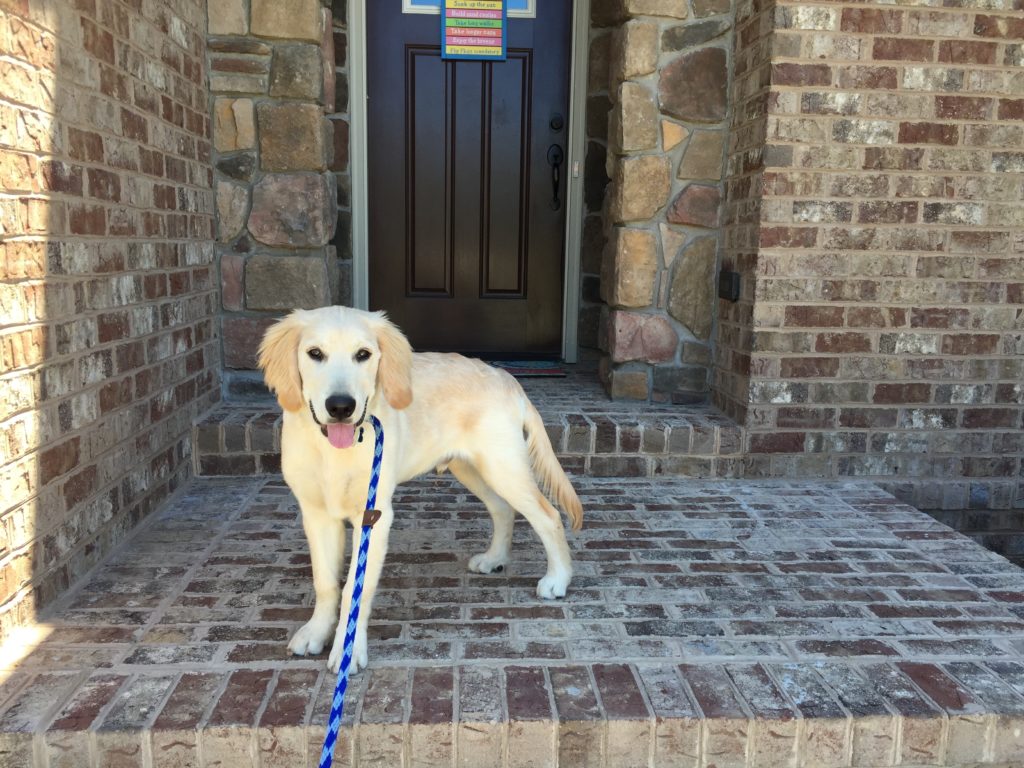 This puppy model is twenty-one weeks old, weighs forty-five pounds, and is a furball of rambunctious energy that never seems to stop!! We are venturing out to the dog park for the first time this weekend and are hopeful that some new four legged friends will buy us some puppy nap time! 🙂
Links Lately
Highly recommend Annie F. Downs' latest That Sounds Fun podcast episode #14 with Christa Black Gifford — and when you're done with that one, start Christa's own podcast Head to Heart — these podcasts are vulnerable, real, encouraging, and emotionally healing. 
"Rape is not '20 minutes of action' — it's a violent act with lifetime consequences and it's time for parents to take far less than 20 minutes of action and stand up right now and say hard things to our sons right now before it's too late. The Stanford rape case is about having a conversation with sons about hard things and asking sons to do holy things." ~As always, I loved Ann Voskamp's perspective and beautiful words about one of many tragic news stories making up our headlines — 20 Things We Better Tell Our Sons Right Now About Being Real Men
"'Many people are looking for an ear that will listen,'" writes Dietrich Bonhoeffer, 'They do not find it among Christians, because these Christians are talking when they should be listening.' May we learn to love and listen. May Jesus come soon and heal this broken world filled with broken people. Until then, may His peace comfort us in the face of something so senseless, and may we comfort each other with the hope we have." Lingering in Lament After the Orlando Massacre by Joy Beth Smith
"Gleaning, in today's culture, looks like faithfulness in the ordinary. Gleaning is accepting the idea of being small and choosing to play our own note in the symphony of life songs. Gleaning may be behind-the-scenes. It might be quiet." ~A gentle, beautiful, Biblical reminder on gleaning. (and why your ordinary life is so good.) by Kaitlyn Bouchillon
"Here's what we can do about summer lists, before the summer lists undo us. We can choose our own adventure. We can mark a milestone. We can remember all the goodness summer offers and plan for more, and we can relax in our present circumstances. If our eyes are open, we're not going to miss anything." ~A great reminder from Tresta Payne to reflect on What All Those Summer Lists Are Doing to You
Yummy Link of the Week: Does anyone regularly cook with rhubarb? Me neither — however, it may be something worth checking into just to make this Strawberry Rhubarb Crisp. My small group leaders made it to rave reviews, so I'm thinking about making a gluten free version soon!
***
Wishing you a wonderful weekend of sunshine and summertime fun! What's making your everyday extraordinary this week?
***
Linking up with Heather — check out more Friday Favorites here!