It's our first full summer here in Winston Salem, North Carolina and though we're nearly halfway through, I thought I would compile a list of our summer favorites so far. Sometimes, I think it's so easy to overlook the wonderful options in your very own hometown. Moving across country teaches you many things, but a big lesson for me was not to take places, people, or memories for granted. So we are soaking up our time here in Winston for as long as it may be.  
So whether you call Winston home or are just passing through, these are great options to make the most of your time here. For things to simply SEE, check out the first category of favorites. For places to EAT (all with outdoor eating areas and gluten free options!), the second category is for you. Lastly, if you're feeling extra energetic and want to DO something around our lovely city, the third list has you covered.
***
SEE
Graylyn Estate – this beautiful event center boasts beautifully manicured expansive grounds as well as overnight accommodations in a variety of charming cottages and refurbished mansions. Well worth a drive through with a quick stop to walk across and take some pictures on the beautiful stone bridge.
Reynolda Village – a quaint little area of shops is just down the hill from Reynolda House, this is the site of multiple restaurants with patios. It also includes many favorite local fashion retail stores, art galleries, and home furnishing stores, along with salons, a spa, and walking paths.
Wake Forest University Campus – the local university campus is right around the corner from Reynolda Village (walking trails at the village will lead you there!). The Demon Deacons are the hometown favorites and the university's campus is beautifully landscaped, southern styled, and definitely worth a drive or walk through.
Aperture Cinema – this has been on our Winston to-do list for quite a few months now, and I'm thinking we will visit this "art house cinema," which features select independent, festival, foreign, documentary, and local films, one summer evening when the humidity outside leaves us craving air conditioning and some unique entertainment.
Winston Salem Dash Game – I have to include this on our list even though I haven't been to a game yet; however, my husband has, and brings back a favorable report. The Dash are the minor league baseball team here in Winston and the BB&T ballpark where they play was reported to us as a fun place to catch a game before we even moved.
Winston-Salem Symphony Downtown – For my birthday the first year Russell and I were dating, he bought me season tickets to the Dallas symphony. We loved making memories with every date night we went; so to ease the transition to Winston, he purchased me season tickets to the Winston symphony for the birthday I celebrated last summer. We thoroughly enjoyed this past season of the WS symphony and are thrilled that we moved from one city that celebrated the arts to another that takes them just as seriously.
Furnitureland South in High Point – yes, this isn't in Winston, but I think it's worth the thirty minute trip if it's a hot summer day and you need somewhere inside to explore. This is not your average furniture store! With over one million (yes, million!) square feet of furniture, I dare you not to find something you like! Grab a Starbucks at the main entrance under the supersized armoire, and enjoy exploring the maze of beautiful goods you'll find inside.
EAT (on the patio!)
Village Tavern at Reynolda Village – the first of the Village Tavern restaurants is nestled within Reynolda Village. The inside seating area is tiny, but it's the outside patio you want to enjoy for the summertime! Full gluten free menu and knowledgable staff. One of our favorite local places to take visitors.
Mozelle's Fresh Southern Bistro Downtown – this adorable, slighly upscale, but not at all stuffy downtown restaurant just begs you to sit under its bright green umbrellas and soak up the sunshine. We tried this for the first time recently on my birthday and it didn't disappoint. Southern cuisine at its best with a variety of gluten free options.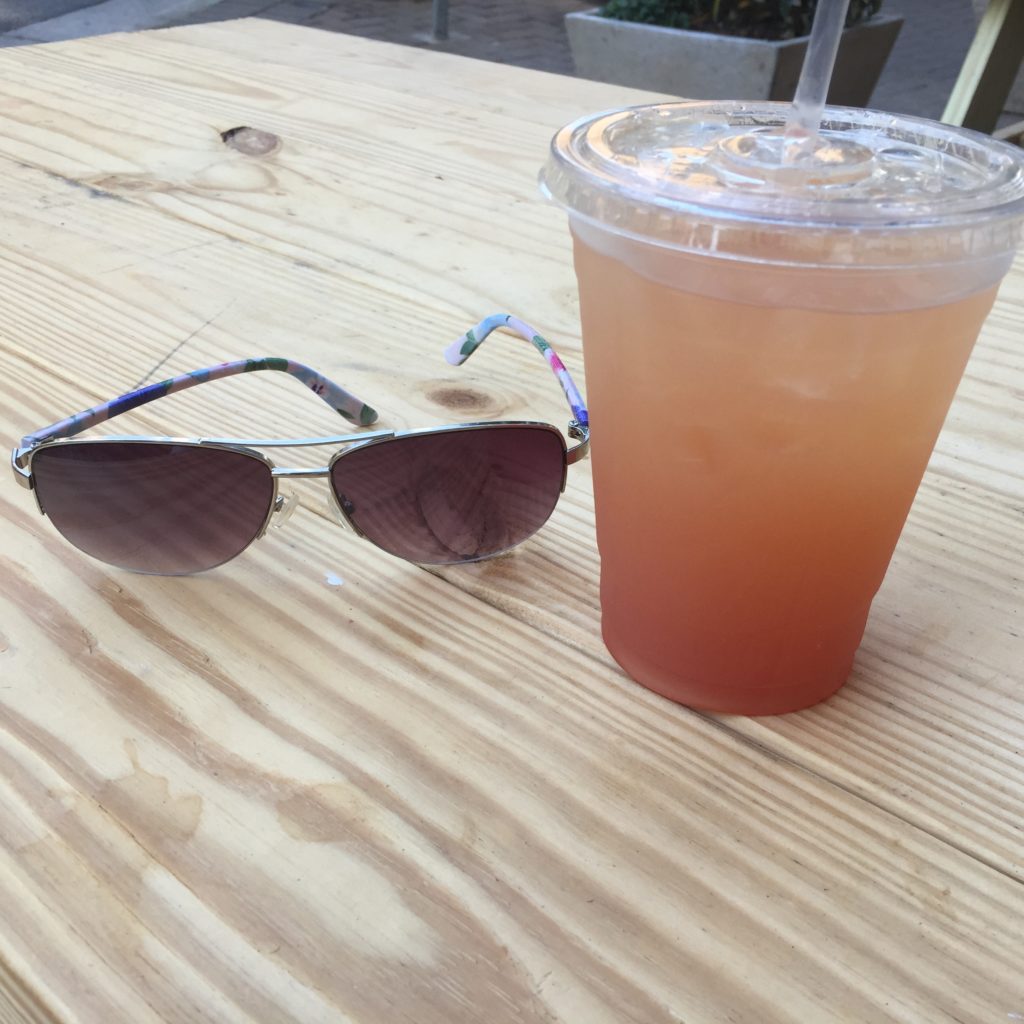 Camino Bakery Downtown — this is the local coffee shop that is a must visit. Outdoor seating abounds and their drinks never disappoint. They have gluten free pastries and baked items, but they are not recommended for Celiac due to the environment they are made in. However, this is a great place for an summer afternoon pick me up drink — I love their summer spritzers.
Riverbirch Lodge – another go-to brunch and dinner place, this mountain inspired restaurant has great gluten free options for all times of day. They also boast a patio and suburb waitstaff. A favorite for treating out of town guests as well.
Brixx Wood Fired Pizza – our go-to place for college football watching in the fall easily transitions to a summer favorite with the outdoor seating option. Delicious pizzas, great casual atmosphere, and kind service staff. We highly recommend the spinich articoke dip with the gluten free bread option for dipping.
Sixth and Vine Wine Bar and Cafe – this downtown eatery has indoor and outdoor seating options and was a great place for dinner before the symphony one night. I imagine it would also be lovely for afternoon drinks on the patio.
Mellow Mushroom – Right on Fourth Street, this pizzeria is right in the midst of the downtown area and a favorite to bring out of town summer guests since it has ample outdoor seating. and the food is delicious! Gluten free pizza options too!
DO
Reynolda Estate Home, Gallery, and Gardens Tour – the former estate of Mr. RJ Reynolds and his wife, Katharine Smith Reynolds, is a recent discovery for us. This beautiful bungalow sits on the hill atop Reynolda Village and is open for home tours. It also usually has some type of feature gallery of a renowned artist on display — for example, we recently went to see the Ansel Adams photography exhibit — the estate also hosts a myriad of summer activities on the grounds. Definitely worth checking out.
Tanglewood Park Clemmons – this 1,100 acre park right outside Winston-Salem boasts golf, swimming, a dog park, equestrian park, trails, event centers, an RV park, cabins, a lake — plenty of things to keep any family busy this summer. The dog park and trail access are free, but it's a $2 fee per day to access the rest of what the park has to offer. Great place to spend a summer day! (Also — the Farmer's market on Saturday morning, across from the dog park is not to be missed! Gluten free baked goods, lots of meats, produce, homemade goods, and a dog bakery booth!)
Old Salem Village Tour – Oh Old Salem, let me count the times I've been to your sleepy town in just one year 🙂 This is our classic place to take out of town guests, for good reason. History abounds in this little Moravian village just minutes away from downtown Winston. You have the choice of simply strolling down the main street to stop in the gift shop and the bakery or you can buy a ticket at the large visitors center and make a day of it, touring all the little shops and homes with actors and actresses transporting you back in time. A must see in Winston.
Pilot Mountain Hike – About 45 minutes north of downtown, you won't miss Pilot Mountain as it looms in the distance. It is home to many different hiking trails, but you are also able to drive up to the very top and look out over Winston if you forgot your hiking boots at home. Great half day summer option.
Walk 4th Street and Trade Street Downtown – Since we've only lived here about a year, we are definately not experts on downtown, but those who are around here tell us that vast improvements have been made. Our experience would have to agree. If you're looking for a slightly more sedate option for your summer day, walking down Fourth Street to Trade Street and back around gives you opportunities to check out Mast General Store, a variety of art galleries, eclectic shops, and plenty of food and drink options.
***
Locals, I would love to hear any other favorites of yours! Out of towners — what are some of your favorite activities in your hometown?